Trains are classified by speed and service in China, represented by a train code. A train code is made up of a letter (G, D, C, Z, T, K, or no letter), which indicates a train's type, and a number. Take trains from Beijing to Xi'an for example: G trains require 4.5 hours, Z trains 11 hours and 11 minutes, T trains 13 hours, and K trains 14 to 20 hours.
G and D Trains
G (Gaotie) and D (Dongche) series trains both use CRH (China Railway High-Speed) railways. G trains are the fastest trains in China, with a speed reaching 250 km/h to 400 km/h, and the prices are the highest.
D trains are next fastest with a maximum speed of 250 km/h, and second most expensive. The facilities of G and D series trains are similar, all new and modern. The washrooms are very clean, and Western-style toilets are available.
They are different from other trains in China, both in outer appearance and inner facilities.
They provide frequent services between first-tier cities, many state capitals and major cities, such as trains from Beijing to Guangzhou, Beijing to Shanghai, Beijing to Xi'an, Beijing to Zhengzhou, Guangzhou to Shenzhen, Shanghai to Hangzhou, Shanghai to Nanjing, and so on. They only stop at a few major stops along the way, and some of them provide non-stop services.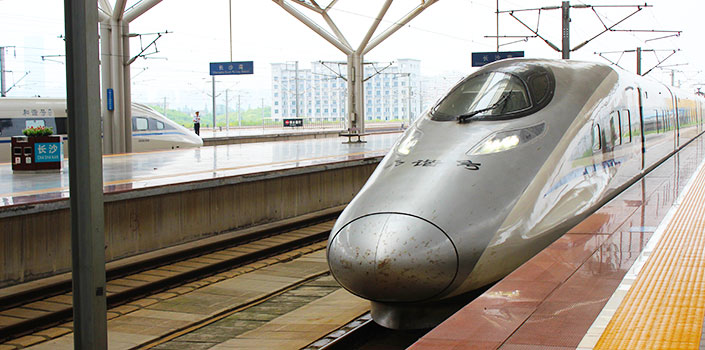 The coaches are modern and air-conditioned. In terms of prices, take high-speed G trains from Beijing to Xi'an for an example; the price of a second class seat is $86s, a first class seat $133, a superior seat $159, and a business seat $262.
There are two seats on each side of the aisle in a first class seat car. In a second class seat car, three seats on one side and two seats on the other side.
Business class seats are the most luxurious ones on high-speed trains. The field of vision allows great views. The Business Class seats are spacious with two meters (6.6 feet) or space between rows. There are three seats in a row — two on one side and one on the other side of the aisle.
Business Class seats are only available in certain G trains, e.g. from Beijing to Xi'an they are only available on afternoon trains, and from Xi'an to Beijing they are only available on morning trains.
For some long-distance overnight D trains (sleeping car service is not provided on G trains), such as D trains from Beijing to Shanghai, soft sleepers (four bunks in an enclosed compartment) are available, and some have deluxe soft sleepers cars (D313 and D314), an enclosed compartment with two bunks, which is perfect for traveling couples, though the price is twice that of a soft sleeper.
There are restaurant cars and canteen bars on the train. The cars are fully air-conditioned, and the floor is coved with carpet. The seats are adjustable. There are Western-style toilets. Both hot and cold water is available in the bathrooms. Special toilets for the handicapped and people with kids are available.

Business class seats

First class seat

Second class seat

Soft sleepers
Seat Designation
Seat numbers of high-speed trains are not totally in alphabetical order. To keep with the standard of A/F being window and C/D being aisle on short-haul aircraft, second-class cars with a seating structure of 3+2, have letter designations ABC - DF, skipping the letter E; First-class cars with a seating structure of 2+2, letter the seats as AC - DF, kipping the letters B and E; business-class cars with a seating structure of 2+1, label the seats as AC - F.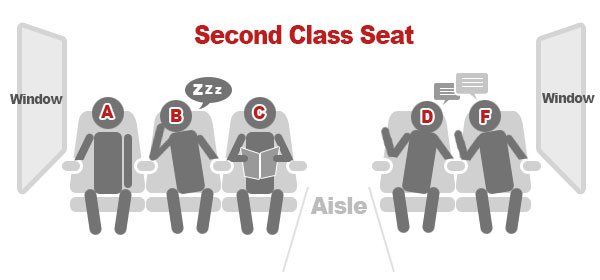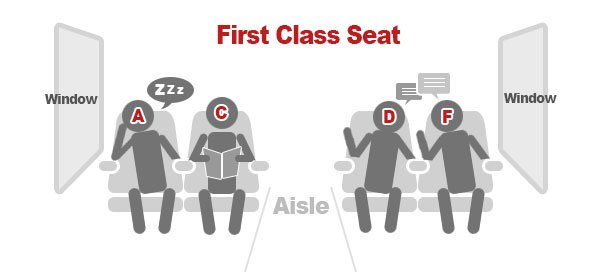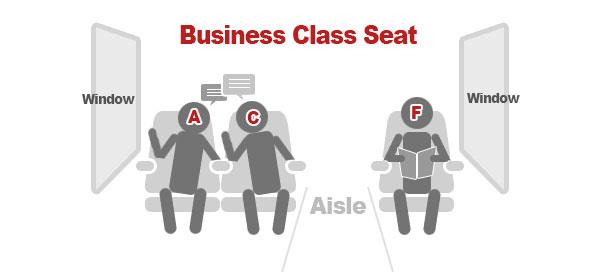 C Trains — Intercity Express Trains (Chengji)
C trains are also high-speed trains; operating frequently between two cities in the same province or not too far away from each other. The journey is short and sleeping cars are not provided.
For example Jingjin Intercity High-Speed Trains travel between Beijing and Tianjin, covering a distance of 120 km in 33 minutes. C trains are only so named between Beijing and Tianjin. Actually some G and D series trains provide an equivalent service, traveling between Guangzhou and Shenzhen, Shenyang and Dalian, Shanghai and Hangzhou, Shanghai and Nanjing, Chengdu and Chongqing, and Nanchang and Jiujiang.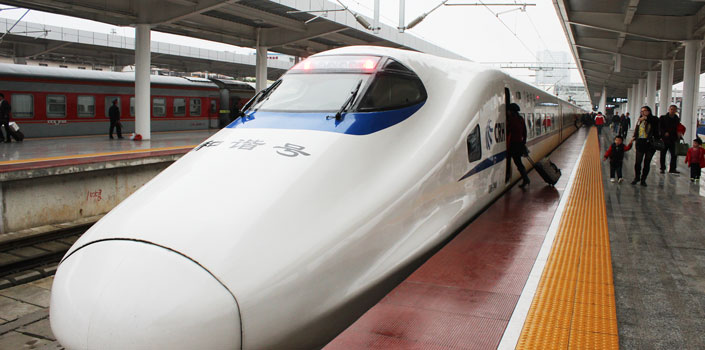 Z, T, and K Trains
The appearance, inner facilities, and prices of a same class seat in Z, T, and K trains are almost the same. The situation on a train is entirely related to the newness of the train itself.
Z trains — Direct Express (Zhida)
They are usually overnight trains, so there are usually only sleepers (hard/soft) available, while some only have soft-sleepers. Many of them provide deluxe soft sleepers. The trains serve main cities, such as Beijing, Shanghai, Xi'an, Wuhan, Shenzhen, as well as Hangzhou and Ningbo.
Z trains have a top speed of 160 km/h or 99.4 miles/h. Though its name implies "non-stop", some do have several stops along the way, but only at major stations.
They can save time and money. Use the Beijing and Xi'an route as an example, a second class seat of a G train is $86, taking 5 hours and 44 minutes during daytime; and a soft sleeper of a Z train is $70, traveling from 20:43 to 07:58 next morning. Using the night to get from one place to the next can save you not only money, but gives you more time at your destinations.
T trains — Express Trains (Tekuai)
If all the trains above are not available, you can choose an overnight T train. For example, the journey is about one and a half hours longer on an overnight T train than that of a Z train on the Beijing–Xi'an route.
T trains run at up to 140 km/h or 87 miles/h, and have a limited number of stops along the way, at major cities or some junctions. All the major cities with railways can be reached by taking T trains. They are air-conditioned, with both seats (hard/soft) and sleepers (hard/soft) available.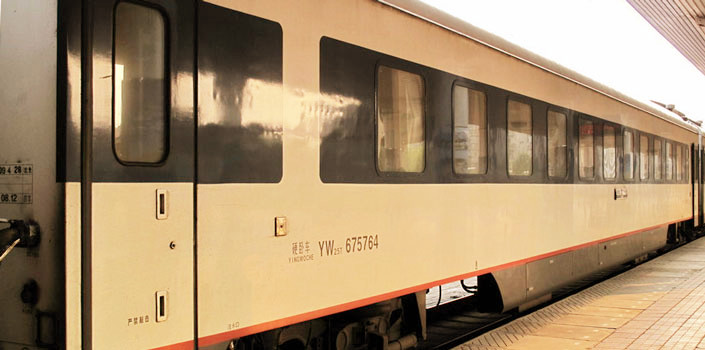 K trains — Fast Trains (Kuaisu)
K trains run at up to 120 km/h or 74.6 miles/h, and stop at more stations than the T trains. Besides stopping at cities, they will also stop at main counties along the way. Both seats (hard/soft) and sleepers (hard/soft) are available. The coaches are not so modern and clean as those mentioned above, and air-conditioning is not always on, but they are still tolerable.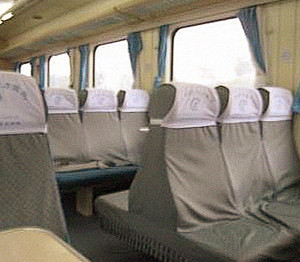 Hard Seat (Yingzuo) 硬座 (overcrowded, noisy and smelly)
These are the cheapest coaches, and are usually overcrowded. It is not advised to buy a hard-seat ticket when there are other options available. The seats are actually thinly padded. They are non-air-conditioned and smoking is permitted in the cars. The coaches are not clean, and the toilets on a hard sleeper car are usually in poor condition. There are frequent thefts of baggage, with thieves casting their covetous eyes on passenger's luggage. It is not advised to buy a hard-seat ticket when there are other options available.
Soft Seat(Ruanzuo) 软座 (recommended only if your journey is shorter than 4 or 5 hours)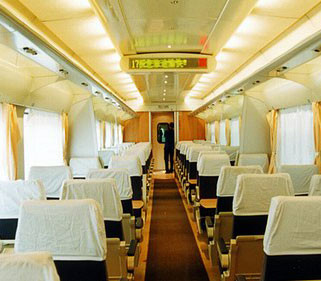 Soft Seat cars are seldom provided on old-style trains in China at normal times. Soft sleepers or hard sleepers may be changed for soft seat cars during high seasons, such as around Chinese Spring Festival. Three or four people sit on a seat facing three or four on the seat opposite. It is not very comfortable in this situation, as there is no ergonomic-designed back for you to lean on. The car is clean and washrooms are much better than those on a hard seat cars. It is ok for several hours.
Air-conditioning is available. Smoking is not allowed in the coaches, but is in the corridors between cars. It is almost the same price as a hard sleeper, but these are often available when the tickets for other seat classes are sold out. but will probably be sold out long in advance during the Spring Festival period.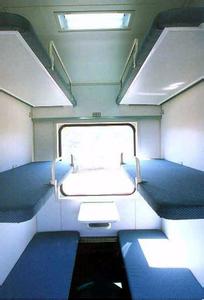 Hard Sleeper (Yingwo) 硬卧 (basically bearable for long journeys)
A hard sleeper is basic for overnight or long-distance train travel. A hard sleeper compartment is un-enclosed, with three tiers of bunks (upper/middle/lower) on both sides. A pillow, sheet, and covered blanket are provided for each bunk. It is noisy during the day, but much better when the lights of the car are put out by train staff after 21:30 or 22:00.
There is a small difference in price among bunks, with the upper bunk being the cheapest and the lower bunk the most expensive. An upper bunk is not where you want to stay, only about 60 cm (2 feet) of vertical space to accommodate you, and it may be difficult for you to get onto.
A lower bunk is more comfortable, as you can sit up on it to read a book or play games on an ipad (see China portable 3G Wi-Fi Rental service), or talk with friends. It is customary for upper and middle bunk passengers to sit on a lower bunk during daytime if the lower bunk passenger is not lying on the bunk.
There are hinged single seats in the narrow aisle opposite the compartments. You can sit on one to admire the scenery outside. There is a small TV hanging in each compartment. Air conditioning is available, and the washroom is tolerably clean. Smoking is not permitted in the coach, but you can smoke at the corridor between cars.
Soft Sleeper (Ruanwo) 软卧 (recommended)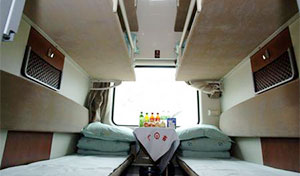 A soft sleeper is recommended for overnight and long-distance travel. Each soft sleeper compartment is enclosed, and contains four bunks, with two on each side. The bunks are wider and more comfortable with decent beddings. Soft sleeper compartments may vary between trains. You may have both over-head storage and under-bed storage, or just under-bed storage.
A lower bunk is more expensive than an upper bunk, but it is worth the extra cost. On the lower bunk you can admire the scenery along the route through a large window. The upper bunk is windowless. It may have less importance when taking an overnight train. If you need to spend daytime on a train, a lower bunk is a better choice.
There is an LCD TV for each bunk. Washrooms are clean and both Western-style and squat toilets are available. Some trains have immaculate toilets with soap and towels. It depends on the luck of the draw. Some are less than immaculate, and with no soap and towels. See what to pack for taking an overnight train The fare is almost twice as much as that of a hard sleeper.
It can be interesting to meet various "roommates". As a soft sleeper is more expensive, passengers who travel in this class tend to be businessmen, richer couples with a child, and richer students. Many of them can speak English.
Deluxe Soft Sleeper (Gaobao) 高包 (recommended)
This is the top level sleeper, and the fare is much more expensive than that of soft sleepers. It is perfect for traveling couples, as it has the most privacy and security. It is only available in some Z trains, T trains, and overnight D trains.
Each enclosed compartment contains only two clean and comfortable bunks. The construction and facilities of a deluxe sleeper compartment may vary. Some are with two bunks on one side (top and lower), a sofa one the other side. Some have one bunk on each side.
Western-style washrooms on the car are immaculate. On some trains even in-room sink and toilet facilities and a shower cubicle are available. It all depends on which train you take and your luck. The floor is carpeted, and other facilities include a LCD TV, a table, and a closet in which to hang things.
Only Number Trains Unless you want to an uncomfortable time in one of China's oldest trains, never choose these.
They run at the lowest speeds, stop at every station, and have the cheapest tickets. They also need to wait to give way to other trains during journeys. "Only number" trains, with green fronts (some with green carriage body as well), have numbers of only four digits. The trains can be divided into two categories:
Trains numbered between 1001 and 5998: 40% of these trains have air conditioners, and the rest only have electric fans. The trains stop at railway stations in countryside towns, major towns and cities.
Trains numbered between 6001 and 7598: These trains stop at every railway station along the way, including those in villages and small towns. The ticket prices are really cheap. (only electric fans are available).