Traveling by train in China is one of the cheapest ways to travel some of the long distances in China and is increasingly popular among foreign travelers. It is important to have a basic idea of what trains in China are like if you decide to travel by train in China. English is generally not spoken by any of the staff on the trains or in the railway stations. Limited English sign is available in the railway stations. A separate waiting lounge is available in the railway stations for passengers traveling in the soft sleeper section. Preferential boarding is available for those passengers. See how to board a Chinese train?
Popular Train Routes & Schedule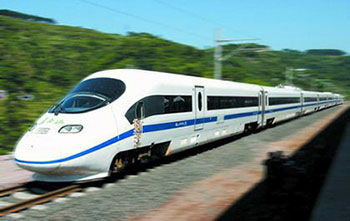 Train routes connected with China's major tourist cities or centered around big cities such as Beijing and Shanghai are frequently used by travelers. The reasons are there are more frequencies and the facilities on trains on these routes are new. See below all popular train travel routes:
China High-speed Trains
China Train Ticket Search & Buy
Bullet train was first introduced into China in 2008, and since then, China's rail witnessed a boom of this fast way of transportation. There are five high-speed rail lines: Beijing to Shanghai, Beijing to Tianjin, Shanghai to Nanjing, Shanghai to Hangzhou and Guangzhou to Wuhan by the end of 2010. See what does a bullet train look like ? See below all most popular bullet train routes:
Major Train Stations for the Bullet Trains
Many train stations in China serve bullet trains. See the Top Four Largest Bullet Train Stations below:
Tibet Trains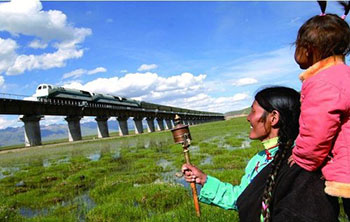 A train trip to Tibet allows travelers slowly adapt to high altitude conditions instead of a sudden shift if you were to take a plane. In addition, it is a scenic trip accompanied with breath-taking natural scenery. After passing Golmud(the starting point of the Qinghai-Tibet Railway), the landscape gradually becomes picture-postcard-perfect, with snow-capped mountain peaks in the distance rising against blue sky, and vast grassland sometimes filled with flocks of sheep and yaks.
Using China's Trains
Departing from a Station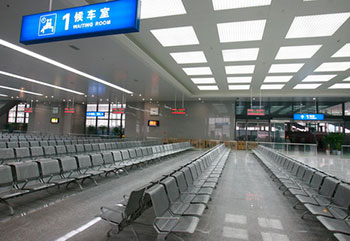 Waiting Room
In some big cities, there are two or more train stations, make sure that you get on or get off at the correct train station. See Major China Train Stations List.
If you choose to take a train and get on board by yourself, please make sure of your train information and get to the train station 30–40 minutes before the train departs.
Go to your waiting area. Your platform/waiting room are displayed on the boards in the station, with train number and destination. In large stations this cycles between Chinese and English, like at China's airports, in the smaller stations you can look for your train number to find out your platform and/or waiting room.
Doors from the waiting room to the platform will be opened when the train arrives, and close 5 minutes before it leaves. (Note on some of the smaller trains the procedure is different, e.g. at Suzhou the train only stops for 2–3 minutes, and it's a mad and sometimes dangerous scramble).

The Platform

Once the waiting room doors are open, find the right platform. Don't underestimate this task; it may involve quite a bit of walking, and some stairs. One waiting room may give access to many platforms. Sometimes you can get on early (avoiding the mad scramble) with the help of your guide who can pay a porter a few yuan to give you early access to the platform. The main thing is GET THERE IN GOOD TIME.
Arriving at a Station
For those traveling with China Highlights, your guide will usually know which carriage you are on, and will meet you on the platform. However, some trains are now so fast that no-one is allowed onto the platform until after the train has arrived. In these instances it's hard for the guide to come in quickly against the flow of passengers, so customers should stay put until their guide finds them, usually after the initial hurly burly. Check beforehand whether you should await your guide at a specific place on the platform, or go to the exit. This will avoid you having to check around 4 or 5 exits, when you could walk up to 4 km getting round them all.
Your guide can ask the carriage attendant to warn you 5 minutes or so before you arrive at your station. Local trains, e.g. to Suzhou, may be through trains, stopping only very briefly, about 2 minutes. Be ready!
Sometimes you may need to show your ticket to get off the platform when you arrive, so hang on to it, just in case.
Each carriage is numbered. Each bunk is numbered. These show on your ticket. In soft sleeper carriages each 4-berth cabin is also numbered. This does not show on your ticket, and can confuse you. E.g. You are in carriage 6, berth 7, but berth 7 will actually be in cabin 2 (cabin 1 has berths 1–4, cabin 2 has berths 5–8 etc). Cabin 7 will therefore have berths 25–28.

If you want to take a train trip across China, contact us and we will help you design a train tour.
Tips for Train Travel in China
How to Buy Train Tickets?
Train tickets can be bought at stations or booked through a travel agency or booked online. China Highlights provides train ticket on-line booking service. All inquiries will be handled by China Highlights' experienced travel advisors to ensure you get the best service. Search A Train
What Do Chinese Trains Look Like?
Chinese trains connect all main cities and towns in China, and it provide a safe, comfortable and cheap way to travel. More
Baggage Allowance on Chinese Trains
The maximum carry-on baggage allowance for each adult passenger is 20 kg and 10 kg for each child. The total length of each item can not exceed 160 cm. More
How to board a Chinese train?
You can easily find your car because the numbers are marked clearly on the carriage. A train attendant waits at the door of each carriage and checks the tickets. More
How to Read a Train Ticket ?


Your departure and arrival stations, departure date and seat class are all shown in your train ticket. A train attendant waits at the door of each carriage and checks the tickets. More

If you travel on an overnight train, please prepare some bottled water, fruits, snacks and convenience food to eat and drink on the train. Usually you need to go up and down lots of stairs at the train station, so it is advisable to bring suitcases with wheels, as there are ramps by the stairs to tow your luggage on.
See China Transportation for more information about various forms of transportation in China.