East Lake Park
The East Lake is a big lake in Wuchang that has lots of bays and measures about 35 square kilometers. It is surrounded by urban area or small parks. The whole park is divided into six scenic areas: the Tingtao Scenic Area, the Moshan Scenic Area, the Luoyan Scenic Area, the Baima Scenic Area, the Luohong Scenic Area and the Chuidi Scenic Area. The main scenic spots are the Yuyan Garden, a musical fountain, the Xingyin Pavilion, the Changtian Tower, the Huguang Pavilion, Tian Shui Yi Se, and the Qu Ti Ling Bo. People can take boats at any dock on the lakeside and get to the Moshan Zoo located at the other bank of the East Lake.
The East Lake parks have a lot of species of trees, and the Moshan Zoo is interesting for the red pandas, the giant panda if it is there, and other animals. Entry to most places around the lake is free, but the Moshan area requires a ticket of about 40 RMB (about 6 USD).
Location: It is about 30 minutes by bus along Wuluolu Avenue from the Yangtze River Bridge. It is a big lake with parks surrounding it, so there are many places to enter.
Page Rating:
4.50

/

5
based on
2
ratings.
Recommended Wuhan Tours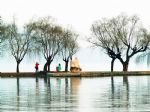 China Highlights
Wuhan Travel Guide