Xishuangbanna Travel Guide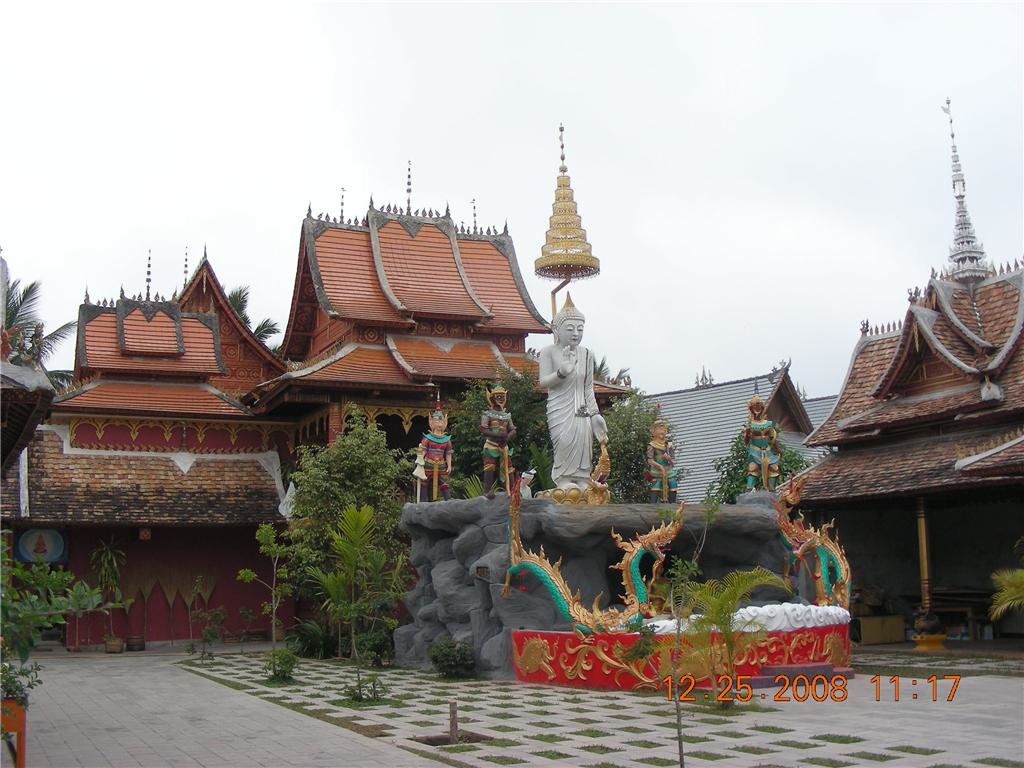 Manchunman Buddist Temple
Xishuangbanna is located at the southern part of China. It is the major passageway and base from China to Southeast Asia and south Asia. Xishangbanna Region covers 19,124.5 square kilometers and has a population of 840,000, including the Dai, Hani, Lahu, Blang, Jinuo, and nine other ethnic groups. Xishuangbanna has jurisdiction over Jinghong, Menghai, and Mengla.
Xishuangbanna, as a National Scenic Resort, is rich in nature and historical and cultural resources, and is noted for its multifarious folklore, rain forests, rare plants, and wildlife. Its major tourist attractions include the Menglun Tropical Botanical Garden, Manfeilong Pagodas (Tanuozhuanglong), the Jingzhen Pavilion, the Wild Elephant Gully, the Dai people's village at Ganlanba, among others.
Minorty Cultures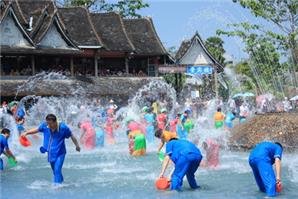 Xishuangbanna Water-Splashing Festival
The well-known traditional festival is the ethnic Dai's Water-Splashing Festival, which lasts three days, from April 13 to 15. In addition to a water-splashing event, the festival also consists of other events, such as Dragon boat races, the firing of indigenous missiles, flying Kongming Lamps, and other enjoyable traditions.
The Dai people celebrate three main festivals, the Opening Door Festival, the Closing Door Festival, and the Water-Splashing Festival. The first two festivals are dedicated to Buddha. Grand celebrations and worshipping activities are held at the various stupas in the region. The Water-Splashing Festival is the most important occasion in Xishuangbanna, and it seems to inject a bit of life into an otherwise uneventful locale. The entire community and tourists are out on the streets joyfully joining in a battle of water splashing on that day, turning the city into a sea of billow and spray.
China Highlights can help you design a tour to see the best of Xishuangbanna.
Weather
Xishuangbannan has two kinds of weather: wet and dry. The wet season runs between June and August, accompanied by almost daily drizzle. From September to February there is less rain. The region enjoys pleasant temperatures for most of the year other than summertime, which can be swelteringly hot.
Questions and Answers About Xishuangbanna Travel Guide
Rory Emond
2012-06-28
Show Answer
Hello there, I am looking to fly to Xishuangbanna from either Dali or Lijiang, is this possible. who flys there, where is best place to get tix, and about what price.Thank you in advance
Dear Rory, Thanks for your question. There is no airport in Dali, but you can take flight from Lijiang to Xishangbanna directly, the airfare is US$219 per person with economy class. It is suggested that you take a taxi from the entrance of Lijiang Ancient City to Blue Sky Hotel (taxi fee around CNY7-CNY10 one way) and then take the shuttle bus from Blue Sky hotel to Lijiang Airport (bus fee around CNY20-CNY30 per person one way). The shuttle buses leave every hour from 6:30AM to 10:00PM. It takes 30-40 minutes drive to Lijiang Airport. As a travel agency in China, we glad to arrange tours in Dali, Lijiang, Xishuangbanna or other cities in China including hotels, flight/train tickets, tour guides and cars booking. Please feel free contact me at nancy@chinahighlights.net any time if you need any tour arrangement. Nancy Nancy Deng replied on 2012-07-01
April Offer $25 Coupon
Send your inquiry before Apr. 30, 2014, and we will email you a $25 coupon.
The coupon is valid till Dec. 31, 2014, for paying tour packages worth $250 or up.
The coupon cannot be used for paying flight tickets, train tickets, hotel rooms and day trips.
Travel Advice or Question? Ask us here
Xishuangbanna Travel Guide
Xishuangbanna Facts
Chinese Name: 西双版纳
Chinese Pinyin: xī shuāng bǎn nà
English Name: Xishuangbanna
Province: Yunnan
Location: West China
Area: 19,582 sq. km. (7561 sq. mi.)
Latitude: 22° 03' N
Longitude: 100° 29' E
Area Code: 0691
Population: 1 million
Time Zone: (UTC+8)