Beijing Botanical Garden
Summary
The Beijing Botanical Garden is a large comprehensive botanical garden which combines the functions of scientific research and tourism. It is one of the key botanical gardens in China.
Overview
The Beijing Botanical Garden (北京植物园) is located between Fragrance Hill and Yu Quan Mountain. It was approved by the State Council in 1956. Along with scientific research, the garden is a popular tourist attraction. The whole site measures about 550,000 square meters or 55 hectares or 136 acres. The gardens have a plant exhibition district, a famous relic site, a science and research district, and a natural reserve site. In the garden, there are more than 10,000 kinds of plants. This includes about 2,000 kinds of trees and bushes. They do research in producing more varieties of plants. There is a plant exhibition greenhouse in the center along with 13 rooms with 1,500 kinds of plants in hot houses, and there are gardens, groves, and Buddhist temples and shrines to see.
Garden Spots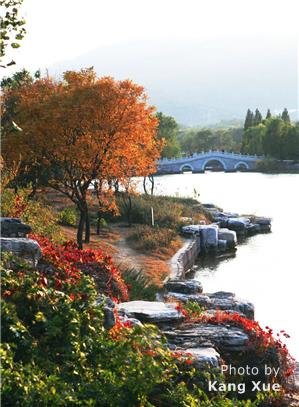 In the plant exhibition area there are various groves, gardens and greenhouses for various types of plants. There is a rose garden, a Chinese rose garden, a green peach garden, a lilac garden, a cherry garden, a magnolia garden, the potted landscape garden, a bamboo garden, a Chinese peony garden, a perennial bulb garden, a rose garden, a peony garden and other gardens. In the trees' garden, there are a ginkgo, pine, and cypress section and areas for other kinds of trees.
Famous Relic Site
Famous relics you can see in the Famous Relic Site includes the Reclining Buddha Temple, the Cherry Furrow, the Relic of Long Jiao Temple, the Memorial Hall of December 9, the Grave of Liang Qichao, and the Memorial Hall of Huang Yecun. Among the ancient architecture, there is the Reclined Buddha Temple that people started to build more than a thousand years ago.
The Exhibition Greenhouse
The Beijing Exhibition Greenhouse occupies a total area of 9,800 square meters, and it is Asia's largest exhibition greenhouse. It is said to be the world's biggest single greenhouse. The greenhouse is divided into the rain forest room, the desert plant room, and other rooms where there are pineapple plants and carnivorous plants. There are 3,100 kinds of plants in the Torrid Zone.
China Highlights can help you customize a tour to visit Beijing Botanical Garden and other highlights in Beijing.
Transportation
Address; Wo Fo Si Road, Fragrance Hill, Haidian District, Beijing.
Bus: Bus No. 331, 34, 696, 360, 318, 714, and 698 go there.
Rail: Take Line 1 to the Apple Orchard station. Then take Bus No. 318. From Beijing Rail Station, take Line 2 to Xi Zhi Men. Then take Bus No. 634.
Important Information
Open:
The Botanical Garden: 7:00 am-5:00 pm.
The Reclined Buddha Temple: 8:30 am-4:30 pm.
The Science Popularizing Hall: 9:00 am-4:00 pm.
The Memorial Hall of Cao Xueqin: 8:30am-4:30 pm
The Greenhouse: 8:30 am-4:30 pm
Questions and Answers About Beijing Botanical Garden
April Offer $25 Coupon
Send your inquiry before Apr. 30, 2014, and we will email you a $25 coupon.
The coupon is valid till Dec. 31, 2014, for paying tour packages worth $250 or up.
The coupon cannot be used for paying flight tickets, train tickets, hotel rooms and day trips.
Travel Advice or Question? Ask us here

China Highlights
Beijing Travel Guide