Beijing Tour for Family with Kids
4-Day Beijing Family Tour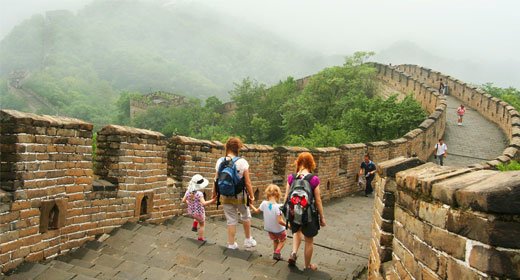 Why we recommend this tour: Including the most popular historical sites — the Forbidden City, the Great Wall and unique programs suitable for children. It is a classic family tour focusing on the interests of you and your children, at your pace.
Tour code: CHT-FT-04
Departure date: You choose
Private tour: customized for you, traveling with your own tour guide, driver and car
from $539 Price details

Family Focus
Travel with your private guide, driver, and car.
You can enjoy the flexibility of changing your route or arrangement depended upon your family's needs.
Visit the giant pandas at Beijing Zoo though you don't plan on going to the giant panda's hometown: Chengdu!
Enjoying the funs of painting a Chinese opera face-mask and visit a local family living in a Hutong.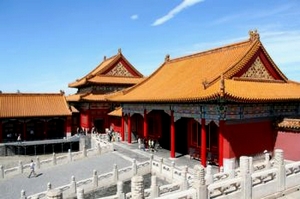 The Forbidden City
Your private guide will meet you and pick you up at the airport and you will be taken by a professionally-chauffeured car directly to your hotel. Your guide will help your check in. We take the stress out of travel, so you can enjoy China more with your family.
Free-Time Ideas
Visit a Beijing snack street, and enjoy tasting the delights of what Beijing people eat as traditional snacks.

The kong-fu show and acrobatic show are wonderful performances loved both by adults and children. You can ask your guide (an expert on Beijing) for ideas and recommendations to enjoy an exciting free night. Or see Discover More for ideas.
Hotels: Here are three recommended choices based on feedback and value.
Day 2
Discover the Forbidden City and the Hutongs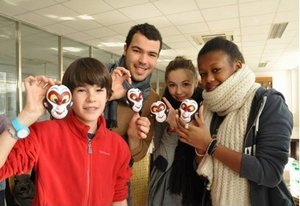 Painting Facial Makeup
After enjoying your Western breakfast at your hotel, your journey begins. The Tian'anmen Square ('Gate of Heavenly Peace Square') is your first destination.
The world's largest public square can accommodate 1,000,000 people, so you don't need to elbow your way through the crowds. The square is an essential attraction for school kids' field trips of Beijing. If you are interested in the daily flag-raising ceremony at sunrise, you can ask your guide to escort you. But you need prepare for early morning rise and possible camera-snapping tourists.
Walking northward from the square, you will enter the renowned Forbidden City. This largest and best-preserved imperial palace was constructed in 1420. Your private guide will explain the architectural culture, history, and interesting anecdotes behind the palace for you.
You will have your lunch at Courtyard 7 Restaurant, a restaurant serving modern French dishes. The restaurant has been restored from a traditional quadrangle courtyard, and is located in a hutong.
After lunch, hop on a rickshaw and enjoy a ride through the hutongs, the narrow alleys between rows of quadrangle dwellings. There you might come across children playing football or seniors playing Chinese chess by the sides. This is a great way to get snapshots and see traditional Beijing people's life.
Get up close and personal, when you visit a local family living in their traditional home. There you also can try your hand painting a Chinese opera face mask in a pattern that you like and learn the meaning of each different masks.
GOOD TO KNOW
Courtyard 7 — Trip Advisor's 'Traveler's Choice of 2012' Rated 4.5/5.
Hutong Family Visit — Highly recommended by customers and travel reviews as 'making the hutongs worth it'.
Want to discover more in the hutongs? Add DIY traditional Chinese handicraft to your Beijing itinerary.
Day 3
Discover the Temple of Heaven and the Great Wall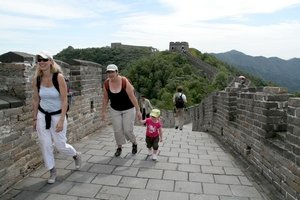 The Great Wall at Mutianyu
You will have a Western breakfast at your hotel. Your private guide and driver will be waiting in the lobby, prepared with bottled water and map, ready to maximize your time.
In the morning you will visit the Temple of Heaven, the royal altar where the Emperors of the Ming and Qing dynasties worshipped heaven. Before you enter the Temple of Heaven, you will come across lots of local people doing their morning exercise, tai chi, birds in their bamboo cages, writing calligraphy on the ground, and kicking shuttlecocks. Feel free to join in and share in the happiness with the local people.
From there, we will venture out to the Great Wall at Mutianyu, which is about a 2-hour drive from the Temple of Heaven.
Before walking the Great Wall, you will have your lunch in a garden styled restaurant quite near Mutianyu — Xin Shuang Quan Restaurant (鑫双泉餐厅), which serves farmhouse dishes.
The Great Wall at Mutianyu is a restored section with less people, the most impressive scenery, and also a convenient cable car service. This section is about 2.2 kilometers long, with the steepest section part (at nearly 70 degrees) close to the end.
GOOD TO KNOW
As we head back to the car park, you have the option of either taking the cable car service or if you feel more adventurous and want a quick way down, then take the slide–feel the fresh breeze and clear your lungs!
There is a museum (China Dream Stones Museum) with more than 20,000 peculiarly-shaped stones at the foot of Mutianyu's Great Wall section. It is free to visit and worth a look.
Day 4
Depart Beijing after Discovering the Summer Palace and Beijing Zoo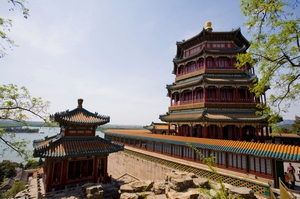 The Scenery of the Summer Palace
Your Beijing discovery will continue with a visit to the Summer Palace and the Beijing Zoo.
The Summer Palace is the imperial court's summer retreat, still making a nice place to escape from the heat of the summer. You can climb the hill or take a scroll in the charming decorated walkways, before your cruise in a dragon-shaped boat on Kunming Lake. DON'T MISS the glory paintings on the long corridor.
Beijing Zoo offers an opportunity of seeing the giant pandas when Chengdu is not on your itinerary. Built in 1906, the Beijing Zoo is the largest zoo in China, housing more than 500 types of animals, including the giant pandas and other endangered animals in China. Your guide will escort you and introduce you to the endangered animals.
Lunch is at Xibei Restaurant, a restaurant serving dishes popular in Northwestern China.
Two hours before your boarding time, sit back and relax as your private driver and guide get you to the airport on time. They will take you right to check-in and say goodbye at the security gate.
Price Per Person in US Dollars


China Highlights Difference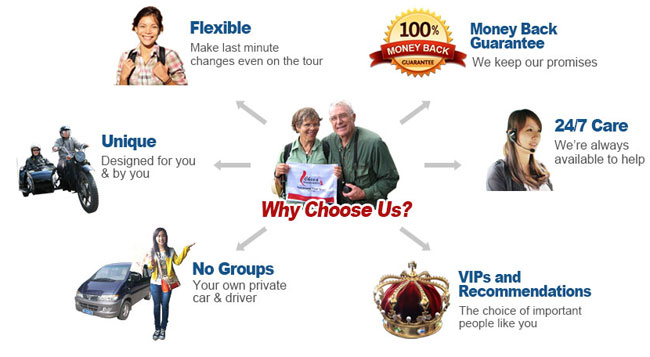 Price Inclusion
Price Exclusion
Centrally Located Hotels
Authentic Chinese Food
Private Cars and Drivers
Private Guides
Entrance Fees
Service Charge & Government Taxes
Insurance
Luggage Transfers
International Airfare or Train Tickets to enter or leave China
China Entry Visa Fees
Excess Baggage Charges
Personal Expenses
Single Room Supplement.