Beijing Taxi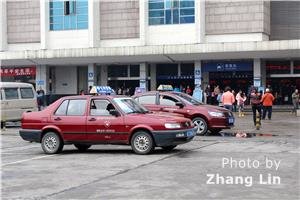 Taking a taxi is the most convenient way to get around a metropolis such as Beijing. Thousands of taxis run to and from every corner of Beijing to meet the demands of passengers. Passengers can dial 96103 or 010-6873 3399 to call a cab, and an additional surcharge of 3 yuan is incurred for this service. Taxi fares differ according to the time of day.
Charges
From 05:00 to 22:59
For travel within 15 km (9.3 miles), 10 yuan is charged for the first 3 km and 2 yuan for each subsequent km. For distances over 15 km (9.3 miles), 3 yuan is charged for each additional km.
From 23:00 to 04:49
The above charges apply, with the addition of a flag-down fare of 11 yuan. At the end of the journey, the passenger is required to pay an additional surcharge of 20% of the total fare.
Notes
1. If a passenger is taking a taxi from 22:00 to 23:30, the taximeter adjusts itself, do not worry.
2. Passengers need to pay 1 yuan as a bunker surcharge, which means that the charge for taking a taxi is the real charge plus 1 yuan.
3. The pontage and toll are also paid by passengers.
4. If several passengers are carpooling in a taxi, each must pay 60% of the total charge.
5. Passenger needs to ensure that they use an official taxi, with a taxi sign on the roof and the driver's registration card displayed on the dashboard.
6. In advance, write down your destination in Chinese in case you get lost.
7. If there is a problem, write down the driver's ID number, the license plate number or other information and keep the invoice. Tell the driver you'll call the Taxi Management Bureau or the police. This will usually change their behavior. Complaint hotlines are 6835 1150 and 6835 1570.
Questions and Answers About Beijing Taxi
Rakash
2013-03-09
Show Answer
Hi,My name is Rakash, coming from Germany. I have few questions regarding hiring taxi. 1. How many persons can travel in a taxi? we are five people. so is there also 7 seat taxis available?2. Is there a centralized taxi centre speaking english, where i can call and book a taxi?Thank you,Rakash.
Hi Rakash, to your questions:
1. Usuall 4 people at most, but if you have a baby, you can hold him/her on your knees. There are no No 7 seat taxis available.
2. Sorry, there is no centralized taxi centre speaking English. You can call a taxi on the way or at the airport.
Whitney Liao replied on 2013-03-11
April Offer $25 Coupon
Send your inquiry before Apr. 30, 2014, and we will email you a $25 coupon.
The coupon is valid till Dec. 31, 2014, for paying tour packages worth $250 or up.
The coupon cannot be used for paying flight tickets, train tickets, hotel rooms and day trips.
Travel Advice or Question? Ask us here

China Highlights
Beijing Travel Guide