Beijing Transportation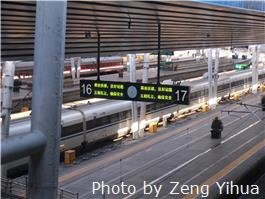 Beijing West Railway Station
Beijing, the capital city of China, has highly developed transportation system both for arriving at and departing from the city, and traveling within the city. There are two airport (Beijing Capital International Airport and Nanyuan Airport), four railway stations and dozens of long-distance bus stations in Beijing. For traveling within Beijing, subways, city buses, taxis, rental bicycles and tourist buses are all available, and the Beijing Transportation Smart Card can bring you a great convenient when traveling in Beijing urban area.. However, due to the high population, traffic congestion is commonly seen, which means, you might need to prepare more time if you are catching a flight or a train. Check out Beijing-Shanghai transportation, Beijing-Hangzhou transportation and Beijing-Guilin transportation.
Although not in Central China, Beijing is probably the best-served city in China with train links. See our searchable timetable for details of over 200 services to and from Beijing. China is however a very large country, and train travel is much slower than by air. For example:
Beijing–Xi'an takes about 10 hours.
Beijing–Shanghai takes about 14 hours.
Beijing–Harbin takes about 20 hours.
Beijing–Guangzhou takes about 30 hours.
Train travel may be difficult for some and little English is spoken on most trains. There are four main railway stations in Beijing that serve the four directions: Beijing Railway Station (serving the east), Beijing West Railway Station, Beijing South Railway Station (also called Yongdingmen Station, not to be confused with Yongdingmen Long-Distance Bus Station) and Beijing North Railway Station (also called Xizhimen Station). Many buses stop at these stations, so you need not worry about getting downtown from these places.
China Train Travel: Do you want to get "up close and personal" with China? Travel "Overland" by train and see a unique and fascinating view of China.
Visitors can buy train tickets in all of these stations, but the queue there is almost invariably long, since Beijing is the primary point of entry for travelers arriving in China from abroad. Travelers can opt to purchase train tickets at one of the alternative railway ticket offices in the city's suburbs. Click to find the list of Beijing train ticket offices.
Air Transport
Beijing Capital International Airport
Beijing Capital International Airport is the largest airport in China, the busiest in Asia, and second busiest in the world in terms of passenger throughput. It is located about 25 kilometers (16 miles) northeast of central Beijing.
Click here for Beijing International Flights and Procedures.
International Flights: There are flights to major cities in all continents except sub-Saharan Africa and sub-USA America.
Domestic Flights: There are flights to every provincial capital, except those where train or bus travel is quicker like Tianjin, and another 40+ cities besides.
Transport from the Capital Airport to the City
The Airport Express
The Airport Express is a subway line, 28 kilometers (17.4 miles) long, and opened in July, 2008. It links Dongzhimen (东直门) and Terminal 3 and Terminal 2 of Capital Airport, via Sanyuanqiao (三元桥). The highest is 110 kph (68.4 mph), and it only takes about 20 minutes from the airport to Dongzhimen. The ticket price is 25 yuan. Passengers can transfer to Line 2 and Line 13 at Dongzhimen or transfer to Line 10 at Sanyuanqiao.
Operating Times for Terminal 2 and Terminal 3
T2: 06:35–23:00
T3: 06:20–22:50
Dongzhimen: 06:00–22:00
Frequency
Every 10 minutes during the periods from 09:30 to 12:30 and from 16:00–18:40 and every 12 minutes during other periods.
From Capital Airport to Sanyuanqiao or Dongzhimen
Follow the signs to the Airport Express Train Station.
Rent a subway card and enter into the waiting hall.
Get off the train and return the subway card.
Exit from the subway station or purchase another ticket to transfer to Subway Line 2, Line 10 or Line 13.
From Dongzhimen to Capital Airport
1) Enter into the subway station from Entrance E at street level and take the elevator downstairs to B1.
2) Purchase a ticket and go through the security check.
3) Take the elevator downstairs to B4.
4) Wait and board the Airport Express.
If you transfer to the Airport Express from Subway Line 2 or Line 13 at Dongzhimen, you have to return your subway card which costs 2 yuan. Then go to the ticket office and proceed from 2) above.
Note
Passenger on the Beijing Subway needs to rent a subway card from the ticket office or the ticket vending machines which have Chinese and English service. Due to the ticket will be reclaimed when passengers exit the subway. There is a 250 yuan replacement charge if the subway card is lost or damage.
Hotel Shuttle
The best and easiest way is to go by hotel shuttle. Most major hotels will have this service. When making a hotel reservation, be sure to ask for airport shuttle service from the airport.
Airport Taxi
The legitimate taxis form a long queue outside the Arrival Hall, but taxis move quickly so you won't wait long. At the head of the line a dispatcher will give you your taxi's number, which is useful in case of complaints. The charge will be at least 100CNY, but pay according to the meter, which includes an expressway toll of 15CNY. After 23:00, you will pay more.
Airport Shuttle Bus
The airport shuttle runs every 30 minutes from early 5:30 to 20:00, and cover different routes, including Beijing Railway Station. It costs 16 yuan (about $2).
Beijing Capital Airport Intercity Buses
From Beijing Capital Airport to Tianjin
Buses departe from Gate 15 of T2 and Gate 3 of T3, the fare is 70 yuan per person, it takes about 2 hours and 45 minutes. Buses run from 07:00 to 23:00. Before 09:00, the bus departs hourly, and after 09:00, the bus departs every 45 minutes.
Tianjin to Beijing Capital Airport
The bus service from Tianjin to Beijing Capital Airport departs from Tianjin Tianhuan Bus Station (天津市天环客运站), located at 228 Hongqi Road, Nankai District (南开区红旗路228号), telephone number: 022-8761 2376. Buses are available from 06:00 to 18:00, departing every 30 minutes, and the fare is 60 yuan per person.
Nanyuan Airport is located in Fengtai District, about 15 kilometers (9 miles) south of Tian'anmen Square, 15 kilometers closer than Beijing Capital Airport. It is the first airport in China, with flight services departing to Wuxi, Jiamusi, Jingdezhen, Dalian, Harbin, Haila'er, Chengdu and Hohhot.
From Beijing to Xingang Port in Tianjin
Xingang Port is an international cruise pier, and one of the largest ports in China. Many well-known international cruises such as Caribbean and Costa Cruises dock at Xingang Port. Xingang Port is about 30 km from Tianjin Tanggu Railway Station, 70 km from Tianjin city center, 180 km (2 hours and 30 minutes drive) from Beijing center, or 200 km from Beijing Capital International Airport.
Passengers can first take inter-city bullet train from Beijing South Railway Station to Tanggu Train Station in Tianjin, then take a bus (No. 102, 6:00-21:00) or taxi to the port. China Highlights provides pick up and transfer service between Beijing and Xingang Port, which can take the hassle out. We can also combine tours with transfer services.
Intercity Luxury Express Coaches: Coach transport to cities near Beijing is very convenient. There are four major long-distance bus stations: Dongzhimen (northeast; Dongzhimenwai Xiejie), Muxiyuan (south; Haihutun, Fengtai District), Beijiao (north; Deshengmenwai) and Majun or Guangqumen (east; Guangqumenwai).
Buses to Attractions: Beijing has more than 20 different sightseeing buses. Click here for their routes. Major hotels have tourist bus services to major attractions like the Great Wall.
You are advised to avoid traveling during big public holidays: It is not a good idea to travel in China during Chinese holidays, as it is the time when masses of Chinese people are traveling around. The biggest three national holidays in China are Chinese Spring Festival (in late January or February), International Labor Day (May 1 to 7) and National Day (October 1 to 7). Spring Festival is an especially crowded time. The advantage of being in China at this time is that you will get the opportunity to experience first hand the significance of these celebrations in Chinese culture.
Related Link
City Transport
Beijing Transportation Smart Card
Beijing is a large city with developed public transportation system, which brings the local and the tourists a great convenience on traveling. However, it is really a trouble to buy tickets and prepare charges when using the public transportation facilities. Beijing Transportation Smart Card, a little ID card, can help you to solve this problem.
The card is available for paying for the services of subway, city buses, some taxis (taxis with the sign of 'Welcome to Use IC Card') and the airport express train. Passengers can get 80% discounts when paying for the city-bus fare by the card. What's more, the Transportation Smart Card can be used at some designated supermarkets, restaurants, department stores, book stores and so on.
How and Where to Apply the Card
Appliers need bring their ID card or passport to the designated sites to apply for a Beijing Transportation Smart Card. Beijing has more than 170 sites, which are located at the ticket offices of every Beijing metro stations, some bus stations and some super markets. Appliers without ID card or passport cannot apply a card but can rent one. However, the card will not be registered with the user's name and refunds will not be returned.
When applying for a card, 20 yuan is paid as guarantee deposit, which will be returned when appliers return their undamaged cards. Remember that you'd better use the card as a 'charge purse' but not a bank card, and do not leave too much money in it, because if you loss this bearer card, you cannot get any compensation. However, tourists are recommended to apply the later one, which can be used without ID card or passport.
Return the Card
Users can return the card at 62 sites which are located in metro stations, bus companies, and the branches of China Citic Bank (中信银行). If the card returned is without damage, the guarantee deposit (20 yuan) will be returned together with remaining balance.
Note: If remaining balance is more than 100 yuan, 10% of the value will be charged as procedure fee. If not, no procedure fee will be charged. You can get the remaining balance 7 working days after the day you applying for returning the card. Hence, the returning of the Beijing Transportation smart card is really not convenient for tourists.
Subway
During the build up to the 2008 Olympics, Beijing's Subway has been extensively developed from 2 lines to 10 lines. See also Beijing Subway Map and Beijing Subway Line 8 (Olympic Line).
City Buses/Trams
Sightseeing Buses: Beijing has more than 20 different sightseeing buses. Click here for their routes.
City public buses run from 5:30 till 23:00 daily. Taking buses in Beijing is cheap, but less comfortable than a taxi or the subway. The flat rate for a tram or ordinary public bus is 1 yuan. Buses equipped with air-conditioning or of a special line are charged according to the distance. Few foreigners like getting around by bus, because it is always crowded, especially during rush hours (6:30-9:00 and 17:00-19:00). On some buses recorded announcements give the stop's name in English. Having your destination in Chinese characters will help. When squeezing onto a crowded bus take care of your wallet, etc.
Minibuses, running from 7:00 to 19:00, charge the flat rate of 2 yuan guaranteeing a seat. They are faster and more comfortable.
Taxis
Though Beijing does suffer from congestion, its taxi drivers will find the fastest way to your destination. Bring the name of your destination in Chinese characters if your spoken Chinese is not good. See Beijing Taxis.
Pedi-cab is a good choice for sightseeing, especially for visiting the narrow Hutongs. You will find pedi-cabs on the street. You should agree on a price with the driver before starting the journey. Legally registered pedi-cabs can be identified by a certificate attached to the cab and the driver has a card hanging around his neck.
Bicycle
China used to be called the sea of bicycles and in Beijing today the bike is still a convenient vehicle for most people. Renting a bike may be a better way for you to see this city at your own pace. Bikes can be hired from many hotels for 20–30 yuan/day. A deposit will be required. You can also rent bikes at some bicycle shops for repairing bikes and inflating tires. Their charge for renting bikes there is lower as the bikes are not as new. When needed, you park your bike in a bike park, which can be easily identified by the large amount of bikes on roadsides. The charge is about 1 yuan.
Walking
Beijing is a huge city, but some attractions can be linked together with a short walk, e.g. Tian'anmen Square, the Forbidden City and Beihai Park.
We are here to help. Contact our travel advisors for help with navigating China's transport network, or book a tour and let us take the hassle out of getting around China.
Questions and Answers About Beijing Transportation
Ruan
2014-03-05
Show Answer
Hello. Is it possible to travel from Beijing to Xi''an with just a copy of my passport?
Hi, Original passport will be needed if you travel from Beijing to Xian either by train or flight. If you need any tour service in Beijing and Xian, just feel free to let us know. Regards, guest replied on 2014-03-05
Natasa
2013-10-30
Show Answer
Hi, we''re coming to Beijing from Shanghai by bullet train on South railway station. What is the best and the easiest way to get from the station by public transport to Holiday Inn Express Beijing Dongzhimen?
Hi Natasa, taking a taxi is the best and easiest way.
Whitney Liao replied on 2013-10-31
Priscilla
2013-10-09
Show Answer
Hi,kindly explain "However, tourists are recommended to apply the later one, which can be used without ID card or passport." the "later one" on SMART Card means what, how much it cost and it is only use within Beijing not other city.
Hi Priscilla,
"The later one" means you can go to Beijing metro stations, some bus stations or some super markets to rent a Beijing Transportation Smart Card without passport. It is only be used in Beijing. About the price, please ask local train station for details. Good Luck.
Christy Luo replied on 2013-10-10
Betty Chopoff
2013-09-05
Show Answer
Interested in join in group tours for Beijing.
Public bus is available from Baiyun International airport to Aiqun hotel. The information I search online is to take Bus 244 at the airport to Jiangnandadao and then connect Bus 281 to Lishuidadao and walk to the hotel. For getting exact information, I think it is better to ask Aiqun Hotel, isn't it?
Please note that all the bus information, such as names of stops are all in Chinese version and I think it is inconvenient for you to take bus. Maybe taxi is better?
Carol Wang replied on 2013-09-06
Jane
2013-06-12
Show Answer
Hi. We are going to Guangzhou (2nd time) for 10 days in Dec. 2013. This time we wish to travel to neighbouring country such as Hongkong, Macau, Zuhai, etc. Please advise how to go about to these places or places near Guangzhou. Not familiar with China map. Thanking you.
Dear Jane, It is easy to take a train from Guangzhou to Hong Kong and Zhuhai. You could take a train from Guangzhou south railway station to Zhuhai, it takes about 1-1.5 hours and it costs about CNY55-90/US$9-15 per person. There are many trains everyday. You could take a train from Guangzhou east railway station to Hong Kong, it takes about 2.5 hours, it costs about US$30 per person. From Hong Kong to Macau, you could take a ferry, there are many boats everyday. It takes about 1 hour. Please take the ferry from Hong Kong Macau Ferry Terminal. Lussie Lu replied on 2013-06-14
April Offer $25 Coupon
Send your inquiry before Apr. 30, 2014, and we will email you a $25 coupon.
The coupon is valid till Dec. 31, 2014, for paying tour packages worth $250 or up.
The coupon cannot be used for paying flight tickets, train tickets, hotel rooms and day trips.
Travel Advice or Question? Ask us here

China Highlights
Beijing Travel Guide