Beijing Hutongs
The Beijing Hutongs (old lanes) have a very special place in the rich history and culture of Beijing.
The alleys give a wonderful glimpse into yesterday's world, the old way of life and traditional Beijing culture, and highlight the dramatic changes the rest of Beijing has undergone.
Longer Beijing tours usually include a visit to a hutong area.
Also read Best food and restaurants in Beijing Hutongs.
What Is a Hutong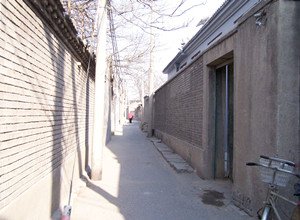 Beijing Hutongs
Hutong now means a lane or an alley, formed by rows of siheyuan (a compound with buildings around a courtyard) where old Beijing residents lived. The word "hutong" originates from the word "hottog" which means "a well" in Mongolian, in ancient times villagers dug a well and then lived around it.
It was recorded that during the Yuan dynasty a 36-meter-wide road was called a standard street, a 18-meter-wide one was a small street, and a 9-meter-wide lane was named a hutong. In fact, Beijing hutongs range from 40 centimeter to 10 meter wide. The longest has more than 20 turns.
Beijing hutongs are varied: in east-west or north-south direction, sloped, half or "blind hutongs", or cul-de-sacs.
The gray-tiled houses and alleys crossing with each other in identical appearance are like a maze, it is fun to walk through them but be careful not to get lost.
The Culture of Hutongs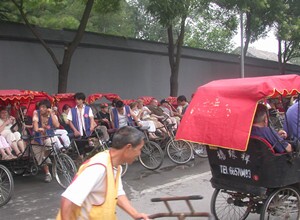 Visit Hutong with Rickshaws
The name of a hutong represents its origin, location or history. It is in these gray-tiled long lanes that families play, buy goods, gossip, and connect.
In Beijingers' eyes, hutong means a period of history, a cordial lifestyle and even an "encyclopedia of Beijing".
Within the numerous hutongs are scattered the residences of famous personages. Laoshe, a well-known playwright is just one of them.
Laoshe was born in a small lane, in the west of the city. The memories of his childhood were so dear to him and left such a deep impression that even after he'd been away from Beijing for more than 20 years, he still clearly remembered his birthplace, and made it the backdrop of his novel "Four Generations under One Roof".
Many famous operas and dramas are based on the themes of the life in the hutongs, and a drama by the Beijing People's Art Theatre, such as "Teahouse" or "Small Hutong" in the evening would complement a visit there.
Beijing still has about 400,000 residential siheyuan now, mainly distributed over the East, West, Xuanwu, and Chongwen districts. When urban construction threatens the existence of the hutongs, Beijingers become worried. The municipal government has earmarked a number of them for protection.
Beijing Hutong Zhang Folk Art Museum
This two-storied private museum houses a collection of over 1,000 pieces of traditional handicrafts and toys, as well as over 100 vintage photos and posters.
"Zhang" is the family name of the museum owner, Zhang Yujun, a Beijing local resident who loves the traditional culture of Beijing.
More information about this museum
Experiences
Local Family Visit and Dumpling Making Experience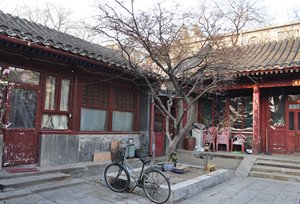 Traditional courtyard house in the Hutongs
Visit the old alleyways (Hutong) of the Xicheng District and walk along the bank of the beautiful Houhai Lake. Visit a local family in one of the traditional courtyard houses. Chat with the families about their life, learn to make Chinese dumplings (jiaozi), and enjoy the meal (dumplings and other dishes) with them.
Duration: 2 hours
Price: USD 77 (combined with tour package)
Chinese Cooking Class
In a home of local people, you can experience the culture and learn some basic skills in Chinese cooking. After cooking one dish, you will enjoy the fruits of your labor.
During the class you will get a full demonstration of making a dish by your teacher, learn to cook it, and finally taste the dish you have cooked and have lunch with the local people.
Duration: 1 hour
Price: USD 45 (combined with tour package)
Chinese Calligraphy Learning
In this class, you will be introduced to some basic skills in painting and taught to draw a simple picture under the guidance of our teacher. Drawing tools like brush, ink, paper, and ink-grind are provided.
During the class you will get an introduction to the history and classification of calligraphy, demonstration by the teacher, and learn some easy Chinese characters.
Duration: 30 minutes
Price: USD 79 (combined with tour package)
Make a Chinese Paper Cutting
The Chinese paper cutting is a national handicraft with profound cultural connotations. It is an opportunity to make a traditional Chinese handicraft in the Hutong area. It is easy to learn and only requires a pair of scissors and paper, but a good paper cutter requires a great deal of skill in cutting and paper selection.
During the class, you will be given an introduction of the history of Chinese paper cutting, demonstration of the method of making a paper cutting, and your tutor will teach you how to make a paper cutting.
Duration: 30 minutes
Price: USD 79 (combined with tour package)
Chinese Knot Making
Chinese knot is a national handicraft with a long history and profound cultural connotations. Each knot is woven out of one single silk thread, and given a name according to its shape and meaning. Our teacher will share some of these skills and you can take home the fruit of your labor.
During the class you will be given an introduction to the history of Chinese knotting making, demonstration by the teacher and learn how to make a Chinese knotting.
Duration: 30 minutes
Price: USD 79 (combined with tour package)
Mahjong Experience
Mahjong is a game for four players originating in China. Mahjong first became popular in the Ming Dynasty, several hundred years ago. It is a game which involves skill, strategy, and calculation, as well as a certain degree of luck. Your teacher will share some of the skills with you at your class in Hutong.
During the class you will learn the basic skill of how to play, and if you are interested it is possible to buy a mini mahjong set as a souvenir if you wish.
Duration: 30 minutes
Price: USD 54 (combined with tour package)
Chinese Yoyo Experience
The Chinese Yoyo, also known as Diabolo, was created about one thousand year ago. Made of wood or bamboo, the Chinese Yoyo can be used by people of any age for playing or exercise. An experienced user can execute really fantastic tricks. Why not try your skill while visiting the Hutongs?
During the experience you will get an explanation of the history and function of the Chinese Yoyo, learn how to use it, get a show of the expert use of the Diablo, and if interested buy one as a souvenir.
Duration: 30 minutes
Price: USD 52 (combined with tour package)
Yangko Dancing
Yangko dance is a folk dance with a history of 1000 years in China. Usually the movements of the waist and hips drive the feet to move in rhythm with one step forward and half step backward. Join us to move your body to experience this amusing activity.
Duration: 2 hours
Price: USD 42 (combined with tour package)
Cricket Culture
Cricket Culture in China encompasses a 2000 year history of both singing and fighting crickets. It is a traditional culture of Beijing.
During the visit you will visit the home of a cricket enthusiast in the Hutongs who is involved in rearing crickets, learn about the history of Beijing Cricket Culture, and basic knowledge of rearing crickets.
Duration: 30 minutes
Price: USD 63 (combined with tour package)

China Highlights
Planning a trip? Ask us here 800-2682918 (USA & CA)
86-773-2831999 (Int'l)
Q:
Rosalind
Asked on 2012-11-22
Reply
Hi, is there any ways for me to visit HutongsOn my own without taking any tours? Thanks.Rosalind.
Hi Rosalind, yes, you can visit it yourself. There are Hutongs both in Dongcheng and Xicheng Districts.
Whitney Liao Replied on 2012-11-23
Q:
Jay Chui
Asked on 2012-11-01
Reply
I am planning a beijing trip this December. There are 2 adults and 2 children. I am inquiring the price stated for your Hutong Dumplings tour, US77 is for how many people?
Hi Jay, do you mean this tour http://www.chinahighlights.com/beijing/day-trips/bjalc-41.htm? It is USD75/PP for a group of 6-9 people. For grou of 4 people, the price is USD90/PP. Please check it.
Whitney Liao Replied on 2012-11-03
Q:
Donghong Wang
Asked on 2012-08-13
Reply
Hi, I would like to join your Hutong tour in Beijing on either Sep 1 or Sep 6. Please tell me where I should meet other people and how much it will cost and how long the tour will take.

Hello Donghong Wang, our Hutong tour usually takes about 3 hours. All our Hutong tours are private tour, no group tour available so far.How many persons are there in your group? Our guide will pick up you from your hotel. If you like me to arrange the tour for you, please feel free to let me know。 guest Replied on 2012-08-13
Q:
Osvaldo
Asked on 2012-07-23
Reply
Hi!The best hutong in Beijing? Whit not a occidental shop...but really hutong! Thanks a lot!Valdo
Hi Valdo, I can not tell which one is the best, but I suggest that you should go to Dongcheng district where you can find many nice Hutong. Leon Long Replied on 2012-07-23
Q:
Richard Fairley
Asked on 2011-02-27
Reply
As an English only speaking tourist is it difficult to get taxis in Beijing?
I highly suggest you to print out the hotel name, phone no and address information in Chinese then show to Taxi driver, like this http://www.chinahighlights.com/hotel/Beijing-hotels/map/sunworld-hotel.htm. You could forward me the hotel information for help. By the way, we offer airport to hotel transfer service only costs US$46 for 2 poeple. The English speaking guide could give you a general introduction and some tips for travel around Beijing. if you are intersted, please contact me via karen@chinahighlights.com (3 days early please). Karen Karen Yang Replied on 2011-02-28
Beijing Travel Guide