Beijing Hutongs
The Beijing Hutongs (old lanes) have a very special place in the rich history and culture of Beijing.
The alleys give a wonderful glimpse into yesterday's world, the old way of life and traditional Beijing culture, and highlight the dramatic changes the rest of Beijing has undergone.
Longer Beijing tours usually include a visit to a hutong area.
What Is a Hutong
Hutong now means a lane or an alley, formed by rows of siheyuan (a compound with buildings around a courtyard) where old Beijing residents lived. The word "hutong" originates from the word "hottog" which means "a well" in Mongolian, in ancient times villagers dug a well and then lived around it.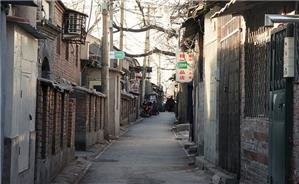 Beijing Hutong
It was recorded that during the Yuan dynasty a 36-meter-wide road was called a standard street, a 18-meter-wide one was a small street, and a 9-meter-wide lane was named a hutong. In fact, Beijing hutongs range from 40 centimeter to 10 meter wide. The longest has more than 20 turns.
Beijing hutongs are varied: in east-west or north-south direction, sloped, half or "blind hutongs", or cul-de-sacs.
The gray-tiled houses and alleys crossing with each other in identical appearance are like a maze, it is fun to walk through them but be careful not to get lost.
The Culture of Hutongs
The name of a hutong represents its origin, location or history. It is in these gray-tiled long lanes that families play, buy goods, gossip, and connect.
In Beijingers' eyes, hutong means a period of history, a cordial lifestyle and even an "encyclopedia of Beijing".
Within the numerous hutongs are scattered the residences of famous personages. Laoshe, a well-known playwright is just one of them.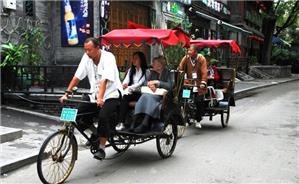 Visting Hutong by Rickshaw
Laoshe was born in a small lane, in the west of the city. The memories of his childhood were so dear to him and left such a deep impression that even after he'd been away from Beijing for more than 20 years, he still clearly remembered his birthplace, and made it the backdrop of his novel "Four Generations under One Roof".
Many famous operas and dramas are based on the themes of the life in the hutongs, and a drama by the Beijing People's Art Theatre, such as "Teahouse" or "Small Hutong" in the evening would complement a visit there.
Beijing still has about 400,000 residential siheyuan now, mainly distributed over the East, West, Xuanwu, and Chongwen districts. When urban construction threatens the existence of the hutongs, Beijingers become worried. The municipal government has earmarked a number of them for protection. Below is a list of famous Hutongs in Beijing.
The Longest One — Dongxijiaominxiang (东西交民巷)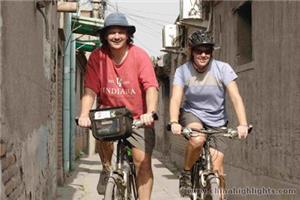 Visiting Hutong by bike
With 6.5 kilometers in length, Dongxijiaominxiang is the longest hutong in Beijing. Dongxijiaominxiang (东交民巷) is to the east side of the Chairman Mao Memorial Hall, Tian'anmen Square and downtown Beijing, while Xijiaominxiang (西交民巷) is to the west side. Western-style buildings are all along the hutong, being well-arranged and varied in style. It is a unique place combining a hutong that has Chinese characteristics with Western buildings.
Dongxijiaominxiang is located in a very convenient position near Tian'anmen Square, the Imperial Palace and Wangfujin Walking Street.
The Shortest One — Yichidajie (一尺大街)
Yichidajie, also called One Foot Street, is only about 10 meters long and is located in the south-east, on the eastern side of Glass Street (琉璃厂东街东口东南). There are six shops in the street: the three shops in the north are engraving shops and the three in the south are a winery, a smithy and a barbershop. Now the name of Yichidajie has been withdrawn and the street is incorporated into Yangmeizhuxiejie Street (杨梅竹斜街). So the west part of Yangmeizhuxiejie Street was originally Yichidajie. Yangmeizhuxiejie Street is located to the south-west of Outer Qianmen Street, 500 meters from the west side of Dashanlan Street (大栅栏街). "The Eight Hutongs" are made up of Yichidajie and another seven hutongs near it, and was the place where hook shops were gathered in ancient China.
The Broadest One — Lingjing Hutong (灵境胡同)
Lingjing Hutong is an east-west oriented hutong in Beijing Xidan District (西单); the broadest part is 32.18 meters.
The Narrowest One — Qianshi Hutong (钱市胡同)
Qianshi Hutong is to the west side of Beijing Zhubaoshi Street (珠宝市街), near the famous commercial area of Dashanlan (大栅栏). It has long been the narrowest hutong in Beijing. It is 55 meters long, 0.7 meters in width and 0.4 meters in its narrowest part. Two people facing each other have to go through the hutong sideways. At the end of the hutong is a courtyard, with an awning above it and bedrooms beside it. The courtyard is a remnant of a monetary market in the Qing Dynasty, where ancient official currencies were exchanged, and it was an early form of a financial market.
The Most Tortuous One — Jiuwan Hutong (九湾胡同)
Jiuwan Hutong is located in the east part of Xuanwu District. Its eastern entrance is connected to Puchenshi Hutong (铺陈市胡同) and the western entrance is connected to Xiaoweiying Hutong (校尉营胡同). It is 390 meters long with more than 13 tortuous parts, which is why it is called the most tortuous hutong in Beijing.
The Oldest One — Sanmiaojie Hutong (三庙街胡同)
Sanmiaojie Hutong is behind Guohua Shopping Mall, Changchun Street, Xicheng District, Beijing. It is a historical hutong which can be dated back to 900 years ago, to the Liao Dynasty (907 AD-1125 AD).
Hutong Experiences
Local Family Visit and Dumpling Making Experience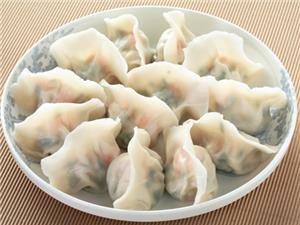 Dumplings
Visit the old alleyways (Hutong) of the Xicheng District and walk along the bank of the beautiful Houhai Lake. Visit a local family in one of the traditional courtyard houses. Chat with the families about their life, learn to make Chinese dumplings (jiaozi), and enjoy the meal (dumplings and other dishes) with them.
Duration: 2 hours
Price: USD 77 (combined with tour package)
Chinese Cooking Class
In a home of local people, you can experience the culture and learn some basic skills in Chinese cooking. After cooking one dish, you will enjoy the fruits of your labor.
During the class you will get a full demonstration of making a dish by your teacher, learn to cook it, and finally taste the dish you have cooked and have lunch with the local people.
Duration: 1 hour
Price: USD 45 (combined with tour package)
Chinese Calligraphy Learning
In this class, you will be introduced to some basic skills in painting and taught to draw a simple picture under the guidance of our teacher. Drawing tools like brush, ink, paper, and ink-grind are provided.
During the class you will get an introduction to the history and classification of calligraphy, demonstration by the teacher, and learn some easy Chinese characters.
Duration: 30 minutes
Price: USD 79 (combined with tour package)
Make a Chinese Paper Cutting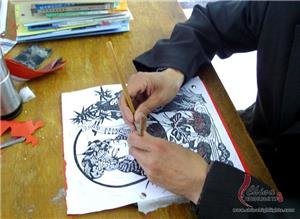 Paper Cutting
The Chinese paper cutting is a national handicraft with profound cultural connotations. It is an opportunity to make a traditional Chinese handicraft in the Hutong area. It is easy to learn and only requires a pair of scissors and paper, but a good paper cutter requires a great deal of skill in cutting and paper selection.
During the class, you will be given an introduction of the history of Chinese paper cutting, demonstration of the method of making a paper cutting, and your tutor will teach you how to make a paper cutting.
Duration: 30 minutes
Price: USD 79 (combined with tour package)
Chinese Knot Making
Chinese knot is a national handicraft with a long history and profound cultural connotations. Each knot is woven out of one single silk thread, and given a name according to its shape and meaning. Our teacher will share some of these skills and you can take home the fruit of your labor.
During the class you will be given an introduction to the history of Chinese knotting making, demonstration by the teacher and learn how to make a Chinese knotting.
Duration: 30 minutes
Price: USD 79 (combined with tour package)
Mahjong Experience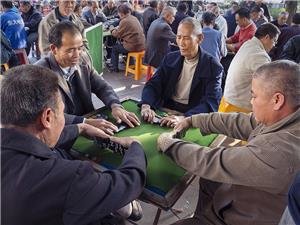 People are playing Mahjong.
Mahjong is a game for four players originating in China. Mahjong first became popular in the Ming Dynasty, several hundred years ago. It is a game which involves skill, strategy, and calculation, as well as a certain degree of luck. Your teacher will share some of the skills with you at your class in Hutong.
During the class you will learn the basic skill of how to play, and if you are interested it is possible to buy a mini mahjong set as a souvenir if you wish.
Duration: 30 minutes
Price: USD 54 (combined with tour package)
Chinese Yoyo Experience
The Chinese Yoyo, also known as Diabolo, was created about one thousand year ago. Made of wood or bamboo, the Chinese Yoyo can be used by people of any age for playing or exercise. An experienced user can execute really fantastic tricks. Why not try your skill while visiting the Hutongs?
During the experience you will get an explanation of the history and function of the Chinese Yoyo, learn how to use it, get a show of the expert use of the Diablo, and if interested buy one as a souvenir.
Duration: 30 minutes
Price: USD 52 (combined with tour package)
Yangko Dancing
Yangko dance is a folk dance with a history of 1000 years in China. Usually the movements of the waist and hips drive the feet to move in rhythm with one step forward and half step backward. Join us to move your body to experience this amusing activity.
Duration: 2 hours
Price: USD 42 (combined with tour package)
Cricket Culture
Cricket Culture in China encompasses a 2000 year history of both singing and fighting crickets. It is a traditional culture of Beijing.
During the visit you will visit the home of a cricket enthusiast in the Hutongs who is involved in rearing crickets, learn about the history of Beijing Cricket Culture, and basic knowledge of rearing crickets.
Duration: 30 minutes
Price: USD 63 (combined with tour package)
Questions and Answers About Beijing Hutongs
Rosalind
2012-11-22
Show Answer
Hi, is there any ways for me to visit HutongsOn my own without taking any tours? Thanks.Rosalind.
Hi Rosalind, yes, you can visit it yourself. There are Hutongs both in Dongcheng and Xicheng Districts.
Whitney Liao replied on 2012-11-23
Jay Chui
2012-11-01
Show Answer
I am planning a beijing trip this December. There are 2 adults and 2 children. I am inquiring the price stated for your Hutong Dumplings tour, US77 is for how many people?
Hi Jay, do you mean this tour http://www.chinahighlights.com/beijing/day-trips/bjalc-41.htm? It is USD75/PP for a group of 6-9 people. For grou of 4 people, the price is USD90/PP. Please check it.
Whitney Liao replied on 2012-11-03
Donghong Wang
2012-08-13
Show Answer
Hi, I would like to join your Hutong tour in Beijing on either Sep 1 or Sep 6. Please tell me where I should meet other people and how much it will cost and how long the tour will take.
Hello Donghong Wang, our Hutong tour usually takes about 3 hours. All our Hutong tours are private tour, no group tour available so far.How many persons are there in your group? Our guide will pick up you from your hotel. If you like me to arrange the tour for you, please feel free to let me know。 guest replied on 2012-08-13
Osvaldo
2012-07-23
Show Answer
Hi!The best hutong in Beijing? Whit not a occidental shop...but really hutong! Thanks a lot!Valdo
Hi Valdo, I can not tell which one is the best, but I suggest that you should go to Dongcheng district where you can find many nice Hutong. Leon Long replied on 2012-07-23
Richard Fairley
2011-02-27
Show Answer
As an English only speaking tourist is it difficult to get taxis in Beijing?
I highly suggest you to print out the hotel name, phone no and address information in Chinese then show to Taxi driver, like this http://www.chinahighlights.com/hotel/Beijing-hotels/map/sunworld-hotel.htm. You could forward me the hotel information for help. By the way, we offer airport to hotel transfer service only costs US$46 for 2 poeple. The English speaking guide could give you a general introduction and some tips for travel around Beijing. if you are intersted, please contact me via karen@chinahighlights.com (3 days early please). Karen Karen Yang replied on 2011-02-28
April Offer $25 Coupon
Send your inquiry before Apr. 30, 2014, and we will email you a $25 coupon.
The coupon is valid till Dec. 31, 2014, for paying tour packages worth $250 or up.
The coupon cannot be used for paying flight tickets, train tickets, hotel rooms and day trips.
Travel Advice or Question? Ask us here

China Highlights
Beijing Travel Guide