Ming Tombs
The Ming Tombs, located in Changping District, about 50 kilometers from the northwest of Beijing, are surrounded by mountains on three sides. The imperial cemetery covers an area of 120 square kilometers and there are 13 Ming Dynasty emperors buried there (along with 23 empresses and a number of concubines, princes and princesses), thus it is also called The 13 Mausoleums. These tombs are the best preserved Chinese imperial tombs and have been nominated by UNESCO as world cultural heritage.
The site of the Ming Dynasty Imperial Tombs was carefully chosen according to Feng-shui (geomancy) belief. The first tomb, Chang Ling (the Tomb of Chang) began to be built by the third emperor of the Ming Dynasty in 1409 AD (the seventh year of his reign) under the main peak of Tianshou Shan (Heavenly Longevity Mountain). (The first emperor of the Ming Dynasty was buried in Nanjing). In chronological order over the following 200 years Xiang Ling, Jing Ling, Yu Ling, Mao Ling, Zong Ling, Kang Ling, Yong Ling, Zhao Ling, Ding Ling, Qing Ling and De Ling were built, spreading out on both sides of Chang Ling. All these tombs share the same Sacred Way, an avenue in the middle of the tomb area. The last tomb, for the Emperor of the self-proclaimed Chongzhen era, Zhu Youjian, lying in the southwest of the area, was actually built out of a tomb originally intended for a concubine. Several decades after the death of the last Ming emperor, Emperor Shunzhi of the Qing Dynasty gave the last Ming Tomb the tile and added the architecture on the ground. Besides the emperor's tombs scatters lots of smaller tombs for concubines and a eunuch.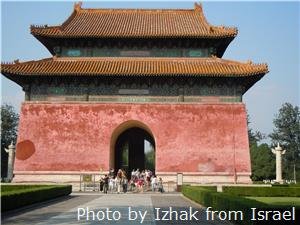 MingTombs
In keeping with Feng-shui belief the tombs area is screened by high green mountains on three sides and has a river flowing by. Tourists enter the tomb area through the Sacred Way, on both sides of which there stand in total 36 stone sculptures. Of the 18 pairs of the sculptures, 24 are stone animals and 12 human figures. The custom of erecting stone sculptures in front of imperial tombs started as early as the Qin Dynasty (221-206 BC). They represent the supreme authority and dignity of the emperors and signify that they are still supreme in power after death. All these stone sculptures are huge; some exceeds 30 cubic meters in volume. In ancient times without modern machinery and vehicles, these heavy stone sculptures were transported here entirely by manpower. In winter time, water was poured on the road. When a slippery ice surface had formed on the road, the laborers hauled the sculpture forward on the ice. Every 500 meters a well was dug to get water for making the ice. Therefore, it was an arduous task to build the imperial tombs. The tombs area is so vast that tourists normally only see two of the 13 tombs, namely, Chang Ling – the largest in architectural scale, and Ding Ling – the only one that has been excavated so far.
Continue to read: Changling Tomb, Dingling Tomb and Tianyi Tomb
Questions and Answers About Ming Tombs
Christina
2012-09-09
Show Answer
Hi, On my last day in Beijing, I have the choice of the Summer Palace or Tombs / Sacred Way. What do you advise?Thanks
I suggest that you should go to Summer Palace because you can visit Tombs / Sacred Way on the day to Badaling Great wall. Summer Palace is closer to the city and airport, it will be easier for you to go to airport after the palace. It will be difficult to get to airport if you go to Tombs / Sacred Way on your own.
Leon Long replied on 2012-09-10
Karlene
2012-07-11
Show Answer
Hi I''m thinking of visiting Beijing?Shanghai/Suzhou/Hangzhou Oct 16 -27 2012, the trip is a package deal but what I want to know is given the areas I''ll be visiting would a visit to see Pandas be possible, more specifically a panda reserve? Thank you.
Hi Karlene, thank you for visiting our web site and your interest in our services. My name is Nora Ou. I am your travel advisor at China Highlights. It is my pleasure to assist you in planning your trip to China. Before I work out an itinerary and quotation, I would like to ask some questions to find out exactly want you want from you tour. This way I can design the best tour for you needs. The panda reserve would be a highlight if we are able to organize it for you. The panda reserve is in Chengdu which means is some distance from the other cites that you want to visit. I can fit all these cities into your time frame but it would mean that you would have only one day in Shanghai. You have asked for both Suzhou and Hangzhou. Many people elect to visit only one of these places. The main attraction is Hangzhou is West Lake while Suzhou is the home of classic Chinese Gardens. Chengdu is also quite a different experience to the eastern Chinese cities so you may enjoy a little more time there. It is the home of the famous Sichuan spicy Chinese cuisine. The Panda experience in Chengdu can also include the Panda Volunteer Program which can be from 1 to 3 days although they are a little expensive. http://www.chinahighlights.com/giant-panda/programs.htm Depending on what you want your itinerary could be Beijing 3 days Suzhou 1 day Hangzhou 1 day Shanghai 2 day Chengdu 2 days Or Beijing 3 days Suzhou 2 day Shanghai 2 day Chengdu 3 days Could you give me some guidance on what you want from your tour so that I can plan the very best tour possible? How many people are in your group? What class of hotel do you require 3,4 or 5 star? Please feel free to contact me at nora@chinahighlights.net if you would like to book the tour. Nice day! Kind regards, Nora Ou replied on 2012-07-12
Francis
2010-12-29
Show Answer
Hi, Me and my friends will visit Beijin from February27 to March4.. Id it really cold during that time and is it advisable to go to Badaling Great Wall.. I hope its still visible even in winter.. and what part of the Great Wall do we go during this cold winter time? Thanks
Hi Francis, Yes, it will be cold at that time but it is still available for your Great Wall tour. Compared with Badaling Great Wall, we always suggest our guests visit Mutianyu Great Wall, which is the longest fully-restored Great Wall section open to tourists. You can see the video here: http://www.chinahighlights.com/greatwall/section/mutianyu-greatwall.htm If you need us to arrange your Beijing tour please let me know. Regards, Coco Coco Yang replied on 2010-12-29
Thanks for the tip... So how much is your tour to Mutyanyi gteat wall for 6pax? Is this for a whole day trip? Maybe march2, 2011. Hope its not expensive... So I wont go to Badaling already? They say its d famous one..... Can u send me tour rates? Thanks guest replied on 2010-12-30
April Offer $25 Coupon
Send your inquiry before Apr. 30, 2014, and we will email you a $25 coupon.
The coupon is valid till Dec. 31, 2014, for paying tour packages worth $250 or up.
The coupon cannot be used for paying flight tickets, train tickets, hotel rooms and day trips.
Travel Advice or Question? Ask us here

China Highlights
Beijing Travel Guide