Magical Face Change in Sichuan Opera
Sichuan Opera
As one of the major schools of opera in China, the Sichuan Opera has a long history. It originated about 400 years ago at the end of the Ming Dynasty and the beginning of the Qing Dynasty. At that time, there were several different forms of popular theatre in the Sichuan area which gradually developed and blended to emerge as the present Sichuan Opera. Today's Sichuan Opera is a modern synthesis of 5 historic melodic styles. Sichuan Opera is well-known in China, and it is characterized by solo singing, skillful acting, rich percussion and incredibly funny comedies. Performers wear brightly colored costumes and move to quick, dramatic music. They also wear vividly colored masks that they may change within a fraction of a second. The magic stunts such as quick face changes without makeup and the acrobatics such as jumping through burning hoops and hiding swords entertain and amuse audiences. The magical face changes are particularly famous.
Face Changing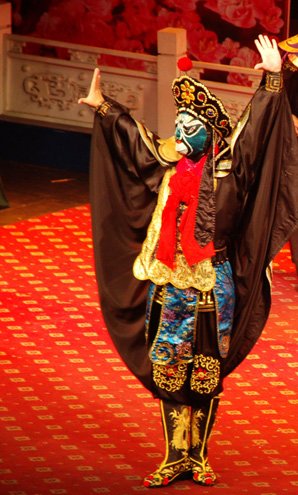 Face Changeing Performances
Face changing, or "bian lian" in Chinese, began about 300 years ago during the reign of the Qing Dynasty Emperor Qianlong (1736-1795). It is an important aspect of Sichuan Opera, and the precise techniques that are used to change masks in modern Sichuan Opera is a closely guarded secret. The secrets have been passed down within theatre families from generation to generation. In contemporary opera, performers wave their arms and twist their heads, and their painted masks are changed again and again, much to the astonishment and amusement of the audience.
At the beginning, the color of performers' faces changed through the means of powder blown from bowls of colored powder. The powder would adhere to their oiled skin. Another method was to smear their faces with colored paste concealed in the palms of their hands. Red represented anger, and black represented extreme fury.
By 1920, performers were using layers of masks made of materials such as paper. Skilled performers peeled off one mask after another. Modern day performers use full-face painted silk masks, which can be worn in layers of as many as twenty-four. Skilled opera stars can change about 10 masks in 20 seconds. It is amazing to watch actors change their masks with a magical sweep of a hand or the turning of the head. It is difficult to see the masks being changed.
Questions and Answers About Magical Face Change in Sichuan Opera
Lawrence
2012-11-26
Show Answer
HiWe are gonna just have 2 full days in chengdu.Can you suggest an itineraries. Looks like so much to do.Me and my fiancée would really also like to slot in a wedding photo shoot just a quick one if you know we could just do in a couple of hours in a studio?
Hello Lawrence, we can assistant you to find a studio for you. Usually, they will need your confirmation about two weeks in advance so that they have enough time to arrange that for you. It should be around US$1000 for photo shoot. Can you tell me when you plan to take the tour so that i can check to see if it is possible for the arrangement? And what kink of secenerary do you like to be your background for the photo shoot?
Simon Huang replied on 2012-11-28
Alex
2012-10-15
Show Answer
Hi,I wish to watch Face-Changing opera in Chengdu. May i ask where can watch this in Chengdu and how do I get there. Many Thanks in advance.
Hi Alex, you can go to Shufengyayun Theatrer 蜀风雅韵 to watch the Face-Changing opera in Chengdu.
Add: Cultrue Park, Qintai Road, Chengdu 成都市琴台路文化公园内
Performance time: 20:00-21:30, every night

You can take a taxi to get there.
Whitney Liao replied on 2012-10-16
April Offer $25 Coupon
Send your inquiry before Apr. 30, 2014, and we will email you a $25 coupon.
The coupon is valid till Dec. 31, 2014, for paying tour packages worth $250 or up.
The coupon cannot be used for paying flight tickets, train tickets, hotel rooms and day trips.
Travel Advice or Question? Ask us here

China Highlights
Chengdu Travel Guide