Dali Railway Station
Dali Railway Station Taxi Directions
Chinese Name: 大理

Address: : No. 261 Cangshan Road, Xiaguan Town, Dali City

Chinese Address: 大理市下关镇苍山路261号

Telephone: 0872-3146002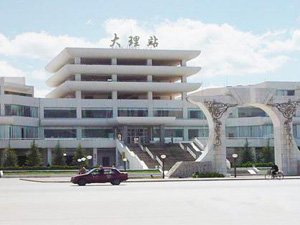 Dali Railway Station was built in 1999. It's the terminal station of Guangtong-Dali Railway Line, 360 km (224 miles) from Kunming. It is an important hub of tourist railway in Yunnan Province.
Now there are tourist trains traveling between Dali and Kunming, all with hard-sleeper carriages.
Transportation to Dali Railway Station
Travelers can take public buses No. 7, 8, 10, and 11 to get to the railway station. No. 8 bus beside the railway station can take visitors directly to Dali Ancient City.
Dali Railway Station Special Tips
Ticket outlets:
Tickets are mainly sold at the ticket hall on the first floor of the railway station.
Besides, travelers can buy tickets at other ticket outlets.
Dali – Kunming train tickets can be bought at the hall of 35108 Army Hostel (35108军队招待所), Jianshe Road (close to Guanping Street) (建设路(近关平街))during 9:30 and 17:30.
Train tickets for Kunming can also be bought at the bus station of Xiaguan District (下关城区), or on the first floor of Jiaotong Hotel (交通饭店) at the newly established square. Travelers departing from Dali to other places within Yunnan Province can get tickets at the ticket outlet of No. 21 Jianshe Road (建设路) during 9:00 and 18:00.
Dali Railway Station Overview
Dali – Kunming: Train K9616/K9613, 20:53 – 05:15
Kunming – Dali: Train K9614/K9615, 23:00 – 07:06
There are also passing trains traveling to or from Lijang.
Dali –Lijiang East Railway Station: Train 5652/5653, 17:08 – 19:56
Lijiang East Railway Station– Dali: Train 5654/5651, 08:58 –11:43
Planning a trip? Ask us here

800-2682918 (USA & CA)

86-773-2831999

1800-764678 (AU)

0800-0327753 (UK)

800-8793-007 (China)
Q:
Natasha Dockar
Asked on 04:25 AM Jun. 07 2012
Reply
Hi, I''m planning a trip from Dali to Kunming and I was wondering about prices of the train tickets and how long the train journey would be?Thank you in advance!Natasha D
Hi Natasha,
Thank you for your inquiry. My name is Doris Huang and I am a travel advisor, it is my pleasure to assist you.
It takes about 6.5 or 7.5 hours from Dali to Kunming by train, and the prices are about CNY50 for a hard seat and CNY100 for a hard sleeper.
We provide professional Kunming tour and Dali tour
http://www.chinahighlights.com/kunming/tours.htm
http://www.chinahighlights.com/dali/tours.htm
If you are interested in it, please feel free to contact me at doris@chinahighlights.net
Doris Huang Replied on 02:57 AM Jun. 08 2012