Dali Railway Station
Dali Railway Station Taxi Directions
Chinese Name: 大理火车站

Address: : No. 261 Cangshan Road, Xiaguan Town, Dali City

Chinese Address: 大理市下关镇苍山路261号

Telephone: 0872-3146002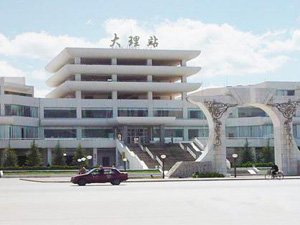 Trains departing from Dali Railway Station are mainly for Kunming and Lijiang. Dali Railway Station is an important tourist transport hub in Yunnan Province, 360 kilometers (224 miles) from Kunming Railway Station and 180 kilometers (112 miles) from Lijiang Railway Station.
Lines and Trains
As the starting point of the Dali–Lijiang Railway line and the ending point of the Kunming–Dali Railway line, Dali Railway Station is also a major station along the Yunnan–Tibet Railway line.
There are 19 trains running in and out of Dali Railway Station, most of which leave for Kunming and Lijiang, and there are tourist trains traveling between Dali and Kunming with hard-sleeper carriages. Below is a list of major train lines operating from Dali Railway Station to Kunming Railway Station and Lijiang Railway Station.
Trains from Dali to Lijiang
Trains
Departs
Arrivals
Duration
K9619
15:36
17:42
2h 6min
K9629
9:30
11:45
2h 15min
Trains from Dali to Kunming
Trains
Departs
Arrivals
Duration
K9638/K9635
12:10
19:05
6h 55min
K9634/K9631
8:54
15:48
6h 54min
K9644/K9641
20:08
4:37
8h 29min
Dali Railway Station to Dali Airport
Dali Airport (on the border of Fengyi County and Haidong County, east of Erhai) is about 13.5 kilometers (8.4 miles) from Dali Railway Station, and it costs about 60 RMB by taxi.
To save money you can also take bus 5 to Feilai Temple from Dali Railway Station, and then take bus 7 to Huaying Public Bus Station (3 kilometers from Dali Airport), before taking a taxi to Dali Airport.
City Transport to Dali Railway Station
As a famous tourist city in China, Dali's inner city transport is very modern and advanced, and visitors can take a public bus or taxi to almost all the corners of Dali.
By Taxi
The rate for a common taxi in Dali is 5 RMB for the first 3 kilometers (1.8 miles), and 1.4 RMB for every additional kilometer. For Santana taxis, the starting price is 6 RMB for the first 3 kilometers (1.8 miles), and 1.6 RMB for every additional kilometer.
However, most taxi drivers in Dali do not charge according to the meter; therefore you are highly recommended to bargain with the driver before getting into the taxi, or insist on meter use.
By Bus
The bus fee in Dali is 1 RMB, or 2 RMB for air-conditioned buses. The following buses take you to Dali Railway Station from the downtown area: B2, B10, 7, 8, 10, 11, 14, 18, 30, 31, 52, 55, 79, 180, 201, 210, 211, 228, 254, 257, 529, 550, 552, 803, 803A, 805, 807, 807A, 840, 862, and 862B.
From Dali Railway Station to Bus Stations in Dali
To Dali Bus Station (372 Weishan Road, operating from 8:00am to 5:30pm daily): buses 1, 7, 10, 16, and 21.
To Dali North Bus Station (30 Yuhua Road): bus 8.
To Xingsheng Road Bus Station (8 Xingsheng Road): bus 1.
Dali Railway Station to the Major Scenic Spots
Buses 4 and 8 run from the station to Dali Ancient Town. Bus 2 goes to Cangshan Mountain from Dali Ancient Town.
Buses 1, 10, or 11 go from the station to Erhai Park.
Bus 8 goes to Dali North Bus Station, from which coaches go to Shuanglang.
Ticket Outlets
Both an online ticket booking service and a telephone booking service are available. However, for visitors who visit Dali during the peak season, booking in advance is always highly recommended.
Passengers can buy tickets from the following outlets in addition to the ticket hall of Dali Railway Station.
Kunming train tickets can be bought in the hall at 35108 Army Hostel, Jianshe Road (close to Guanping Street) from 9:30am to 5:30pm, the bus station in Xiaguan District, or on the first floor of Jiaotong Hotel at the newly established square.
Tickets for other places in Yunnan Province can be bought at the ticket outlet at 21 Jianshe Road from 9:00am to 6:00pm daily.
Planning a trip? Ask us here

800-2682918 (USA & CA)

86-773-2831999

1800-764678 (AU)

0800-0327753 (UK)

800-8793-007 (China)
Q:
Natasha Dockar
Asked on 04:25 AM Jun. 07 2012
Reply
Hi, I''m planning a trip from Dali to Kunming and I was wondering about prices of the train tickets and how long the train journey would be?Thank you in advance!Natasha D
Hi Natasha,
Thank you for your inquiry. My name is Doris Huang and I am a travel advisor, it is my pleasure to assist you.
It takes about 6.5 or 7.5 hours from Dali to Kunming by train, and the prices are about CNY50 for a hard seat and CNY100 for a hard sleeper.
We provide professional Kunming tour and Dali tour
http://www.chinahighlights.com/kunming/tours.htm
http://www.chinahighlights.com/dali/tours.htm
If you are interested in it, please feel free to contact me at doris@chinahighlights.net
Doris Huang Replied on 02:57 AM Jun. 08 2012