Kunming Railway Station
Kunming Railway Station Taxi Directions
Chinese Name: 昆明

Address: The end of Beijing Road in Guandu District, Kunming City

Chinese Address: 昆明市官渡区,北京路尽头

Telephone: 0871-3511534

Number of platforms:5
Where the Trains Going to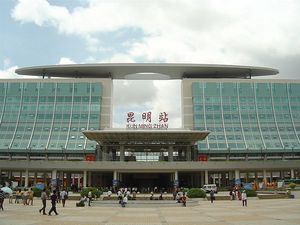 Kunming Railway Station is an important one in the Yunnan Province traffic network. Kunming Railway Station provides passenger transportation to China's major cities, such as Beijing, Guilin, Shanghai, Chengdu, Guangzhou, Chongqing, Xiamen and Zhengzhou. Trains from Kunming Railway Station depart for cities within the province like Shilin, Yuxi and Dali every day.
Transportation to Kunming Railway Station
Public buses No. 2, 3, 23, 47, 68 and K1 can take passengers between the city center and the railway station. It is about 15 minutes to go by taxi from city center to railway station, and the cost is about 10 yuan (1.5 USD).
By taking public bus No 2, you can take off at Zhengyi Road Station to visit and do some shopping at the flower market and the nearby pedestrian street. If you get off at Xiaoximen Station, the Green Lake is very close for you to take a walk.
Kunming Railway Station to Lijiang Railway Station
There are six K-trains running daily from Kunming Station to the beautiful ancient city of Lijiang. The train journey lasts between 7 and 11 hours. The ticket price is 89 RMB for a hard seat, 152 RMB for a hard sleeper, and 226 RMB for a soft sleeper.
Timetable:
From Kunming Station to Lijiang Station…
Train
Departs
Arrives
Duration
K9612/K9613
09:42
18:15
8h 33min
K9682/K9683
12:10
19:05
6h 55min
K9606/K9607
20:26
06:10
9h 44min
K9686/K9687
21:15
07:03
9h 48min
K9616/K9617
21:40
07:50
10h 10min
K9602/K9603
22:06
08:49
10h 43min
Kunming Railway Station to Dali Railway Station
Seven K-trains run daily to Dali which will enable you to experience the minority folk customs there. The journey takes between 5 and 8 hours at a ticket fare of 64 RMB for a hard seat, 105 RMB for a hard sleeper, and 155 RMB for a soft sleeper.
Timetable:
From Kunming Station to Dali Station…
Train
Departs
Arrives
Duration
K9612/K9613
09:42
16:03
6h 21min
K9682/K9683
12:10
17:16
5h 6min
K9686/K9687
21:15
05:04
7h 49min
K9616/K9617
21:40
05:49
8h 9min
K9602/K9603
22:06
06:10
8h 4min
K9632/K9633
22:29
07:02
8h 33min
K9636/K9637
22:47
07:22
8h 35min
Kunming Railway Station to Kunming Attractions
Stone Forest Scenic Area
Kunming Railway Station offers a non-stop tour bus service to the Stone Forest Scenic Area. There are 12 buses in total which run daily from 10:10 to 19:10. A ticket costs 25 RMB and the journey will last for 1½ hours.
Yunnan Nationalities Village
The Yunnan Nationalities Village scenic area can be reached by taking bus 44 heading towards Haigeng Park for 17 stops. This direct route will take approximately 50 minutes. The ticket price is 1 RMB.
Green Lake (Cui Hu)
You can take bus 2 towards Huangtupo for nine stops, ending at Wuyi Road. Green Lake Park is about 400 meters to the north.
Kunming Railway Station Special Tips
Ticket office:
Location:19, Kunshi Road. (昆石路19号)
Tel:0871-6124105、3145495、3510966
Kunming Railway Station Overview
Kunming Railway Station, also called Kunming South Railway Station, was finished and put to use in 1958. It is more than 2700 km (1677 miles) from Beijing, 1,100 km (683 miles) from Chengdu, and 811 km (504 miles) from Nanning, the capital city of Guangxi Province.
Because of the complex terrain of Yunnan, it takes a comparatively longer time to travel by train. If you would like to take the opportunity to enjoy the scenery along the way, traveling by train will be an interesting experience.
Kunming Railway Station Destinations:
From Kunming Station to…
Type
Train
Destination
Departs
Arrives
Duration
T-trains
T9004
Qujing
08:30
09:58
1h 28min
T9028
Xuanwei
16:30
18:58
2h 28min
T240
Beijing West
11:05
22:30
35h 25min
T382
Shanghai South
18:49
12:09
41h 20min
K-trains
K9652
Mengzibei
07:53
11:51
3h 58min
K9682
Lijiang
12:10
19:05
6h 55min
K9632
Dali
22:29
07:02
8h 33min
K672
Guiyang
22:28
07:05
8h 37min
K986
Guilin
16:00
09:38
17h 38min
K146
Chengdu
17:55
12:10
18h 15min
K984
Zhanjiang
11:28
06:25
18h 57min
K168
Chongqing
12:08
07:40
19h 32min
K366
Guangzhou
10:23
10:56
24h 33min
K1236
Jiujiang
11:49
16:42
28h 53min
K1206
Shenzhen East
08:49
13:55
29h 6min
K1262
Xiangyang
07:00
12:31
29h 31min
K110
Wuchang
23:05
05:01
29h 56min
K166
Xi'an
19:35
06:12
34h 37min
K338
Zhengzhou
19:42
06:40
34h 58min
K156
Nanjing
17:40
09:45
40h 5min
K232
Xiamen Gaoqi
16:37
09:22
40h 45min
K492
Jinan
12:40
07:28
42h 48min
K692
Hohhot
17:52
14:00
44h 8min
K636
Fuzhou
19:06
23:29
52h 23min
K2286
Changchun
23:50
12:29
60h 39min
K1502
Urumqi South
19:10
11:22
64h 12min
Other trains
6162
Panzhihua
07:20
14:19
6h 59min
7452
Hongguo
07:30
18:03
10h 33min
6062
Liupanshui
07:50
21:00
13h 10min
Travel Advice or Question? Ask us here

800-2682918 (USA & CA)

86-773-2831999

1800-764678 (AU)

0800-0327753 (UK)

800-8793-007 (China)
Q:
Alessandro
Asked on 06:31 AM Aug. 27 2012
Reply
Hi! I am planning to arrive at Kunming Train Station with the train K9620. It arrives at 5.21 in the morning. I have booked a flight from the new Kunming Changshu Airport at 7.50 in the same morning. How can I reach the airport at that time in the morning? Have I enough time to get to the airport an...
Dear Alessandro,
It is about 25-30 km from the train station to Changshui airport. I suggest you take a taxi to the airport. It takes about 1 hour and it costs CNY100/US$16 per car. If your train won't delay, you will arrive at the airport around 6:30am-7:00am, you have enough time to check in. Lussie Lu Replied on 04:39 AM Aug. 28 2012
Q:
Betty Lam
Asked on 5:00 PM Aug. 16 2012
Reply
I am going to take overnight train from Lijiang to Kunming and then take the flight back to Hong Kong in the afternoon. Since the train will arrive at 7:00 am and our flight will not leave Kunming until 3:20 pm. I am wondering if the train station will keep the luggage for us so that we can wander...
Dear Betty Lam,
You could store your luggage at the railway station. They provide this service. The cost is not expensive, it is around CNY2-3/US$0.3-0.5 for one piece of baggage. In general, it is safe to leave your luggage there, but i suggest you take the important things with you. Lussie Lu Replied on 02:33 AM Aug. 17 2012
Q:
Tsvia Horesh
Asked on 03:56 AM Aug. 01 2012
Reply
hello. we are arriving in Kunming (flight from Bangkok) on Sept.13th and want to take the night train to Lijang on sept. 14th. we want the hard sleeper compartment, we are 5 people and want to be together on the train. how can we buy the train tickets in advance? thank you! Tsvia
Dear Tsvia Horesh,
I regret that we don't provide train tickets booking separately. If you could book a tour with us, we can book it for you. Otherwise, I suggest you ask the hotel you booked in Kunming if they can provide this service. Lussie Lu Replied on 03:40 AM Aug. 02 2012
Q:
Sumayya
Asked on 0:47 PM Jul. 19 2012
Reply
hiI want to go kunming new airport from kunming railway station. Can I go by bus or metro? Please tell me which number of bus I can take or which line of metro can I take?thankssumayya
Dear Sumayya,
There is no direct bus or metro from railway station to Kunming new airport. The easy way is to take No.68 bus, and get off at Pesticide factory station(农药厂), then change to No. c136 bus to the airport. It is about 40 km, and it will take about 2.5 hours. Lussie Lu Replied on 04:43 AM Jul. 20 2012
Q:
Bhawani Prasad
Asked on 09:50 AM Jul. 17 2012
Reply
I have booked a ticket for kunming , train no. k1235 at 20 july from nanchang.I will be at kunming on 22 july in night...Then I have to go to the new airport...How i can reach the airport?out of Bus or texi what will be better for me ...Also tell me the distance of railway station and the airport......


Hi Bhawani, you can take a taxi from the railway station to the airport. It takes 1-1.5hrs.  The price is CNY60-100.  It covers a distance of about 30km.


The hotel near the railway station, I recommend the King World Hotel(锦华国际酒店)





Address:No.98 Beijing Road,

Guandu

District,

Kunming






Tel: 0871-3526666 (Book this hotel, call 800-2682918)





It is only 0.2 kilometers away from the Kunming Railway Station.


For more hotels in Kunming, please click here: http://www.chinahighlights.com/hotel/search-hotel.asp


If you need any tour package or hotel booking in Kunming, please feel free to contact me.


Regards, Whitney


whitney@chinahighlights.net
Whitney Liao Replied on 07:04 AM Jul. 18 2012