Datong Railway Station
Datong Railway Station Taxi Directions
Chinese Name: 大同

Address: No.1 Zhanqian Road, Datong City, Shanxi Province.

Chinese Address: 大同市站前街 1 号

Telephone: 0352-7122922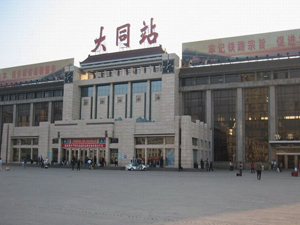 Datong Railway Station is an important transportation hub that connects Beijing, Tianjin, Hebei Province, Shanxi Province, and the Inner Mongolia Autonomous Regions. There are five major double-track electrified railways, the Beijing-Baotou Railway, the Beijing-Yuanping Railway, the Datong-Zhangjiakou Railway, the Datong-Qinhuangdao Railway, and the Beitongpu Railway. The station also has more than 40 other branch lines and access rail lines. Bullet train lines are under construction or planned between Datong and Xian and Beijing. The station is on the International Railway line to Moscow. This web-like network of railways connect the northern and northwestern parts of China.
Lines:
Beijing-Baotou line (Beijing - Zhangjiakou - Datong - Jining - Hohhot - Baotou)
Datong-Qinhuangdao line (Datong - Qinhuangdao)
Beijing-Yuanping (Beijing - Datong Lingqiu - Yuanping)
Tongpu line (Datong - Yuncheng)
International Railway (Beijing - Datong - Jining - Erlianhaote - Ulaanbaatar - Moscow)
Yungang line (Datong - Yungang)
Datong-Zhungeer line (Datong – Zhungeer) 
Datong-Xi'an (Datong - Xi'an)
Transportation to Datong Railway Station
Bus:Passengers can take Bus No.1, No.2, No. 4, No. 8, or No. 32 from the railway station to Datong City.
Taxi:Initial fare is 5 or 6 RMB, and then 1.2 RMB per kilometer.
From Datong Railway Station to Pingyao Railway Station
One K-train and three slow trains are available to enjoy an ancient city journey. The ticket price for the K-train is 69 RMB for a hard seat and 130 RMB for a hard sleeper. The tickets for the slow trains are a little cheaper at 61 RMB for a hard seat, 122 RMB for a hard sleeper, and 186 RMB for a soft sleeper.
Some of these trains depart early in the morning; therefore, you should be careful not to miss them.
Timetable:
From Datong Station to Pingyao Station…
Train
Departs
Arrives
Duration
K7807
05:49
13:37
7h 48min
2671
16:40
00:15
7h 35min
2462/2463
23:17
06:22
7h 5min
2602/2603
06:17
14:20
8h 3min
From Datong Railway Station to Beijing
Datong Station is linked to Beijing Station, Beijing West Station, and Beijing North Station by K-, T-, and slow trains. The train journey between the two cities takes between 6 and 7 hours. The ticket fare is approximately 45 RMB to 53 RMB for a hard seat, 99 RMB to 107 RMB for a hard sleeper, and 138 RMB to 158 RMB for a soft sleeper.
The following table compares T, K, and slow services:
From Datong Station to Beijing…
Train
Destination
Departs
Arrives
Duration
K616
Beijing
08:06
14:35
6h 29min
K44
Beijing
13:40
19:42
6h 2min
K574
Beijing West
03:07
09:10
6h 3min
1456
Beijing North
12:43
20:05
7h 22min
From Datong Railway Station to Yungang Grottoes
Datong Station provides easy access to the AAAAA scenic area and Yungang Grottoes by bus. Bus 4, via the Four Bus Company, can be taken to the terminal, and then bus 3 can be taken to the Yungang Grottoes. The whole journey will take about two hours and cost 2 RMB.
Datong Railway Station Special Tips
To book tickets through the phone service, first pay for the ticket through a bank, and then the staff will help reserve your ticket or deliver the ticket to you.
All the railway stations around the country are connected, so you can book the ticket you need from anywhere
Telephone booking requires an extra 5 RMB per ticket. To get delivery to your door add 15 RMB (delivery service is only available in the city).
Special Service on Datong Railway Station
Passenger shipping:luggage and parcel shipping service.
Cargo shipping: delivering cargo carloads, containers, and cargo security. 
Datong Railway Station Destinations:
From Datong Railway Station to…
Type
Train
Destination
Departs
Arrives
Duration
K-trains
K7803
Taiyuan
14:55
18:35
3h 40min
K616
Beijing
08:06
14:35
6h 29min
K606
Tianjin
22:33
07:32
8h 59min
K7807
Yuncheng
05:49
18:59
13h 10min
K573
Dongsheng West
20:54
10:09
13h 15min
K1112
Shenyang
22:08
15:28
17h 20min
K218
Handan
15:45
10:08
18h 23min
K220
Baotou
18:29
13:13
18h 44min
K712
Qingdao
09:47
10:15
24h 28min
K891
Hangzhou
11:55
12:55
25h
K1278
Nanchang
08:35
16:59
32h 24min
K43
Jiayuguan
10:55
19:55
33h
K731
Guangzhou East
14:19
05:15
38h 56min
Other trains
4629
Shuozhou
07:10
09:11
2h 1min
6823
Ningwu
12:51
16:27
3h 36min
6088
Zhangjiakou South
07:38
11:25
3h 47min
2671
Xi'an
16:40
08:56
16h 16min
2462
Linfen
15:57
09:10
17h 13min
2604
Qinhuangdao
10:35
10:47
24h 12min
1456
Tongliao
08:57
10:00
25h 3min
1458
Hohhot
17:25
18:39
25h 14min
Planning a trip? Ask us here

800-2682918 (USA & CA)

86-773-2831999

1800-764678 (AU)

0800-0327753 (UK)

800-8793-007 (China)
Q:
Marie
Asked on 06:20 AM Jan. 26 2012
Reply
How fast is the fastest train from Beijing to Datong ? Is it not faster with a bus ? Which one (train or bus for 6th march).
Hi Marie,
Usually, the bus is faster than a train, but it is suggested to take a train from Beijing to Datong, it is about 6 hours train travel.
We will arrange the train ticket for you if you book a tour package with us. Do you need us to arrange a tour for you?
Regards,
Coco Coco Yang Replied on 08:24 AM Jan. 29 2012
Q:
Alessia
Asked on 08:06 AM Aug. 16 2011
Reply
Hi! Please can you tell me if there are a "baggare room" in datong railway station, where I can leave my luggage in order to visit better the city. any suggestion will be appreciate! thank you in advance Alessia
Dear Alessia,
Thank you very much for visiting our Web site and your interest in our services. My name is Robert Hui. I am a travel advisor at China Highlights. It is my pleasure to assist you for your trip to China.
I am sorry to inform you that Datong Railway Station does not offer luggage storage service. May I suggest you to save your luggage in the nearest supermarket (if you do not have too much luggage, please bring your important & valuable things with you), or you can book a room at the nearest hotel or hostel to save your luggage.
And I have sent you an e-mail with a map with suggested hotels for you to save your luggage, please check your in-box (and spam box).
Hope you enjoy your tour to China:) Robert Hui Replied on 02:25 AM Aug. 17 2011