Guilin Nightlife
Every night, the city of Guilin shows a scene of feasting and revelry. The colorful nightlife activities amaze tourists from all over the world.
Top Things to Do at Night
Watching Artificial Lijiang Waterfall on the Central Square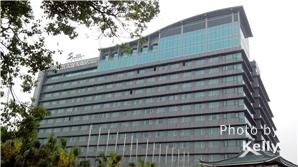 Guilin Lijiang Waterfall Hotel
Located on the southeast corner of downtown Guilin's Central Square, Guilin Lijiang Waterfall Hotel, a five-star hotel in Guilin, displays magnificent artificial waterfall every night during about 8:30PM. Having a width of 73.5 meters and a height of 40 meters, the artificial waterfall runs down from the top the hotel's building onto the ground floor. When the waterfall is dropping, fantastic lights and music is displayed at the same time.
Night Cruise on the Two Rivers and Four Lakes
Two Rivers and Four Lakes, a park-like scenic area,is Guilin's central round-the-city water system, located in the downtown area of Guilin.
The night cruise is amazing and spectacular since the water system has been transformed by the innovative use of lighting in the gardens and buildings along the lakes. The environment is quite relaxing and romantic there.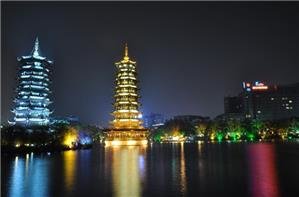 Night Cruise on the Two Rivers and Four Lakes
The most wonderful parts are located around the four lakes, namely Banyan Lake, Wooden Dragon Lake, Gui Lake, Shahu Lake. They are just located within the downtown area, and only a short distance from the railway station and bus station.
Time
One-way Cruise at Two Rivers & Four Lakes: 7:30pm, 7:50pm, 8:00pm, 8:15pm, 8:40pm, 9:10pm, 9:30pm
Return-way Cruise at Four Lakes: 7:30pm, 8:40pm, 9:50pm;
Transportation
Wenchang Bridge Pier 文昌桥码头: Bus. NO.5, 16, 23, 88, 91
Jiefang Bridge Pier 解放桥码头: Bus NO.2, 9, 10, 11, 14, 18, 21, 25, 28, 30, 57, 203, 206, Tourist Line NO.1
Riyue Bay Pier 日月湾码头: Bus NO.11, 14.
Ticket Pricing
One-way Cruise at Two Rivers & Four Lakes: 190 yuan/adult, 125 yuan/child (height 1.2-1.4m).
Return-way Cruise at Four Lakes: 185 yuan/adult, 105 yuan/child (height 1.2-1.4m).
Children shorter than 1.2m are free of charge.
Bar and Clubs
Besides going sightseeing, you can go to the night clubs in Guilin, too. There are a lot of bars and cafes. It's a good choice for you to go to these places. Have a drink and take a rest and you will feel relieved and comfortable and have a modern and romantic night.
Baidu Bar
Baidu Bar incorporates modern musical elements into the European bar culture, and combines bar and club together. There is a slow-rock music bar which contains rich European bar culture. Professional DJ and singers will lead you to the hall of classic and popular music. There are also bar-style mini KTV private rooms. Innovative cocktail and a variety of beer and wine are available.
You will enjoy yourself with the fashionable design and complete function. You can also enjoy the beautiful scenery of Li River. First-class equipment and night view will leave you a perfect impression.
Location: 18 Binjiang Road, on the river bank of the Li River, close to the Liberation Bridge (Jie Fang Qiao)
Amani Bar
Amani Bar (阿玛尼酒吧, /a-ma-nee jyoh-baa/) is right located at the center of Zhengyang Pedestrian Street (正阳步行街, /jnng-yang boo-sshing jyeh/), near the clock tower. It is quite popular for foreign tourists and has a good selection of western food (the pizza there is quite nice), teas, coffees and common beer and wine. The bar has several outdoor seats, and sitting at the corner of prosperous Zhengyang Pedestrian Street might give you a unique peace. What's more, the bar is about 200 meters from Li River, and you can have a walk along the river after your relaxation in the bar.
Address: 159 Zhengyang Pedestrian Street (桂林正阳步行街159)
Tel: 0773 2106351
Opening hours: 10:00 - 02:00
Story in Town
It's a special music bar. There are many great singers and musicians who are good at bar music. You can enjoy the warm atmosphere there.
Location: 280-300 Zhongshan Road, opposite to Niko Niko Do Plaze.
Business Hours: 13:30am - 18:30pm; 19:00pm - 02:00am
Zhengyang Pedestrian Street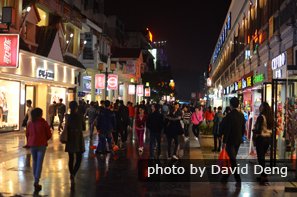 Zhengyang Pedestrian Street at night
This is a walking street which combines the functions of leisure, shopping and entertainment. It has a length of 666 meters long (6 is a lucky number in China). It is surrounded by restaurants, hotels, theatres, stadiums, commercial facilities and scenic spots.
All kinds of vehicles are not allowed in Zhengyang Pedestrian Street. It combines the characteristic of local architectures and the classical European architecture as well.
On the whole, Zhengyang Pedestrian Street is a business street. Brand Label stores can be seen everywhere. There are snack bars providing various delicious foods. It's one of the busiest and most prospect places.
Guilin Night Market
Guilin night market is located at Xichenglu Pedestrian Street (西城路步行街). At nightfall, you will see lots of red tents lining in two long rows, selling various kinds of handicrafts, local specialties, souvenirs and snacks. If you want to do some souvenir shopping, then this is your little paradise. Even if you just want to take a look around, it is very relaxing to wander up and down between the stalls accompanied by the cool breeze coming from the nearby lakes.
Opening hours: 19:30 – 23:00 daily
Nearby sights: Banyan Lake and Cedar Lake, the Sun and Moon Towers
Available commodities: Handicrafts (e.g. embroidery balls, brocades, furnishings), Local products (e.g. flutes, snacks, pickles, local specialties), Porcelain and ceramics products (e.g. tableware, smoking pipe), Chinese seals, paintings, and calligraphy, Accessories (e.g. scarves, jade, pearl, trinkets), etc
Tips:
Beware of pickpockets.
Remember to bargain, no matter what quotation the stall owner offers.
Questions and Answers About Guilin Nightlife
Michael I
2013-06-02
Show Answer
Hi. Can you tell me which train station the train from Guangzhou arrives at in Guilin? and about how much a taxi might be from the train station to the Zhengyang St area?
You'll arrive in Guilin at South train station, it is about 10yuan(1.6USD) by taxi from train station to Zhengyang road.
Leon Long replied on 2013-06-02
evelyn
2013-03-04
Show Answer
I plan to visit guilin in the middle of March.. How is the weather? And what should I bring? Thx
Hi Evelyn, it is still a little cold in middle March here. The temperature is around 15°C. A coat, a sweater and a long sleeve shirt is suggested.
Whitney Liao replied on 2013-03-05
Jonathan Ong
2013-01-02
Show Answer
Hello! We are planning to go to Guilin from Guanzhou, Where can we check the time schedule for the bus / train from Guanzhou to Guilin?
Hi Jonathan Ong,
It is Christy from China Highlights, a travel advisor. I'm happy to help you.
May I suggest you check time schedule at local train station or bus station since most web are Chinese versions. Or if you prefer, could you please tell me your date so that I could search it? Generally speaking, there are many bus between Guangzhou and Guilin, beginning from 8:00am to 22:30 pm. The price for your reference is about CNY100-CNY240(USD16-USD39). If for train, from 17:50 to next day 06:30; takes about 13 hours; price is about CNY116-CNY326(USD19-USD53).
China Highlights could buy it for you if you book tour with us. We have many tours in Guilin, please click here to see more details: http://www.chinahighlights.com/guilin/tours.htm
Christy Luo replied on 2013-01-04
Hello, Thank you for the reply and information. We will arrive in Guangzhou Baiyun Airport in April 10, 2130. We plan to immediately ride a bus or train to Guilin. But we are not sure if we will be able to catch the last train / bus for the day. Because we have to travel from the airport to the train / bus station. For the train,would like to clear, trains still have schedules running for the entire night from 1750 to 0630 in the morning? Do you have website for the train schedules? Thank you very much :) guest replied on 2013-01-04
Hi Jonathan Ong, No, the time only refers to one train. There are no train after 21:30. About the bus, please kindly note that you need about 30-45mins from Baiyun Airport to train station. Christy Luo replied on 2013-01-04
Thank you for the informations, I appreciate your help. :) guest replied on 2013-01-04
You are welcome. Christy Luo replied on 2013-01-05
kp.chin
2012-12-05
Show Answer
Visitin guilin on 5th jan 2013 for 5 days. What is the cost for taxi from airport to city.
Hi Kp.chin, it is about CNY80-100, takes about 30-40mins. If you take the airport shuttle bus, then the price is CNY20/PP.
Whitney Liao replied on 2012-12-05
April Offer $25 Coupon
Send your inquiry before Apr. 30, 2014, and we will email you a $25 coupon.
The coupon is valid till Dec. 31, 2014, for paying tour packages worth $250 or up.
The coupon cannot be used for paying flight tickets, train tickets, hotel rooms and day trips.
Travel Advice or Question? Ask us here

China Highlights
Guilin Travel Guide