Guilin Shopping
Guilin is a relatively small city, and many of the shopping places are located along Zhongshan Road (中山路), a major road, and in the city center of Guilin.
Besides some big department stores, there are also some interesting small markets and pedestrian streets.
Local Specialties
Landscape Paintings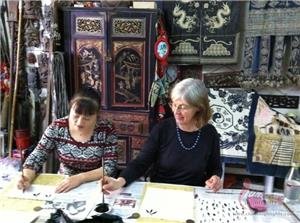 Landscape Painting Class
A city famous for its beautiful landscape, Guilin is also famous for landscape paintings.
Guangxi Normal University Art Shop
This art shop is an extravaganza of masterpieces collected over a long period of time; some of the paintings are centuries old.
As the name implies, it is inside Guangxi Normal University, near the Solitary Beauty Peak. The three exhibition halls have paintings of masters from different periods and different painting schools, as well as many fine paintings by the university students.
Painted Fans
Guilin Painted Fan
The small town of Fuli close to Yangshuo, by the Li River, is famous for hand-painted paper fans. The majority of locals are involved in this ancient craft.
The fans are beautiful and excellent quality, decorated with painted Guilin landscapes, flowers, birds, insects, and traditional Chinese girls. They range from small hand-held fans for everyday use to large ones, that make very good wall decorations. They can be bought everywhere in Yangshuo and Guilin. Bill Clinton, former President of the United States, visited Fuli in 1998 and made it famous, calling their paper fans "natural air-conditioners".
Food and Drink
Sanhua Liquor, Fermented Bean Curd and Chili Sauce are Guilin's 'three treasures' and some of the top choices to buy.
Osmanthus tea and sugar are among the many products made from Guilin's fragrant osmanthus flowers (桂花 guihua /gway-hwaa/), because the name Guilin (桂林) literally means "Forest of Osmanthus".
Luohanguo (罗汉果 /lwor-han-gwor/), is a dried brown fruit, the size of a small orange. It has long been used as a natural sweetener in China due to its lack of calories. It is also used in traditional Chinese medicine, often to make tea which can relieve a sore throat and chronic coughing.
All of these items can be found in large supermarkets or local specialty stores.
Best Places to Shop in Guilin
Always remember to bargain unless shopping at department stores.
The Walking Street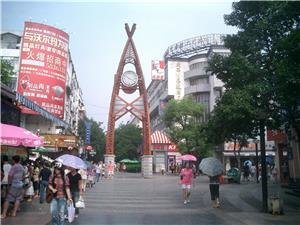 Zhengyang Pedestrian Street
Zhengyang Pedestrian Street next to the central square in the city has some small boutiques selling ethnic crafts and clothes. There are also many restaurants and a bustling 'Beautiful Food Street'.
Night Market
Guilin Xicheng Pedestrian Street Night Market
At nightfall, long rows of red tents appear along Xichenglu Pedestrian Street (西城路步行街), filled with various kinds of handicrafts, local specialties, trinkets, and snacks.
It is a good place to have a leisurely stroll and maybe pick up some souvenirs and enjoy the experience of haggling with the locals.
Tips: Beware of pickpockets, and remember to bargain, no matter what the stall owner asks.
Opening hours: 7:30–11:00pm daily
Souvenirs for sale:
Handicrafts (e.g. embroidery, brocade, furnishings)
Local products (e.g. flutes, snacks, pickles)
Porcelain and ceramics (e.g. tableware, smoking pipes)
Chinese seals, paintings, calligraphy
Accessories (e.g. scarves, jade, pearls, trinkets)
…And much more!
Underground Market
"Little Hong Kong"is an underground market below the central square. It is a maze of alleys with stalls selling relatively low-quality clothes, bags, shoes, and trinkets at equally low prices.
Wholesale Market
Wa Yao Wholesale Market
Wa Yao Wholesale Market is the largest wholesale and retail market of arts and handicrafts in Southwest China. Almost anything can be found there, from clothing, house wares, and stationery to antiques, souvenirs, and crafts. If you are looking for quality brands, this is not the place to go.
How to get there: Buses 11, 12, and 28
Popular Mall
Bagui Building opposite the central square is very popular among local girls, as the clothes and bags are reasonably priced.
Up-Market Department Stores
Guilin Department Store, Dream Island Department Store and Niko Niko Do along the Zhongshan Road have good quality clothes, shoes, and bags. They all have food markets on the underground floors. At Niko Niko Do, there is a small section selling imported foods, such as candy, chocolate, and cheese.
Shopping with China Highlights in Guilin
Our Guilin tours have no forced shopping. The shops that are in the itineraries represent some of the best places to buy souvenirs in Guilin, but you are welcome to customize your tour to your requirements.
Evenings are typically left free, but we are here to help when it comes to finding your way to the shops you want to go to. Your guide can also help with bargaining!
Further Reading
Questions and Answers About Guilin Shopping
Sally
2014-04-02
Show Answer
We''re can I buy jade jewelry and how to grade
Dear Sally, I suggest you go to big shopping mall to buy it, such as Guilin Department Store, Dream Island Department Store and Niko Niko Do, which are located in downtown. Lussie Lu replied on 2014-04-04
Warren F. Davis
2012-07-06
Show Answer
I will be traveling to Guilin in August to visit with my wife''s family and want to give her family a coffee grinder. Rather than bringing one with me all the way to China, I''d rather purchase on at Niko Niko right there in Guilin. [Our apartment is just around the corner from Niko Niko]. My question is, do you -- Niko Niko -- sell coffee grinders? If so, how can I get some information on the models and approximately what do they cost?BTW, under "Local Specialties" I suggest you add "Guilin rice noodles". They are fantastic and I look forward eagerly to having some every time I return to Guilin. They clearly qualify as a local specialty.Thanks.
Dear Warren, Thank you very much for your suggestion about Guilin rice noodles. For coffee grinder, I just went to Niko Niko, you can find it on 7th floor and the prices are varying from CNY2000 to CNY9800. I don't familiar with them so I don't know its models. Leon Long replied on 2012-07-07
joyce
2011-10-20
Show Answer
i will visiting guilin this coming 25th Oct for 1 week, what is whether there? bring long sleeves?
Dear Joyce, The temperature will be 20-29°C. It'll be sunny and hot in the day time. In the morning, it will be cool. You can take a coat, shirts and T-shirts. Here is an useful website to ckeck the weather. Click here:http://www.weather.com.cn/en/weather/101300501.shtml Lussie Lu replied on 2011-10-21
Faizah
2011-10-19
Show Answer
Hi, I will be visiting Guilin from 17 - 22nd Nov. Are coats for adults and children expensive in Guilin? I am afraid what I am bringing is not sufficient for the weather.
Dear Faizah, Based on the former data, the temperature will be 12°C-20°C. It will be cool and a thick coat and sweater are needed. The costs will be CNY200(US$31) to CNY400(USD62). It depends on what kind of clothes you will buy. Here is an useful websit for checking the new information. You can check it before leaving for Guilin. Click here:http://www.weather.com.cn/en/weather/101300501.shtml Lussie Lu replied on 2011-10-20
Quek Yi Than
2011-08-24
Show Answer
We are visiting Guilin 1st week of September 2011 , how is the weather over there by then ???
Hi Quek It will be between 25℃ and 30℃, please bring your suncream. Short T-shirt will be ok. Have you book a tour in Guilin? If not, please feel free to contact me: william@chinahighlights.net William Huo Travel Advisor William replied on 2011-08-24
April Offer $25 Coupon
Send your inquiry before Apr. 30, 2014, and we will email you a $25 coupon.
The coupon is valid till Dec. 31, 2014, for paying tour packages worth $250 or up.
The coupon cannot be used for paying flight tickets, train tickets, hotel rooms and day trips.
Travel Advice or Question? Ask us here

China Highlights
Guilin Travel Guide