Guilin Weather
Guilin has a subtropical monsoon climate with four distinct seasons and high humidity. Summer is humid and hot. Winter is cold and damp. Spring and autumn are short and warm. The weather is relatively mild and comfortable.
The annual precipitation is 1926 mm (80 inches), spread unevenly through the year. The rainy season is early summer. May and June are the wettest months with about 350 mm (14 in) each. November to March is relatively dry with about 50 mm (2 in) per month. Snow is rare.
The yearly average temperature is 19 °C (66 °F). The coldest month is January with an average temperature of 8 °C (46°F). The hottest month is July with an average temperature of 28 °C (82 °F).
Though Guilin is suitable for traveling all year round, and the Li River is beautiful in all four seasons, the most popular traveling time is from April until October.
Spring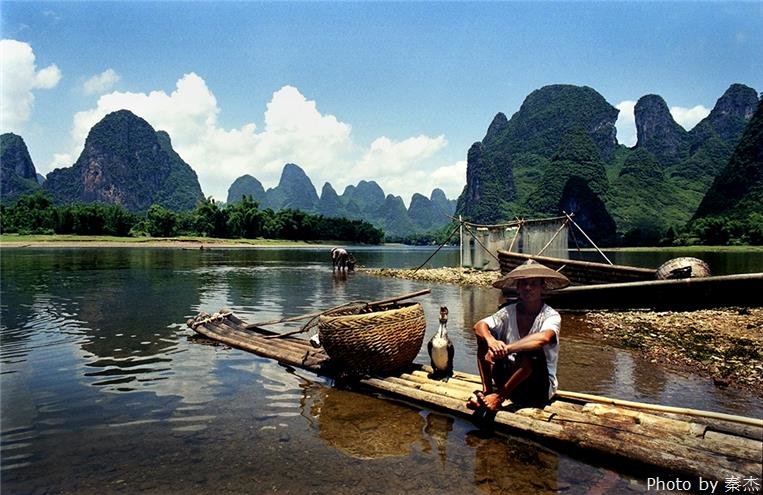 Weather: Spring is from March to May. There are frequent and sharp intervals of temperature changes. There is heavy humidity, and it becomes warmer with increasing rain. May is one of the wettest months.
Special seasonal highlights: On rainy days, the rivers, pinnacles and the city itself are shrouded in mist. This is especially enchanting. There are also several flower festivals like the Cherry Blossom Festival (click on the image for a video).
What to See in Spring
It can still be cold in spring in Guilin. But when the sun comes out, it is the best time to cruise the Li River. The scenery along the river is pretty fabulous with warm sunshine and a breeze.
Spring is a refreshing season, full of vitality. Flowers and trees in parks smile invitingly. Climbing the mountains is a good idea, such as Yao Mountain and Solitary Beauty Peak.
Picking strawberries near Daxu Ancient Town and picking tea at Guilin Tea Plantation near Yao Mountain are classic (late) spring/summer activities.
Cycling in the countryside and bamboo rafting on the Yulong River are top things to do in spring in Yangshuo.
Summer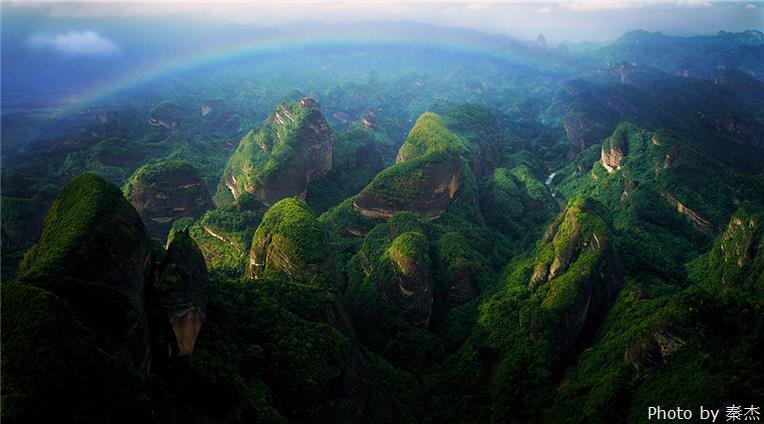 Weather: Summer is from June to August. It is usually hot and humid, but the beauty to be found outdoors is quite adequate compensation. The average temperature in summer is about 30 °C (86 °F).
June is similar to May, but hot rather than warm in between the downpours. There are occasional downpours in July and August.
Clothing: Sunglasses and sunscreen are recommended. Wear summer clothes such as shorts, T-shirts and skirts. Take an umbrella.
Peak Season: Summer is the peak season. Hotels typically raise their rates, and more tourists fill the scenic spots.
What to See in Summer
Exploring caves in summer is a popular was to escape the heat. Stalactites in Guilin's karst caves are shaped surreally — dreamlike and fantastic under the colored lighting.
Climbing Gudong Waterfall in summer is an exciting way to cool off. Bamboo rafting on the Yulong River in Yangshuo also offers that pleasure, especially if you jump in for a swim.
To avoid the burning sunshine during the daytime, it is highly recommended to enjoy the evenings in Guilin, Longsheng, and Yangshuo. The Two Rivers and Four Lakes Night Cruise, appreciating the sunset/sunrise and starry nights above Longji's Terraced Fields, and watching the night performance Impression Liu Sanjie in Yangshuo are summer favorites.
Autumn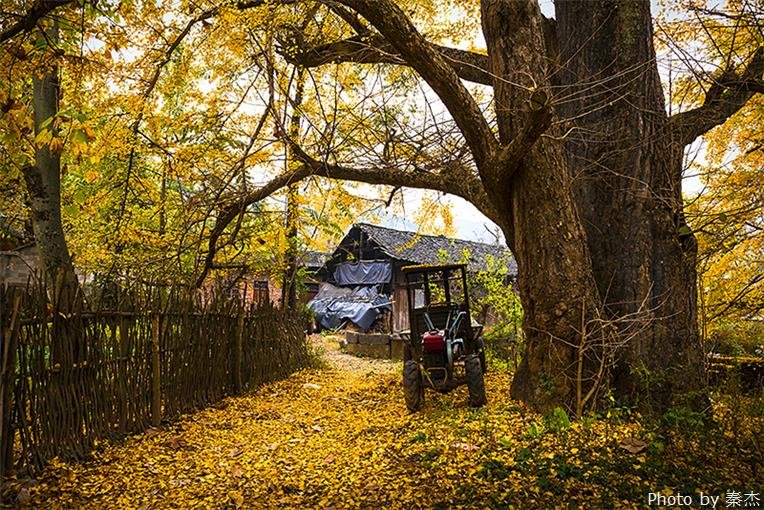 Weather: Autumn is from September to November. It is beautiful as the weather cools. In the mountains, there is a big difference in temperature between day and night.
What to See in Autumn
It is generally pleasantly warm/mild and dry in autumn. Exploring the countryside of Yangshuo by bike or an electric car, and hiking between Longji's Terraced Fields to see the arboreal fall colors and golden tiers of the late harvest are must-dos.
You can attend the Red Clothes Festival in Huangluo Yao Minority Village near Longji, which is a great opportunity to immerse yourself in China's ethnic heritage.
Winter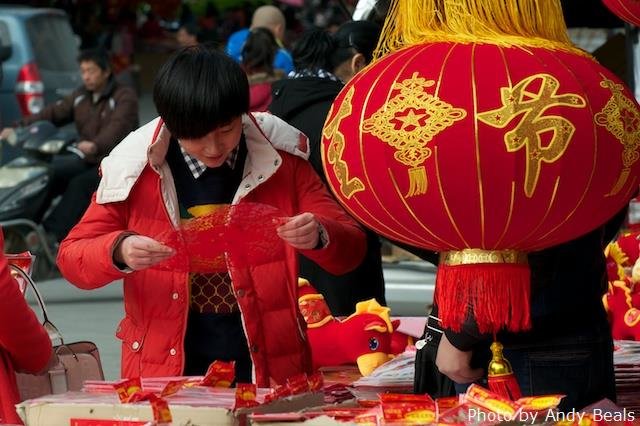 Weather: Winter is from December to February. It rarely snows in Guilin, though it feels very cold with the dampness, especially in January. It can still be very pleasant when the sun is out. Low temperatures can approach zero (32 °F). On warm days, the thermometer can reach the high teens (60+ °F). There are sharp rises and falls of temperature within a few days.
Clothing: Prepare down jackets, thick jeans, sweaters, scarves and an umbrella. Locals wear thermal underwear all winter since there is no heating in most places.
Special seasonal highlight: The Chinese New Year usually falls in late January or early February. Streets of the city will be colorfully decorated for the event. If it snows Longji is a great place to visit. The mountain terraces and pine forests are grand and stunning covered by a blanket of snow.
Low season: Winter is the low season, so Guilin is less crowded. It is cheaper to travel.
Guilin Climate Information by Month
See how to plan a Guilin trip.
Guilin Average Climate by Month
| | Jan | Feb | Mar | Apr | May | Jun | Jul | Aug | Sep | Oct | Nov | Dec |
| --- | --- | --- | --- | --- | --- | --- | --- | --- | --- | --- | --- | --- |
| High (ºC) | 12 | 13 | 18 | 23 | 28 | 32 | 34 | 34 | 32 | 27 | 21 | 15 |
| Low (ºC) | 6 | 8 | 12 | 17 | 17 | 21 | 24 | 26 | 25 | 23 | 18 | 13 |
| Rain (mm) | 53.34 | 88.9 | 129.54 | 256.54 | 358.14 | 345.44 | 223.52 | 175.26 | 78.74 | 91.44 | 71.12 | 48.26 |
| High (ºF) | 53 | 55 | 63 | 73 | 82 | 88 | 92 | 92 | 88 | 79 | 69 | 59 |
| Low (ºF) | 42 | 45 | 52 | 61 | 61 | 69 | 75 | 78 | 77 | 72 | 64 | 54 |
| Rain (in) | 2.1 | 3.5 | 5.1 | 10.1 | 14.1 | 13.6 | 8.8 | 6.9 | 3.1 | 3.6 | 2.8 | 1.9 |
Guilin Average Monthly Temperatures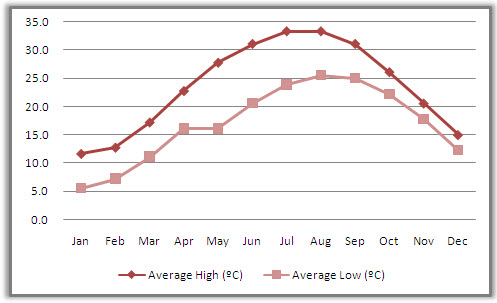 Guilin Average Monthly Precipitation (inches)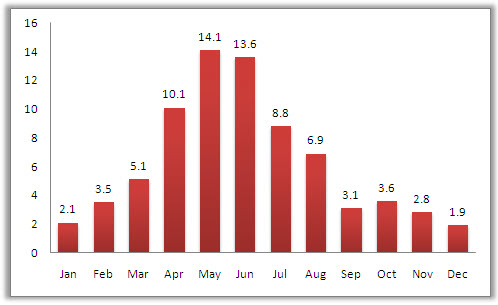 Questions and Answers About Guilin Weather
Serene
2014-04-13
Show Answer
I am serene Kindly let me know the temp in guilin as i am travelling on 20/3/14 to 25/4/14. Do i need to bring any thick winter jacket or just normal clothes. Get back to me as soon as possible
Dear Serene, The temperature ranges from 15℃(59℉)-25℃(77℉), it ranges frequently. You could take some thin jackets and shirts. Sometimes you also could wear T-shirts. Lussie Lu replied on 2014-04-14
vikki
2013-11-17
Show Answer
i am vikki from malaysia. i will visit guilin from 26/12/2013 to 2/1/2014. can you let me know what is the climate and what type of cloth should we bring along. should we need to bring raincoat and can we wear sportshoe.
Hi Vikki,
It is winter in Guilin while you are traveling. It is cold. Please prepare down jackets, thick jeans, sweaters, scarves. If you need some tours, please see http://www.chinahighlights.com/guilin/tours.htm and contact with me at christyluo@chinahighlights.net
Christy Luo replied on 2013-11-18
Chan hen huan
2013-09-28
Show Answer
I am planning to tour Guilin in October 2013. How''s the weather vandalism what clot hinges should I bring?
Weather: It is still very pleasant in October, though cooler and windy in Guilin's early autumn.
Clothing: You may need a thick coat in case it becomes cool. The average high and low temperatures are respectively 26 °C (79 °F) and 22 °C (71 °F).
Nora Ou replied on 2013-09-28
krishna
2012-11-01
Show Answer
hi! we will visit Guilin on may 11-14 2013, is this a good season to visit the place? can you help me with my itenerary? thank you
Hi Krishna, it is a very good season to visit Guilin at that time, with comfortable weather and enchanting scenery.
We are more than pleased to arrange this tour for you. In order to give you an accurate quotation please let me know the number of people in your group and the class of hotels. Then we will send you a detailed itinerary.
Whitney Liao replied on 2012-11-02
May
2012-10-29
Show Answer
is it a good choice to travel guilin from 8-15/6/13 ?
Dear May, During Jun.8-16, it becomes hot, the average temperature is about 23-30℃(73.4-86℉). It is rainy season, it usually rain heavily, it might affect your itinerary sometimes. You could travel in April, May, September or October. It is comfortable in these periods, the scenery is very beautiful. Lussie Lu replied on 2012-10-30
April Offer $25 Coupon
Send your inquiry before Apr. 30, 2014, and we will email you a $25 coupon.
The coupon is valid till Dec. 31, 2014, for paying tour packages worth $250 or up.
The coupon cannot be used for paying flight tickets, train tickets, hotel rooms and day trips.
Travel Advice or Question? Ask us here

China Highlights
Guilin Travel Guide