Guilin Weather
Guilin has a subtropical monsoon climate with four distinct seasons. There is high humidity. Summer is humid and hot. Winter is cold and damp. Spring and autumn are short and warm. The weather is relatively mild and comfortable.
The annual precipitation is 1926 mm (80 inches). It rains all year. The rainy season is early summer. May and June are the wettest months with about 350 mm (14 in) each. November to March is relatively dry with about 50 mm (2 in) per month. Snow is rare.
The yearly average temperature is 19 °C (66 °F). The coldest month is January with an average temperature of 8 °C (46°F). The hottest month is July with an average temperature of 28 °C (82 °F).
Though Guilin is suitable for traveling all year round, and the Li River is beautiful in all four seasons, the most popular traveling time is from April until October.
Choose your time of travel. Have a look at our Guilin Tour Packages.
Also read Discover the Seasonal Beauty of Guilin.
Spring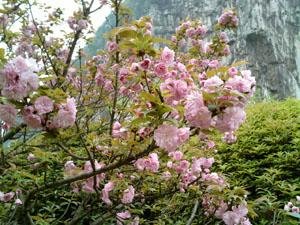 cherry blossoms in spring
Weather: Spring is from March to May. There are frequent and sharp intervals of temperature changes. There is heavy humidity, and it becomes warmer with increasing rain. May is one of the wettest months.
Special seasonal highlights: On rainy days, the rivers, pinnacles and the city itself are shrouded in mist. This is especially enchanting. There are also several flower festivals like the Cherry Blossom Festival (click on the image for a video).
Summer
Weather: Summer is from June to August. It is usually hot and humid, but the beauty to be found outdoors is quite adequate compensation. The average temperature in summer is about 30 °C (86 °F).
June is similar to May, but hot rather than warm in between the downpours. There are occasional downpours in July and August.
Clothing: Sunglasses and sunscreen are recommended. Wear summer clothes such as shorts, T-shirts and skirts. Take an umbrella.
Peak Season: Summer is the peak season. Hotels typically raise their rates, and more tourists fill the scenic spots.
Things to do: Inside Reed Flute Cave, which is a fascinating gallery of natural limestone formations, there is pleasant cool away from the outdoor summer heat. A leisurely stroll at Seven Star Park to see the giant pandas is also very relaxing.
Riding a bike in the Yangshuo countryside or hiking along the Li River are also ideal activities for the summer.
Autumn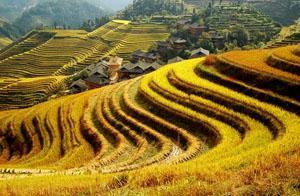 fall color at Longji Terraced Fields
Weather: Autumn is from September to November. It is beautiful as the weather cools. In the mountains, there is a big difference in temperature between day and night.
Special seasonal highlight: The paddies of the Longji Rice Terraces are wonderfully golden in the harvest season at the end of September or beginning of October.
Winter
Weather: Winter is from December to February. It rarely snows in Guilin, though it feels very cold with the dampness, especially in January. It can still be very pleasant when the sun is out. Low temperatures can approach zero (32 °F). On warm days, the thermometer can reach the high teens (60+ °F). There are sharp rises and falls of temperature within a few days.
Clothing: Prepare down jackets, thick jeans, sweaters, scarves and an umbrella. Locals wear thermal underwear all winter since there is no heating in most places.
Special seasonal highlight: The Chinese New Year usually falls in late January or early February. Streets of the city will be colorfully decorated for the event.
Low season: Winter is the low season, so Guilin is less crowded. It is cheaper to travel.
Read where to travel in winter?
Popular Guilin Tours
China Dreams Tour: 11-day tour to Beijing, Xi'an, Guilin and Shanghai. This is the most popular tour among travelers who visit China for the first time.
Guilin Tour Packages: See the best of Guilin with our Guilin tour packages.
See how to plan a Guilin trip.
Guilin Climate Information by Month
Guilin Average Climate by Month
| | Jan | Feb | Mar | Apr | May | Jun | Jul | Aug | Sep | Oct | Nov | Dec |
| --- | --- | --- | --- | --- | --- | --- | --- | --- | --- | --- | --- | --- |
| High (oC) | 12 | 13 | 18 | 23 | 28 | 32 | 34 | 34 | 32 | 27 | 21 | 15 |
| Low (oC) | 6 | 8 | 12 | 17 | 17 | 21 | 24 | 26 | 25 | 23 | 18 | 13 |
| Rain (mm) | 53.34 | 88.9 | 129.54 | 256.54 | 358.14 | 345.44 | 223.52 | 175.26 | 78.74 | 91.44 | 71.12 | 48.26 |
| High (oF) | 53 | 55 | 63 | 73 | 82 | 88 | 92 | 92 | 88 | 79 | 69 | 59 |
| Low (oF) | 42 | 45 | 52 | 61 | 61 | 69 | 75 | 78 | 77 | 72 | 64 | 54 |
| Rain (in) | 2.1 | 3.5 | 5.1 | 10.1 | 14.1 | 13.6 | 8.8 | 6.9 | 3.1 | 3.6 | 2.8 | 1.9 |
Guilin Average Monthly Temperatures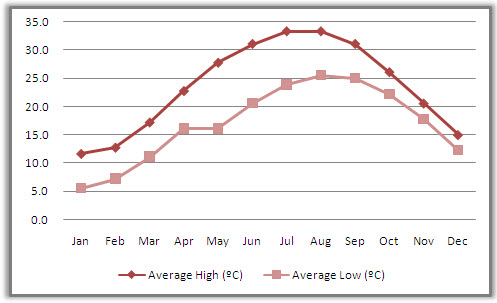 Guilin Average Monthly Precipitation (inches)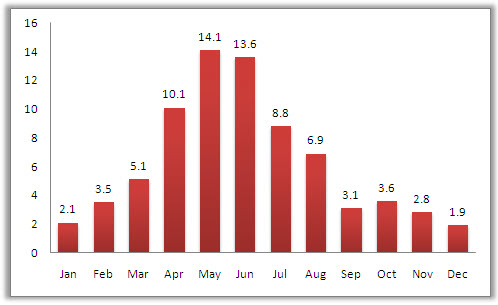 China Highlights
Planning a trip? Ask us here 800-2682918 (USA & CA)
86-773-2831999 (Int'l)
Q:
Chan Yada
Asked on 2013-01-04
Reply
We plan to go to Guilin during 7-11 Feb 2013, pls let me know about the weather and What we should to prepare?
Hi Chan Yada,
It is Christy from China Highlights, your travel advisor. I'm happy here to help you.
The weather in Guilin in Feb is from 8oC-13oC(45oF-55oF); It rarely snows in Guilin, though it feels very cold with the dampness. It can still be very pleasant when the sun is out. Please prepare down jackets, thick jeans, sweaters, scarves and an umbrella.
Is it your first time to Guilin? Have you booked hotel? Do you need us to arrange a tour for you? If you have any problem, please feel free to contact me at christyluo@chinahighlights.net.
Christy Luo Replied on 2013-01-04
Q:
krishna
Asked on 2012-11-01
Reply
hi! we will visit Guilin on may 11-14 2013, is this a good season to visit the place? can you help me with my itenerary? thank you
Hi Krishna, it is a very good season to visit Guilin at that time, with comfortable weather and enchanting scenery.
We are more than pleased to arrange this tour for you. In order to give you an accurate quotation please let me know the number of people in your group and the class of hotels. Then we will send you a detailed itinerary.
Whitney Liao Replied on 2012-11-02
Q:
May
Asked on 2012-10-29
Reply
is it a good choice to travel guilin from 8-15/6/13 ?
Dear May, During Jun.8-16, it becomes hot, the average temperature is about 23-30℃(73.4-86℉). It is rainy season, it usually rain heavily, it might affect your itinerary sometimes. You could travel in April, May, September or October. It is comfortable in these periods, the scenery is very beautiful. Lussie Lu Replied on 2012-10-30
Q:
sharon
Asked on 2012-10-07
Reply
hi, i plan to bring my mom to visit guilin in mar 2013, need to walk a lot to visit the interested places in Guilin? my mom getting old, cannot walk too much. TQ
Hi Sharon, the tour in Guilin doesn''t need much walk. Besides, you tour will be escorted with private car and tour guide all the way along, so you don''t have to worry about the this. Please feel free to contact us if you need it. Whitney Liao Replied on 2012-10-08
Q:
Tristan Chen
Asked on 2012-09-23
Reply
Hi, I plan to visit guilin on 23rd October 2012. How the water level this year?Do they still operate section Guilin-Yangdi or Li river cruise at that time?
Hi Tristan,

October is a golden month for Guilin tour because it has good weather and flowers give out fragrance everywhere. The water level is around 2.5 meter and the ship sail normally everyday in Li River. Welcome to visit my beautiful hometown Guilin and please contact me by lilylee@chinahighlights.net should you have further question about Guilin tour. I could design a itinerary for you as your request.

Lily
Lily Lee Replied on 2012-09-24
Guilin Travel Guide