Guilin Weather in August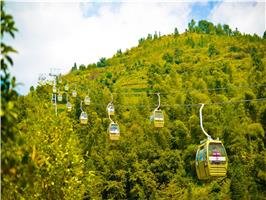 The Jinkeng Terraced Fields, visit terrace with cable car in August.
Weather: August is hot, humid, and generally sunny. This is a great time for outdoor activities, but it's also when high travel season starts. A hot and dry season begins in August that ends when a cool, dry weather season begins in October. Guilin's golden summer season is a great time to be there for warm and sunny weather.
July and August are the hottest months; the temperature averages 30 °C (84 °F). It rains much less in August than in June and July. Downpours or light showers are generally not prolonged and dry up quickly. The average daily low and high temperatures are respectively 25 °C (77 °F) and 33 °C (91 °F). See the current weather and forecast>>
Clothing: Wear summer clothes such as shorts, skirts and T-shirts. Remember sunblock, a hat, and sunglasses if you are sensitive to the sun.
Things to Do
Try cassia tea and smell the flowers. The end of August is also when the cassia trees start to bloom. The smell is invigorating, but tea made from the yellow flowers is mellow. It tastes almost exactly like cinnamon and is used as a substitute for cinnamon.
Walking around Two Rivers and Four Lakes: In the evening, walking around the Chinese Fir Lake and Banyan Lake, you can enjoy colorful illuminations of the Sun Tower, the Moon Tower and the glass bridge.
Longji Terraces in Longsheng: August is the perfect time to take photos of the Longji Terraces when they are full of green rice stalks. The green rice gives you a scene of vitality and passion. It is quite rejuvenating. There are also tea plantations where you can enjoy picking your own tea.
It is also a good time to hike around there. There are about 65 square kilometers of these terraces to walk around in, and the elevation of the highest peaks is about 1,000 meters (3,200) feet high. Hikers like to visit small villages and have a meal and explore off the beaten tourist path. The ethnic farming villages, their architecture, and their food are all memorable. There are about 8 different ethnic groups sharing the terraced region.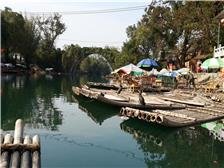 Bamboo rafts on the Yulong River
Yulong River Rafting: Hot, sunny August is the best time for rafting and water sports such as kayaking. You can use the long days for seeing the sights, and then enjoy the long dusks and warm evenings. Two other good rafting options in the area are the Twelve Beaches and the Nine Horse Fresco Hill. Some people raft down the Li River instead of taking a cruise boat tour.
We can arrange a car ride back to Yangshuo or Guilin for you. You could also take bikes on board the rafts and then ride back on bikes and see the countryside before sundown. Some people hike back. See our hiking tours>>
Ziyuan Water Lantern and Song Festival of the Miao people is held in July or August depending on the specific dates of their lunar calender.
High travel season:
High tourist season begins in August. Foreign tourists come in on summer vacations or school breaks. Hotel rooms and flight and train tickets are more difficult to get, but we can book these for you, sometimes at a discount. Standing in line in a crowded station for tickets is a hassle you can avoid.
Guilin Tours
China Highlights has a variety of Guilin package tours of your dreams. Whether you love hiking, biking, rafting, or going to the caves and mountains, we can tailor our tours to suit your needs. We know the area well and will create your tour by our years of experience.
Further Reading
Guilin Climate Information by Month
Questions and Answers About Guilin Weather in August
Sammy Yow
2011-04-05
Show Answer
Sir. We are visiting Guilin in 1st. of August 2011 Please let us know the weather report. Thanks. Sam
Dear Sammy Yow, Based on the former data, the average temperature is about 30°C and it's the hottes season in a year. If you would like to travel in that time, you'd better take the sunglasses, mosquito-repellent, and so on. In addition, we specialize in designing a tailor-made China tour. I am glad to arragne an itinerary for you. Please feel free to send your inquiry to me when you need our service. My e-mail address is lussie@chinahighlights.com Lussie Lu replied on 2011-04-07
April Offer $25 Coupon
Send your inquiry before Apr. 30, 2014, and we will email you a $25 coupon.
The coupon is valid till Dec. 31, 2014, for paying tour packages worth $250 or up.
The coupon cannot be used for paying flight tickets, train tickets, hotel rooms and day trips.
Travel Advice or Question? Ask us here

China Highlights
Guilin Travel Guide