Guilin Weather in October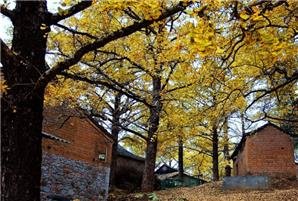 The golden leaves of
ginkgo trees in Haiyang
in the Guilin countryside can be seen in Oct
ober.
Weather: It is warm/cool and dry in October. The average low and high temperatures are respectively 17 °C (63 °F) and 27 °C (81 °F). Mid to late autumn is drier but cloudier than September. There is only about 86 millimeters of rain in the entire month. September and October are both high tourist months. See the current weather and forecast>>
Clothing: You may need to bring a coat and long pants or jeans in case it becomes cool.
Things to Do
Mid-Autumn Festival: The second biggest Chinese holiday sometimes falls in October, although the public holiday is usually in middle or late September. Mooncakes featuring the fruits and nuts of the season are the favorite festival food.
If you arrive around the Chinese Mid-Autumn Festival, you might enjoy eating mooncakes and drinking beverages next to the Li River. Hopefully the bright harvest moon will brighten up the river with a silvery sheen. Hotels line the river in both Guilin and Yangshuo where you can dine. The restaurants serve up locally caught fish.
The Li River: In October it rains little, and it is an ideal time for a cruise. October is one of the best months for a Li River cruise because in November and the winter, the water level is low, so this shortens the distance that the ships can travel among the beautiful scenery.
On sunny days, tourists can watch the inverted reflection of the hills on both sides clearly in the water. You can stand on the top open-air deck and enjoy the scenery without rain. The sky is often blue in October, and the air quality is fresh. There is a clear view, and it is also good time to have a nice walk alongside the Li River or take a Li River cruise or rafting trip. We can arrange a car ride back back to your hotel in Yangshuo or Guilin for you, or take you other places too. Tell us where you want to go.
Biking in Yangshuo: The weather is also good for cycling along the Li River. Yangshuo is a small town near Guilin where the Li River cruise boats dock at the end of the trip. We can arrange an exciting day with a cruise in the morning with a Chinese lunch on the boat, and an afternoon of biking and seeing the sights. Yangshuo sits in the middle of the rocky scenery, and it is known for its small moderately-priced backpacker hotels and restaurants. However, big starred hotels and resorts have opened up too, like the Shangri-La and Sheraton in Guilin and the Green Lotus Hotel in Yangshuo.
High Travel Season
October 1 to 7 is the National Day holiday in China. Hotel rates and tour prices are considerably higher than usual. Avoid visiting during this period and for several days before and after, or place your bookings well in advance and expect crowded transportation and tourist attractions. For 1/3 of years, Mid-Autumn Festival falls in October. During both holidays, hotel rooms, flight tickets and train tickets are more difficult to get, but we can book these for you at a discount compared to what you would pay if you tried to get the tickets yourself.
China Highlights Tours
China Highlights has the variety of Guilin package tours of your dreams. Whether you love hiking, biking, rafting, eating, cruising, or going to the caves and mountains, we can tailor your tour to suit your needs. We know the area well and have years of experience in the region, and we can create a tour to your specifications.
Further Reading
Guilin Climate Information by Month
Questions and Answers About Guilin Weather in October
Abel Liew
2013-06-13
Show Answer
Hi, Im travelling to Guilin from 01st till 05th October. How much of a crowd at the places of attraction? Please advise.
Hi Abel, it depends on the number of people and the class of hotel you stay in. Can you tell me this information?
I will send you a detailed itinerary later.
Whitney Liao replied on 2013-06-14
fatimah
2012-10-02
Show Answer
Question. we are planning to go to Gullin from 3 november 10 November. We are senior citizen. what about the weather? Please advise . thank you
we can not predict the weather. According to historical data, the temperature is about 13 centigrade , dry and windy.
Leon Long replied on 2012-10-04
Hardigun
2012-09-25
Show Answer
We are planning to take holidays in Nanning- Guilin- Yangshuo in next Nov 2 to 10.Is it a good time during those days? How is the climate and rains?We would like to see the spectacular shows Liu Sian Jie. When is the rainy season? I heard the show will not available during rainy season?
Hi Hardigun, it is a good time to visit these places. In November, Nanning is Autumn time, very comfortable. While in Guilin and Yanshuo, it is a little cold. You can prepare long leeve shirts, sweaters, coats for these 3 places. It is the dry season, not much rains. The raining season is from June to August.
Yes, the spectacular shows Liu Sian Jie will be cancelled if it is raining. But this case is very rare. We are also based in Guilin. We would be very glad to organize this trip for you.
Whitney Liao replied on 2012-09-26
Chin Hockman
2012-05-11
Show Answer
Plan 2 travel 2 Guilin n Guizhou from 8th-15th nov 2012. Please quote 14 pax Thank you
kikuyo
2011-10-18
Show Answer
We are planning to visit Guilin between Oct. 22-25, Yangshuo 25-26 - weather forecast for 25th (Li river cruse) does not seem good. Should we change our plan or bit of rain may not hurt? We like to see the show in Yangshuo as well. Also will it be just after harvest time? - if so, is Longji Rice Terraces worth visiting?
April Offer $25 Coupon
Send your inquiry before Apr. 30, 2014, and we will email you a $25 coupon.
The coupon is valid till Dec. 31, 2014, for paying tour packages worth $250 or up.
The coupon cannot be used for paying flight tickets, train tickets, hotel rooms and day trips.
Travel Advice or Question? Ask us here

China Highlights
Guilin Travel Guide