Guilin Weather in October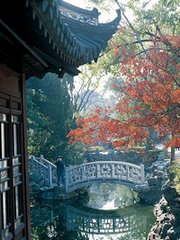 Weather: It is still very pleasant in October, though cooler and windy in Guilin's early autumn.
Clothing: You may need a thick coat in case it becomes cool. The average high and low temperatures are respectively 26 °C (79 °F) and 22 °C (71 °F).
Things to Do
Longji Terraced Fields: a visit to the rice terraces of Longsheng would be a good idea. Farmers in the tourist areas hold the rice harvest off until the National Day Holiday when the tourist boom is over to allow visitors to see the golden tiers of rice.
Gudong Scenic Area and Haiyang Township: you can visit Gudong to see the red maple leaves and the yellow ginkgo leaves in Haiyang Township which can give your eyes a feast.
National Day Holiday: October 1 to 7 is the National Day holiday in China. Hotel rates and tour prices are considerably higher than usual. Avoid visiting during this period, or place your bookings well in advance and expect crowded transportation and tourist attractions.
Guilin Climate Information by Month

China Highlights
Planning a trip? Ask us here 800-2682918 (USA & CA)
86-773-2831999 (Int'l)
Q:
Abel Liew
Asked on 2013-06-13
Reply
Hi, Im travelling to Guilin from 01st till 05th October. How much of a crowd at the places of attraction? Please advise.
Hi Abel, it depends on the number of people and the class of hotel you stay in. Can you tell me this information?
I will send you a detailed itinerary later.
Whitney Liao Replied on 2013-06-14
Q:
fatimah
Asked on 2012-10-02
Reply
Question. we are planning to go to Gullin from 3 november 10 November. We are senior citizen. what about the weather? Please advise . thank you
we can not predict the weather. According to historical data, the temperature is about 13 centigrade , dry and windy.
Leon Long Replied on 2012-10-04
Q:
Hardigun
Asked on 2012-09-25
Reply
We are planning to take holidays in Nanning- Guilin- Yangshuo in next Nov 2 to 10.Is it a good time during those days? How is the climate and rains?We would like to see the spectacular shows Liu Sian Jie. When is the rainy season? I heard the show will not available during rainy season?
Hi Hardigun, it is a good time to visit these places. In November, Nanning is Autumn time, very comfortable. While in Guilin and Yanshuo, it is a little cold. You can prepare long leeve shirts, sweaters, coats for these 3 places. It is the dry season, not much rains. The raining season is from June to August.
Yes, the spectacular shows Liu Sian Jie will be cancelled if it is raining. But this case is very rare. We are also based in Guilin. We would be very glad to organize this trip for you.
Whitney Liao Replied on 2012-09-26
Q:
Chin Hockman
Asked on 2012-05-11
Reply
Plan 2 travel 2 Guilin n Guizhou from 8th-15th nov 2012. Please quote 14 pax Thank you
Q:
kikuyo
Asked on 2011-10-18
Reply
We are planning to visit Guilin between Oct. 22-25, Yangshuo 25-26 - weather forecast for 25th (Li river cruse) does not seem good. Should we change our plan or bit of rain may not hurt? We like to see the show in Yangshuo as well. Also will it be just after harvest time? - if so, is Longji Rice Terraces worth visiting?
Guilin Travel Guide