Xilamuren grassland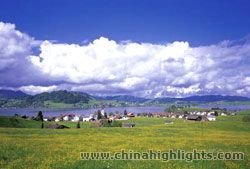 Xilamuren, which means "yellow water" in Mongolian, is also known as Zhaohe. Xilamuren Grassland is the nearest grassland tourist attraction to Hohhot and the earliest one in Inner Mongolia. The average temperature in summer season is about 18℃-21℃. The grassland has rolling hills and lush green grass. On the riverside of Xilamuren lies a Lama temple which was built in 1769 in the Qing Dynasty. This Lama temple had been used as a temporary abode for the Six Living Buddha in the Xilizhao Temple to spend summers. The main hall, gateway and the east and west wing-rooms remain intact up to now.
During the Nadam Fair held in each summer, the whole grassland is throbbing with excitement and full of activities. Tourists can experience a great many activities, such as living in a yurt, a camp fire party, singing and dancing, watching camel racing, horse racing, and wrestling. You can even take part in some of the competitions you are interested in; perhaps a big surprise is waiting for you!
Page Rating:
4.64

/

5
based on
11
ratings.
China Highlights
Planning a trip? Ask us here 800-2682918 (USA & CA)
86-773-2831999 (Int'l)
Q:
Kenneth
Asked on 2013-05-06
Reply
Hi, could i enquire on the means to arrive at the grassland once i reach hohot railway station? I will be taking a train over from shanghai.
Dear Kenneth, You could take a bus to Zhaohe (召河)from bus station which is near the railway station. It takes about 2 hours and it is about 90 km. The cost is about CNY25/US$4 per person. You will arrive at Xilamuren grassland. Lussie Lu Replied on 2013-05-06
Q:
chong
Asked on 2012-08-07
Reply
After arriving Zhaohe, is it easy to go around the tourists places on my own ? Must I join a tour or I can see the place on my own ? Is end Sept a good time to visit ? What Time is the last bus return to Hohhot ? If I wish to go to Datong after that by bus, must I return to Hotbot first ?
Hi Chong, Zhaohe is in the promote area, transportation there is not convenient. There is rarely English sign and most people there can not understand English. You'd better join a tour. July to September is the best time to visit the Xilamuren Grassland, but the grass may turn to wilt at the end of September. Sorry, I can not search any information about the bus from Zhaohe to Huhhot, you'd better ask Zhaohe bus station. Yes, you may return to Hohhot first, and then transfer to Datong. You can take a coach bus or a train from Huhhot to Datong. Click here to search train schedule: http://www.chinahighlights.com/china-trains/ Alice Cai Replied on 2012-08-07
Q:
Edward Nieh
Asked on 2011-06-23
Reply
Thanks again Lussie! Once I am in Zhaohe, do I need to hire a car there to go around the grassland? Or do I just hire a car to take me to the gate of the grassland, and there will be official transportation within the park to ride? Thank you for your help :)
Hi Edward Nieh Our travel advisor Lussie Lu(http://www.chinahighlights.com/community/user/21125/) had contacted you. Thanks for your support. Nero Hou Replied on 2011-06-26
Q:
Edward Nieh
Asked on 2011-06-22
Reply
How do you reach the Xilamuren Grassland from Hohhot? Thank you!
Dear Edward Nieh, To get to Xilamuren independently, take a morning bus to Zhaohe( Lussie Lu Replied on 2011-06-23
Dear Edward Nieh, To get to Xilamuren independently, take a morning bus to Zhaohe( 召河). It takes about 1.75 hours. The bus station is near the railway station. Lussie Lu Replied on 2011-06-23

Thanks again Lussie! Once I am in Zhaohe, do I need to hire a car there to go around the grassland? Or do I just hire a car to take me to the gate of the grassland, and there will be official transportation within the park to ride? Thank you for your help :) guest Replied on 2011-06-23
Hohhot Travel Guide