Oddly-Shaped Rocks of the Yellow Mountains
Huangshan is a natural exhibition of oddly-shaped rocks. These rocks are unique in shape and have a charm all of their own. The big rock towers look like stone needles and towers. The smaller boulders have also caught the imagination. Some look like animals, some look like various gods, and some get their name from historical stories or mythical tales.
In Huangshan's forest of peaks odd-shaped rocks are abundant. More than 120 peaks and rocks have been named. The most famous rocks are the Flying over Stone and Immortal Sunning His Boot, both near Dispersing Cloud Pavilion, and Monkey Watching the Sea, sitting on Lion Peak, on the way down to Pine Valley Nunnery from North Sea Hotel.
More Attractions of the Yellow Mountains

Questions and Answers About Oddly-Shaped Rocks of the Yellow Mountains
April Offer $25 Coupon
Send your inquiry before Apr. 30, 2014, and we will email you a $25 coupon.
The coupon is valid till Dec. 31, 2014, for paying tour packages worth $250 or up.
The coupon cannot be used for paying flight tickets, train tickets, hotel rooms and day trips.
Travel Advice or Question? Ask us here
You might like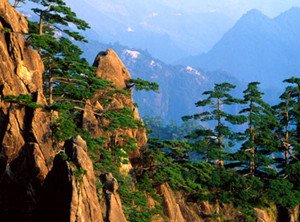 Photography Tips at the Yellow Mountains

China Highlights
Huangshan Travel Guide
Huangshan Top Attractions