Huangshan Travel Guide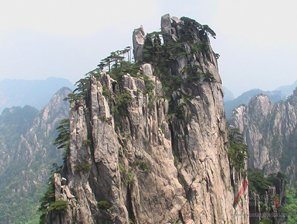 The Yellow Mountains
If Huangshan contained only its graceful Yellow Mountains, it would still rank as one of China's top destinations. But Anhui Province's southernmost prefecture is much more. It is an ocean of peculiar-shaped rocks, a bevy of wondrous-shaped pine trees, and a historical continuance of villages with the Ming and Qing Dynasty styles.
Now a popular international tourist destination, Huangshan is steeped in history and picturesque natural landscapes. Breathe deeply on the Yellow Mountains, drop in to the ancient-styled dwellings in Xidi and Hongcun villages, then have a taste of Huangshan's most famous tea — Maofeng tea (毛峰茶), one of China's top 10 tea.
DON'T MISS
The seas of clouds on the Yellow Mountains
The sunrise and the sunset over the Yellow Mountains — hotels are available on the top of the Yellow Mountains
A comfortable bath in the hot springs at the Yellow Mountains
The peaceful and graceful ancient villages at the foot of the Yellow Mountains — Hongcun and Xidi, which are always the fieldwork destinations of art students
Shexian County and Yixian County, places of classical idyllic life in Eastern China with historical uniqueness (both are about 1.5 hours' drive from the Yellow Mountains)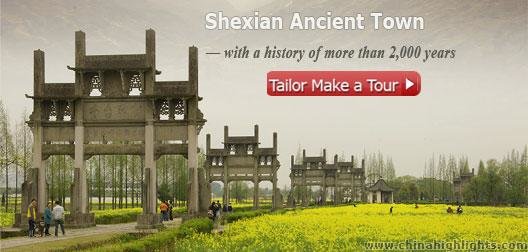 Shexian County
Planning a Huangshan Trip
Huangshan City is about 410 km southwest from Shanghai. It is a tourist destination often combined with Shanghai and Hangzhou (about 250 km east). The Yellow Mountains is a highlight of Huangshan Prefecture. So buses directly linking Shanghai/Hangzhou and the Yellow Mountains are available every day.
Cable cars are available on the Yellow Mountains. You don't need to do much mountian climbing to get to the tops. Stone steps and amenities are provided on all major paths.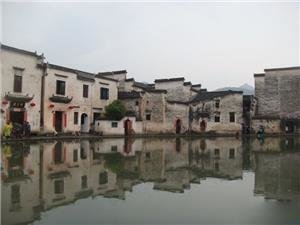 Hongcun Village
China Highlights' 3-Day Huangshan Highlights Tour starts from Shanghai, and the Yellow Mountains and Hongcun Village are included. You can watch the sunset and sunrise on the mountains because you will stay overnight on the Yellow Mountains on the second day. If you have never traveled to Shanghai before, you combine it with a tour of Shanghai.
Your China tour does not include Shanghai? Our 3-Day Yellow Mountain and Hongcun Village Tour is another choice. The itinerary is similar to the one above but can be combined with any China tour.
Want to see more attractions in Huangshan which are not included in our ready-made tours? We at China Highlights offer a professional service for tailor-making a tour to Huangshan.

Questions and Answers About Huangshan Travel Guide
cassandra
2014-06-28
Show Answer
We are going to huangshan from nanjing. What is the fastest transport?
Hi Cassandra, I think it is by train. Whitney Liao replied on 2014-06-29
Ger Carmody
2014-03-20
Show Answer
I and flying to Huangshan on April 3rd and leaving night of April 6th. Do you have a tour available and what is the cost (for 2 adults and 3 children) with private car/driver.
Hi, It is my pleasure to help your Huangshan tour. I have made and sent a tour itinerary to your email address. Please check it. If anything, just feel free to let me know. Regards, Coco guest replied on 2014-03-24
rick
2014-03-17
Show Answer
What would be the best way to get from Huangshan to Guangzhou if you wanted to get there by 13:00, Do they have any morning flights out of Huangshan to Guangzhou?
Hi Rick, there are direct flights from Huangshan to Guangzhou. You can get there before 13:00. Sorry, there are no morning fights but late night flights. Whitney Liao replied on 2014-03-19
Oanh Pham
2013-03-21
Show Answer
Hi, my friend and I will visit Huangshan on 27-29 Apr13. Our trip details as below:- Early 27Apr13: depart to the mountain from Huangshan Tangkou Hotel. Check in at Beihai Hotel at noon, and stay there until early 29 Apr13.- I plan to leave the top on early 29Apr by hiking down by the eastern steps. After back to the ground, we hope to have time to visit Hongcun Village. Could we make it? since I will spend my night staying at Tunxi, then heading to Hangzhou early next day.I just worry that we cannt arrange time enough to visit Hongcun, and then turn back to Tunxi (with local bus timetable). Could you advise us on the estimated time? In case we book a taxi from moutain foot to Hongcun, and then back to Tunxi, how much will it cost?Tks for your kind support if possible.
Hi Oanh, there may not be any bus available after your visit to Hongcun. We can arrange the whole tour with private car and English speaking tour guide. How many people are there in your group, please?
Whitney Liao replied on 2013-03-22
Melvin tay
2012-11-30
Show Answer
Hi there I will be in shanghai 10 Jan and thinking of moving up to huangshan. Can you advise the following : 1. Will scenery be clear during winter ? 2. What is the temp like in degree c3. Any train from shanghai to huangshan ? 4. Is it accessible within huangshan by public transport? As I will be in shanghai for 7 days and like to look at other scenic by nature place to go (been to suzhou,Hangzhou,Nanjing) please advise. Thanks.
Hi Melvin,January is a good time for winter travel. Enjoy the beautiful snow and the charming sea of the clouds and prices for accommodations are affordable since January falls during the off-season.There are two trains depart from Shanghai to Huangshan.Only cable car you could take in Huangshan. Please let me know your detailed idea about your trip by email. (my email is Lilylee@chinahighlights.net) Lily Lee replied on 2012-12-02