Kunming Shopping
Introduction
The city of Kunming is a shopper's paradise. Its streets and plazas are filled with shopping malls, department stores, chain-store supermarkets, and specialty boutiques. Unlike the typical American city, where shopping malls are generally located on the fringes of the city, the shopping malls of Kunming are located in the city center, with only short distances separating each shopping mall. Three of the principal streets where shops and shopping malls are concentrated – all three conveniently centrally located – are Qingnian Road, Dongfeng Road and Zhengyi Road, making duty-free shopping a breeze for foreign tourists.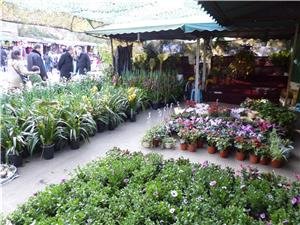 Bird and flower market in Jingxing Street
The flower markets in Shangyi Street are quite famous. The florists there sell their wares by weight, so one can buy as little as a single rose. There is a flower & bird market in Jingxing Street, with numerous market stalls and shops run by ethnic minorities where one can buy all manner of ethnic handicrafts, including flowers and even live birds. Kunming is renowned for its handicrafts such as wood carvings, Burmese jade and other stone items. The food specialty shops of Kunming also offer many unique food and health-food items (aka Medicinal Foodstuffs) that are not available elsewhere in China, including tropical fruits.
Below is a list of some of the most popular handicrafts that the tourist will encounter in Kunming.
The Wax Print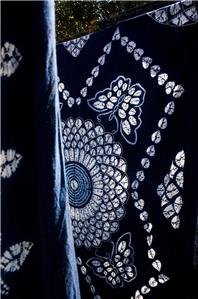 Beautiful picture of Wax Print
The art of producing wax prints is an ancient tradition among many ethnic minority groups in the area. The artisans of the Kunming area weave themes relating to their respective cultures into their handicrafts. The wax prints of Yunnan Province, not unlike similar wax prints produced by ethnic groups elsewhere in China, are very colorful, with unique and complex geometric patterns as well as naturalistic representations. Surprisingly, the average price for a wax print in Kunming is very affordable – some selling for as little as 15 Yuan each. Learn more about Chinese Wax Printing.
The Sani Handbag
The Sani Handbag is made by the women of the Sani ethnic group, a branch of the Yi ethnic minority in Yunnan Province. Thanks to the preservation of the group's ancient handicraft traditions, Sani women excel in spinning, weaving and embroidering. The Sani Handbag, famous the world over for its superb craftsmanship and its intricate and exquisite patterns and designs, represents the epitome of Sani handicraft skills. The Sani Handbag, which sells for roughly 30 Yuan, is also comparatively cheap, considering that it is not only a work of art, but is intended for practical use as an attractive handbag.
Dai Brocade
The women of the Dai ethnic minority are skilled in the art of weaving, and excel in weaving silk brocade in particular. Dai women are responsible for some of the most elaborate brocade designs produced in China (note that brocade, or tapestry, is used in many applications, including curtains, pillow cases, sofa coverings and wall tapestries – and in Imperial China, silk brocade, usually richly laced with gold thread, was used to produce bling-like robes, jackets and other outer clothing). Tourists will find a wide variety of Dai brocades in shops and ethnic vending stalls along the streets of Kunming. The price quite naturally varies depending on the size of the item, its materials (some may still include gold) and the complexity of its design. However, one can usually buy a quality brocade for as little as 100 Yuan, perhaps a little less depending on the seller's willingness to bargain.
Questions and Answers About Kunming Shopping
Sojol Hamid
2014-03-11
Show Answer
There is a scope for me to visit kunming in April, 2014. I want to buy special chinese green tea or chinese robotic toy for my 2 years old child. where should i get them? which market will be suitable for me to find these items at affordable cost. thanks in advance for your suggestions.
Hi Sojol, sorry, we don't have those information. We are a travel agency. I suggest that you get a tour guide to take you to those places. What do you think? Whitney Liao replied on 2014-03-12
Steven Tan
2014-02-26
Show Answer
What is Kunming Silk Museum''s online address? Can''t google it.
Hi Steven, we don't have its online address. Whitney Liao replied on 2014-02-26
vivien
2013-10-25
Show Answer
I planning to go kuming in nov 6, is it the right time to go? I heard shuhu lake in shangrila is very nice and also heard tat is very dangerous to go during that month.
Dear Vivien,
Time is OK to visit Kunming and Shangri-La in the beginning of November. As a travel agency, we can arrange tour to Kunming and Shangri-La if you need. Please feel free contact me if you need any tour arrangement in China.
Nancy

Nancy Deng replied on 2013-10-25
neelanjana
2013-06-28
Show Answer
Hi in these Duty free shops in Kunming do they accept US dOLLARS?
Dear Neelanjana, As far as I know, there is one shop at No. 21 Wujing Road(吴井路21号), but I am not sure if they can accept US dollars. In general, most of the shops only accept RMB, you'd better change some money in advance. Lussie Lu replied on 2013-06-28
bizhen
2013-06-02
Show Answer
can u tell me if there are authourised sony tv dealer who sell sony led tv sets with english language in Kunming city,i need to buy after a month on my way home.
Dear Bizhen, I regret that I am not sure the thing you mentioned and I suggest you search it in a big department store in Kunming city center. Lussie Lu replied on 2013-06-03
thank u for ur suggestion guest replied on 2013-06-13
April Offer $25 Coupon
Send your inquiry before Apr. 30, 2014, and we will email you a $25 coupon.
The coupon is valid till Dec. 31, 2014, for paying tour packages worth $250 or up.
The coupon cannot be used for paying flight tickets, train tickets, hotel rooms and day trips.
Travel Advice or Question? Ask us here

China Highlights
Kunming Travel Guide