Kunming Travel Guide
The 3rd largest city in south-west China (next to Chengdu and Chongqing), Kunming is the political, cultural, economic and transportation center of Yunnan Province and a portal to Southeast Asia, South Asia, the Middle East, southern Europe and Africa. It's located on Yunnan-Guizhou Plateau, from which you can visit Xishuangbanna to the south, explore the snow-capped Shangri-La to the north, watch the Tengchong volcano to the west and appreciate Luoping rape flowers to the east. Kunming serves as a transportation hub in south-west China, which is conveniently accessible to the major cities of China.
Highlights of Kunming
Kunming enjoys a mild climate year-round owing to the cold current being stopped by the vast Qinghai-Tibet Plateau; hence it's praised as the Spring City. The beautiful natural scenery, glorious historical heritages and colorful folk customs made Kunming one of the first excellent tourist destination cities in China, and Kunming has since become a comprehensive tourist destination with tourism, holiday-spending, sightseeing and entertainment combined as one. Over 100 sightseeing spots are available in Kunming, highlighted by the following.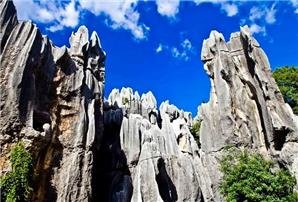 The karst landform of Stone Forest World Geopark
Stone Forest World Geopark: a large comprehensive tourist zone with natural scenery, folk customs and scientific research combined, and it's the most grotesque karst landscape in the world.
Dongchuan Red Land: the most typical and characteristic red land on Yunnan Plateau, it features dark red, purple red and brick red colors. The red hills are blanketed by rape flowers and yam flowers in spring, and golden wheat rolls in billows like yellow river waves in autumn, making it an ideal place for photography.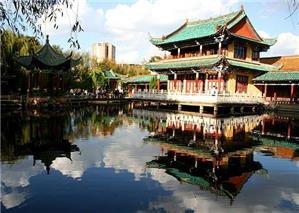 Beautiful buildings in Verdant Lake Park
Verdant Lake Park (Cuihu Park):a green gem embedded in Kunming, it's located at the west foot of Wuhua Mountain, which is dotted with verdant bamboo forests and willows in spring and summer, hence its name. Swarms of black-headed gulls from Siberia flock there to spend winter from November to December, adding much vigor to the park.
Xishan Forest Park: it's a picturesque park where the birds sing among the verdant and thick trees, the streams run in the valley and the rosy clouds slowly rise, where the main cultural heritages include Huating Temple, Taihua Temple, Sanqing Pavilion and the Dragon Gate.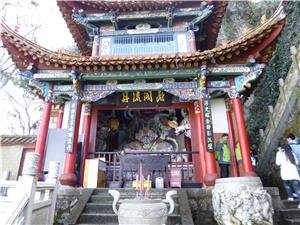 The dragon gate on xishan Forest Park
In addition, the World Gardening Exposition, an exhibit base of Kunming World Horticulture Exposition, is a perfect combination of architectural art, sculptural art and rare plants, fully representing the theme of harmonious development between human beings and nature. Golden Horse and Jade Rooster Archways are two delicately-decorated archways built in the Xuande Period of the Ming Dynasty (1368-1644). Yuantong Temple is the oldest Buddhist temple in Kunming and it highlights the 3.5 meters (11.5 feet) tall statue of Sakyamuni.
Kunming is a multi-ethnic city, where 26 ethnic groups live harmoniously together, including the Han, the Yi, the Hui, the Bai, the Miao, the Hani, the Dai and the Zhuang people. The ethnic minority people are good at both dancing and singing, and they have also retained their unique traditional ways of life, whose clothing styles and food cultures will be of interest, especially to foreigners. Yunnan Ethnic Minorities Village is an ideal place for you to learn more about the ethnic groups in Kunming.
Best Times to Visit Kunming
The annual average temperature of Kunming is 15°C (59°F); the hottest and coldest temperatures are 31.5°C (88.7°F) in summer and 6°C (42.8°F) in winter respectively. Kunming is suitable for travel throughout the year, and many ethnic festivals, such as the Flower Appreciating Festival (on March 3rd) and the Water Slashing Festival (from April 13th to April 15th) are held from March to April; what's more, you also have a chance to appreciate the flowers in full bloom. It's rather rainy in April, May, October and November in Kunming due to the influence of a monsoon wind. You're highly recommended to take a coat with you owing to the large temperature difference between the daytime and the night-time.
Accommodation
Kunming accommodation is very convenient and well-equipped with modern facilities, so you can select hotels of different rates (from one star to super five-star) according to your budget, and you're highly recommended to book it online in advance just in case. Below is a list of the popular hotels in Kunming.
Kunming Chengjian Hotel (five star)
Location: 44 Nanxin Town, Kunming
Green Lake Hotel (three star)
Location: 6 Cuihu South Road, Kunming
Intercontinental Kunming (five star)
Location: 5 Yijing Road, Dianchi National Tourism Area, Kunming
Empark Grand Hotel Kunming (super five star)
Location: 1 Yingbin Road, Guandu District, Kunming
Dianchi Garden Hotel and Spa (five star)
Location: 1316 Dianchi Road, Xishan District, Kunming
Food and Restaurants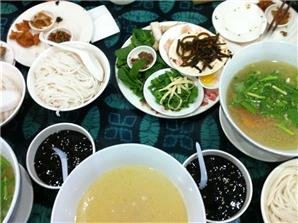 Guo Qiao Mi Xian is a typical local dish in Kunming.
Kunming's food, ranging from street snacks to barbecues and then to local specialty dishes, makes visitors' mouths water, among which the famous dishes include: crossing-bridge rice sticks (literally meaning 'Guo Qiao Mi Xian' in Chinese), bean curds with rice, steamed chicken, wild mushroom pots, roasted meat on tiles and sour bamboo shoots. As a local specialty of Yunnan, the crossing-bridge rice sticks feature a faint scent of rice and are a bit spicy; and this dish has a long history of over 100 years in Kunming.
Generally speaking, the restaurants of Kunming are mainly distributed on Beidamen Gourmet Street, Xingyuan Road, Dianchi Road, Guanshang Central Road, Guannan Road and Shibo Avenue. Below are the famous restaurants in Kunming.
Blue Bird Restaurant
The restaurant is decorated in a French colonial style, featuring Thai food, and it's next to the Grand Park Hotel.
Location: 132 Cuihu South Road, Kunming
Lost Garden Guesthouse and Restaurant
The restaurant is adorned in a lovely Dali style with a rooftop terrace, where the food is very delicious but a little pricey. Tasty salads, pancakes, Eggs Benedict, juices and a variety of teas are offered each day.
Location: Huang Gong East Avenue, Wu Hua Qu, Kunming
Yitian Yuan
The food in the restaurant is unique and is made by famous chefs, featuring Islamic dishes, and a reservation in advance is highly recommended.
Location: Xingyuan Road, Kunming
Makye Ame Tibetan Restaurant
The restaurant is decorated in a Tibetan style and offers authentic Tibetan dishes. Tibetan-style singing and dancing performances are also available each day.
Location: 2F, Diqingzhou Tibetan Autonomous Region Office in Kunming, Huapu Road, Wuhua District, Kunming
Hong Dou Yuan
Hong Dou Yuan serves authentic Yunnan-style dishes, where the signature dish is crispy fried red beans. The price is very reasonable, the service is excellent and the waitresses are really beautiful.
Location: 142 Wenlin Street, Kunming
Transportation
Kunming is serviced by an extensive transportation network, and visitors to the city have a number of options for visiting it with external and inner-city transportation facilities.
By Air
Wujiaba International Airport is five kilometers (3.1 miles) away from Kunming downtown area and three kilometers (1.9 miles) away from Kunming Railway Station, where direct flights to and from Hong Kong, Macau, Guilin, Dali, Beijing, Shanghai, Xishuangbanna, Zhongdian and Lijiang are available. If you are planning to travel to Lijiang Ancient Town, Dali and Xishuangbanna, you're advised to go there by air as it will save you a lot of time and energy.
The airport shuttle buses aren't available in Kunming; however, bus 67, 52, 78 and 103 will take you from the city center to the airport. A metro line (Line 6) is in service now, running between the airport and the East Bus Station of Kunming.
By Railway
Kunming's railway is an important part of the north-west China railway system. The trains from Kunming Railway Station to Hekou, Yuxi, Dali, Guiyang, Chengdu and Nanning are available each day, and it's also a good chance for visitors to appreciate the fine natural scenery in Kunming by train. There are four railway stations in Kunming: Kunming Railway Station, the East Railway Station of Kunming, the North Railway Station of Kunming and the West Railway Station of Kunming.
Kunming Railway Station
Kunming Railway Station is located at the end of Beijing Road, Guandu District, Kunming, and bus 4, 68, 80 and 23 will take you there from the city center.
North Railway Station of Kunming
The North Railway Station of Kunming is situated at the intersection of Beijing Road and Wanshou Road, Panlong District, Kunming, and bus 25, 64 and 78 will take you there, from which the train to Hanoi of Vietnam is also available.
By Highway
Kunming's highway system is very convenient. Buses to and from the major cities such as Beijing, Shanghai and Guangzhou are available, and there are also buses to Vietnam and Myanmar from Kunming Bus Station. There are four main bus stations in Kunming, which are listed as follows.
Nanyao Bus Station
Buses from the station mainly leave for the major cites of China, including Beijing, Shanghai, Guangzhou, Nanning and Zhengzhou.
Location: 25, Beijing Road, Kunming
Dongju Bus Station
Location: 65, Dongjiao Road, Kunming
Gaokuaike Bus Station
Buses from the station are mainly for Dali, Lijiang, Shangri-La, Yuxi and Qujing.
Location: 663, Minghang Road, Guanshang, Kunming
Xiyuan Bus Station
The buses from this station are mainly for Lijiang, Dali and Shangri-La.
Location: near Xiyuan Overpass, Liangjiahe, Kunming
By Bus
The bus system radiates in all directions in Kunming, where over 50 bus routes are available, and the ticket fare is one yuan. The bus runs from 6:00 am to 6:30 pm each day, with the last bus operating from 10:00 pm to 10:30 pm.
By Taxi
The starting price of a taxi in Kunming is 8 yuan for the first three kilometers (1.9 miles), and then you'll be charged 1.8 yuan per kilometer later. In addition, a fuel tax of three yuan is also added to the fare.
Related Reading

Questions and Answers About Kunming Travel Guide
Selvarajah Subramaniam
2014-04-19
Show Answer
intend to travel to kunming from 13-18 dec 2014. 3 pax. Can you plan an itinerary for 5 days. My arrival on 13th will be late evening and return 0n 18th in the evening. 3/4 star hotel ok if possible with heater
During your stay in Kunming you may consider following tours.
One day tour to Stone Forest and Jiuxiang Caves
One day tour to Jiaozi Snow Mountain
One day tour to Dianchi Lake, Guandu Ancient town
One day tour for city tour, Green Lake Park, Yuantong Temple, Xishan Longmen Chair Lift, The Grand View Tower, Kunming Bird and Flower Market
Please check your mail box , we have send an itinerary with quotation to you.
Carol Wang replied on 2014-04-20
haydee borrero
2013-09-04
Show Answer
How much does a roundtrip bus or train ride cost from Nanning to Kunming-Xishuangbanna?
Dear Haydee,
This is Christy from China Highlight Travel in China.
There is no bus from Nanning to Xishuangbanna. You can take train from Nanning to Kunming. Price is about CNY290-350 for different seats and it takes 13 hours. Please see more on http://www.chinahighlights.com/china-trains/search-result.aspThen transfer bus from Kunming West Train Station to XIshuangbanna(Jing Hong). Price for your reference is aboutCNY180, 7-8 hours. Good luck.

Christy
Christy Luo replied on 2013-09-05
john
2013-08-12
Show Answer
Can we do one day trip to shilin and Jiuxiang Scenic Area from Kunming? How much?
It may cost around US$180/per person(based on a group of 2 people) for a private tour. To quote firm price, could you tell us when, how many people and other related requirements you have pertaining to your travel..
Carol Wang replied on 2013-08-12
Pat
2013-07-22
Show Answer
A party of 10 people will be in Kumming city on Oct.for 2.5 days. We would to rent a minibus to take us to City tours, Stone Forrest and it''s surrounding attractions etc. Can you suggest a reliable rental car agent with driver for us? Someone does suggest Grand China Travel. How reliable is this company
Hi Pat, we are a travel agency in China. We have office in Kunming. We can arrange this tour for you. I will send you a quotation for your reference.
Whitney Liao replied on 2013-07-22
Azman
2013-04-15
Show Answer
Hi Whitney,we are planning to come to kunming this may (2-4) with 24 pax (12 golfers & 12 spouse)we already arranged the golf for the golfers but puzzled on what to do with the spouses. they like shopping very muchcan u suggest for us?
Hi Azman, Kunming is not a good place for shopping, but an excellent city for tour. The Stone Forest there is amazing. While touring in Kunming, our tour guide can also take you to the local market for shopping. How do you like it?
Whitney Liao replied on 2013-04-16
April Offer $25 Coupon
Send your inquiry before Apr. 30, 2014, and we will email you a $25 coupon.
The coupon is valid till Dec. 31, 2014, for paying tour packages worth $250 or up.
The coupon cannot be used for paying flight tickets, train tickets, hotel rooms and day trips.
Travel Advice or Question? Ask us here
Kunming Facts
Chinese Name: 昆明
Chinese Pinyin: kūn míng
Location:Southwest of China
Latitude:25° N
Longitude: 104° 41' E
Elevation: 1895 M (6217 FT)
Area Code: 0871
Population:6.25 million
Time Zon: (UTC+8)