Kunming Travel Guide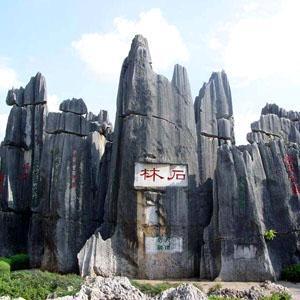 The Stone Forest, Kunming
Kunming is approximately at the same location as northern Mexico, only on the other side of the world. However, because it's situated on a 1.2 -mile (2-km) high plateau and enjoys a protected location, with mountains to the north, east and west, it has a mild climate; with an average temperature of 65 degrees Fahrenheit (18 degrees Celsius), making it spring all year round.
The jurisdiction of Kunming has an area of 3,844 sq. miles (6200 sq. km), including four city districts and four rural counties (which supply the city with fruit and vegetables year round). It is one of the major cities that mainland Chinese go to as tourists, over 2,000,000 per year, with another 800,000 foreign tourists visiting annually. If you're interested in finding out why so many people come to Kunming visit the Tourism section of this site.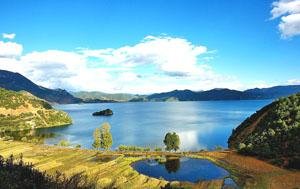 Kunming
Yunnan is home to 25 ethnic minorities, and is endowed with a remarkable traditional folk culture. And Kunming, the capital city, celebrated as "City of Eternal Spring", is well known for its diverse cultures, breath-taking natural scenery and pleasant climate.In tropical zone, Kunming is well-known for its comfortable weather condition all year round. The city has neither severe winter nor extremely hot summer. Weather and climate here is really mild with blooming flowers and lush vegetation all the time.
Standing side by side with its remarkable local folk culture, Kunming is a modern city with impressive skyscrapers and Hi-tech international Groups. The International Tourism Mart held here annually makes the city even more famous. Beautiful attractions here include Stone Forest, Xishan ( West Hill ), Jiuxiang and Yunnan Nationalities Village, Daguan Park, Black Dragon Pool and much more.

Planning a trip? Ask us here 800-2682918 (USA & CA)
86-773-2831999 (Int'l)
Q:
Azman
Asked on 2013-04-15
Reply
Hi Whitney,we are planning to come to kunming this may (2-4) with 24 pax (12 golfers & 12 spouse)we already arranged the golf for the golfers but puzzled on what to do with the spouses. they like shopping very muchcan u suggest for us?
Hi Azman, Kunming is not a good place for shopping, but an excellent city for tour. The Stone Forest there is amazing. While touring in Kunming, our tour guide can also take you to the local market for shopping. How do you like it?
Whitney Liao Replied on 2013-04-16
Q:
Stephanie
Asked on 2013-04-14
Reply
Hi, i plan to visit Kunming - Dali - Li Jiang with my friend about 7pax, is there any budget hotel or homestay that you could recommend to us.
Hi Stephanie, we are a travel agency in China and have been in this line since 1959. Do you need us to arrange the tour and hotels for you?
Whitney Liao Replied on 2013-04-15
Q:
Sharon Jee
Asked on 2013-03-25
Reply
One of my interests to visit Kunming is to see the flowers. If I plan to go from 10 - 17 November, will there be any flowers gardens for us to visit around? What are the type of flowers then? If we travel in the group of four, want to visit the places of interest in Kunming, Lijiang (5D/4N) and what is the cost?
Hi Sharon, you will see chrysanthemum in Kunming in November. For a group of 4 visiting 5D/4N, could you let me know the class of hotel you'd like to stay in? Then I will quote the exact price.
Whitney Liao Replied on 2013-03-28
Q:
sue
Asked on 2013-03-15
Reply
Hi, We are going to Kunming next month, we have one day free want to go to see 元陽梯田, do you have a tour? How much per person?Thanks.
Hi Sue, one day is not enough to go to Yuanyang and visit the Terraced Field there. From Kuming to Yuanyang, it is about 5hrs by car. Can you extend your time?
Whitney Liao Replied on 2013-03-17
Q:
anna
Asked on 2013-01-24
Reply
Hi, We are planning a trip to kunming on 27th febuary-3rd march.. what wether on that time.. and what attire should i wear?
Hi Anna, it is warm during this time. The maximum temperature is 21 °C (70 °F) and the minimum temperature is 7 °C (45 °F). The temperature difference between day and night is noticeable. A long sleeve shirt and a jacket will do in the daytime, but when it get cooler, a sweater is also needed.
Whitney Liao Replied on 2013-01-24
Kunming Facts
Chinese Name: 昆明
Chinese Pinyin: kūn míng
Location:Southwest of China
Latitude:25° N
Longitude: 104° 41' E
Elevation: 1895 M (6217 FT)
Area Code: 0871
Population:6.25 million
Time Zon: (UTC+8)