Lijiang Weather in August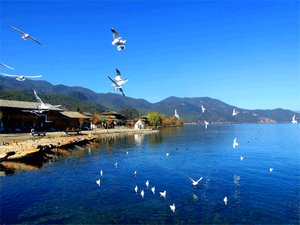 August is the hottest month of the year, yet high temperatures here are below 30 °C (86 °F); therefore, Lijiang is a good choice for escaping from the hot summer weather. The month sees occasional shower.
Sneakers, jeans, and T-shirts are suitable and comfortable. Because of the strong ultraviolet rays in the Yunnan-Guizhou Plateau, sunscreen clothing and sunscreen cream, as well as an umbrella, are indispensable. Also get enough rest in case you suffer from symptoms related to the high altitude.
In the middle of the seventh month of the Chinese lunar year, the Horse Fair Festival is held, where the local people sell cattle, including horses and cows. Go to the market and appreciate the exhibition and performances. August is also a busy month for tourists and room prices are relatively high. See our Lijiang Tours.
Lijiang Climate Information by Month

China Highlights
Planning a trip? Ask us here 800-2682918 (USA & CA)
86-773-2831999 (Int'l)
Q:
S. Lurie
Asked on 2011-07-25
Reply
what is the weather like in Lijiang in October?
Dear S. Lurie, Based on the former data, the temperature in October is about 10-20°C. There is a little rain. It's comfortable for travel. You can take the shirts and coat. Before leaving for Lijiang you can realize the weather there in the next seven days on this web site. Click here:http://www.weather.com.cn/en/weather/101291401.shtml Are you interested in Lijiang tour or any other city tours in China? If you need, I can customize a tour package on your need. You can inform me your enquiries directly. My e-mail address is lussie@chinahighlights.com Lussie Lu Replied on 2011-07-26