Lijiang Weather in December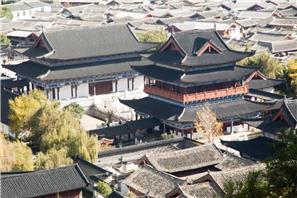 December is mostly a sunny month, with temperatures between 12 °C (53.6 °F) and 15 °C (59 °F). It seldom snows this month but it could be cold in the early morning and evening.
Wear two trousers and a sweater with a down overcoat. Bring some cold and flu medication to help you if you get sick or have a reaction to the altitude. Also bring a hat.
In addition to enjoying the beautiful scenic attractions, bathe in the sunshine and relax. There will a great many tourists during the month, but the advantage is that hotel room prices are the same as that in the off-peak tourism season. We still recommend that you book your hotel room and plane/train tickets in advance. See our Lijiang Tours.
Lijiang Climate Information by Month
Questions and Answers About Lijiang Weather in December
abbie
2012-12-26
Show Answer
hi! we plan to visit KunMing, Lijiang Shangrila in Nov 2013. do you think 8-9 days is sufficient? we would like to spend more days in Lijiang & Shangrila. can we just book the flight to Kunming & get the ground tour? how much they would charge for 6 days 5 nights to Lijiang & Shangrila? we can join the group tour too if they have such arrangement. which local tour agent are you recommended?
Dear Abbie,
Thank you for your inquiry.
General speaking, 8-9 days is sufficient for a trip of Yunnan Province, and I highly you to add Dali. Dali is famous for beautiful scenery and Bai Nationality. Here is the introduction of Dali: http://www.chinahighlights.com/dali/
We are happy to arrange a tour for you, of cause you can just book the flight and get the ground tour. Just for your reference, here are some tours that may fits you: http://www.chinahighlights.com/yunnan/tours.htm
We are specialized in private tour, and if you want a group tour, you can find the tourist reception in your hotel and they will offer you appropriate group tours: )
hope it helps.
Doris Huang replied on 2012-12-26
April Offer $25 Coupon
Send your inquiry before Apr. 30, 2014, and we will email you a $25 coupon.
The coupon is valid till Dec. 31, 2014, for paying tour packages worth $250 or up.
The coupon cannot be used for paying flight tickets, train tickets, hotel rooms and day trips.
Travel Advice or Question? Ask us here

China Highlights