Lijiang Weather in June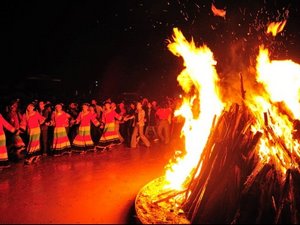 June is a great time for escaping the hot summer in Lijiang. The weather during the month is mild, with an average temperate between 16 °C (60.8 °F) and 28 °C (82.4 °F). Being the rainy season, the weather is different from other places and behaves like a mischievous boy, raining and stopping within a short time. Sometimes, rains falls on one side of the city and the sun is shining on the other hand.
Wearing a skirt with a T-shirt or shorts is adequate. A thin jacket is needed in the evening. Of course, bring sunscreen and sunglasses to protect yourself from the strong ultraviolet rays.
The scenery is quite attractive in June and you usually have the chance to see a beautiful rainbow. The famous Torch Festival falls during this month, and feel free to join the local people and dance around the fire. See our Lijiang Tours.
Lijiang Climate Information by Month

China Highlights