Lijiang Weather
The peculiar combination of a high altitude – meaning a tendency toward cooler temperatures and clear, sunny skies – and a low latitude – meaning a tendency toward a hotter, more humid weather pattern – results in, for the most part, a climate that is characterized by cooler summers and warmer winters, combined with heavy rains in the monsoon period, but relatively clear weather throughout the rest of the year.
The temperature swing is greater on a daily basis than it is on a season-to-season basis, meaning that layered clothing– at least the use of warm outer clothing in the mornings and evenings – is imperative. But like all highland areas that are bordered by mountains, the weather, due to highly fluctuating heat and wind patterns (the Indian Ocean to the south has great influence over the winds arriving here, including their temperature and water content), can change several times in a single day. In fact, there is an apt saying in the north of Yunnan Province that captures this climatic instability: "in the north of Yunnan Province, you can experience all four seasons within the span of a single day!"
Lijiang's rainy season begins in May and ends in October, with the heaviest and most recurrent rainfall periods (some locals would swear that they can set their clocks by it) occurring during July and August, meaning that this is hardly the ideal time of year to visit the Lijiang area. The best times to visit Lijiang are from late March to May and mid-October to November. Have a look at our Lijiang Tours and choose your time of travel.
Spring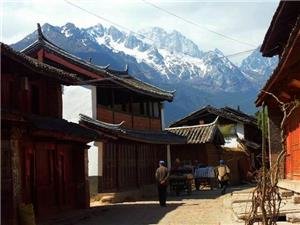 Jade Dragon Snow Mountain can be seen in Baisha Village in Spring.
Spring is from March to May. It is a comfortable season with clear weather, blue sky and flower blossoms. Jade Dragon Snow Mountain can be seen from almost every corner of the city. The average temperature is 17 °C (63 °F). The temperatures differ greatly between day and night. Prepare long-sleeve shirt, thick sweater and coat. Convenient and comfortable layers are practical for taking on and off.
Summer
Summer is from June to September. There are often heavy rains, and thus causing landslides. It is usually cloudy and maybe too foggy to see the snow mountains. It is also more expensive to visit Lijiang in summer. Wear any summer clothes, such as shirts, shorts and skirts, but also a light coat or sweater for early morning and evening. If you visit the mountainous areas, you need to prepare warmer clothes. Sunlight is very strong in summer, wear sun protection such as hats, sunglasses and sun block, and drink lots of water.
Autumn
Autumn is from October to November. It is the most beautiful season, and also has comfortable weather. Dry and clear, with verdant trees and blossoms. Rainfall is rare by mid-October. Temperature between day and night varies greatly; usually it feels chilly during the night. Bring long-sleeve shirts, light sweater and coat.
Winter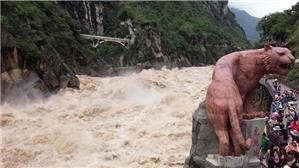 Go visiting Tiger Leaping Gorge and enjoy hiking tour in winter is a good idea.
Winter is from December to February. It is a very good season for visiting the Tiger Leaping Gorge. The weather is clear and warm during the day, but at night, temperature often drops to below 0 °C (32 °F). There are much fewer travelers in winter, so it is cheaper to travel for this season. Prepare warm clothes such as down jacket and thick sweater.
Popular Tours to Lijiang
Lijiang Climate Information by Month
Lijiang Average Climate by Month
| | Jan | Feb | Mar | Apr | May | Jun | Jul | Aug | Sep | Oct | Nov | Dec |
| --- | --- | --- | --- | --- | --- | --- | --- | --- | --- | --- | --- | --- |
| High (ºC) | 17 | 19 | 23 | 27 | 27 | 26 | 28 | 29 | 24 | 22 | 19 | 17 |
| Low (ºC) | 4 | 7 | 10 | 12 | 17 | 17 | 19 | 18 | 17 | 13 | 9 | 5 |
| Rain (mm) | 5.08 | 2.54 | 12.7 | 38.1 | 96.52 | 182.88 | 208.28 | 177.8 | 152.4 | 76.2 | 17.78 | 5.08 |
| High (ºF) | 61 | 66 | 73 | 79 | 80 | 78 | 82 | 83 | 75 | 71 | 65 | 61 |
| Low (ºF) | 39 | 43 | 49 | 53 | 61 | 62 | 65 | 64 | 61 | 55 | 47 | 40 |
| Rain (in) | 0.2 | 0.1 | 0.5 | 1.5 | 3.8 | 7.2 | 8.2 | 7 | 6 | 3 | 0.7 | 0.2 |
Lijiang Average Monthly Temperatures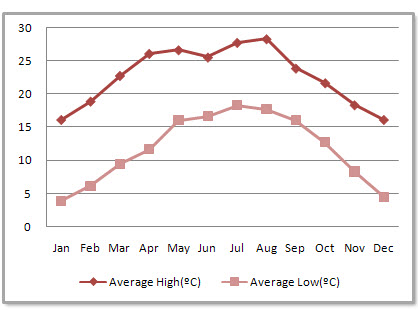 Lijiang Average Monthly Precipitation (inches)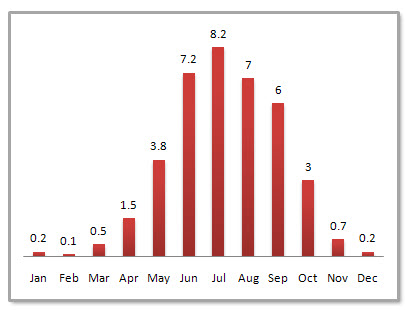 Questions and Answers About Lijiang Weather
Yen
2013-07-01
Show Answer
I''m intolerant to cold, is there a need for thermal wear in July for the snow mountain visit? what is advised for the trip to lijiang?
Hi Yen, yes, thermal wear are suggested when visiting the snow mountain in Lijiang, even it is in July. The temperature can be quite low.
Whitney Liao replied on 2013-07-01
Jill
2012-10-19
Show Answer
I am an avid gardener and would love to visit Lijiang to see the flowers. Would March be a good time for me to visit and see Spring blossoms?
Hi Jill, March is a good month to visit Lijiang but not the best. The temperature difference during the day remains large, with a hot sun that shines strong. The temperature in the morning and evening is between 4 °C (39.2 °F) and 6 °C (42.8 °F) while it can hit 16 °C (60.8 °F) and 20 °C (68 °F) during the day. I suggest that you go in April, while the weather is warmer and the flowers are blooming.
Whitney Liao replied on 2012-10-21
Weiling
2012-07-25
Show Answer
HiWe are planning a trip to Lijiang in coming Dec (mostly likely from 13 to 18)...What will be the weather like and are 6 days enough to cover places of interest in Lijiang?
Hi Weiling, December is mostly a sunny month, with temperatures between 12°C (53.6°F) and 15°C (59°F). It seldom snows this month but it could be cold in the early morning and evening. Wear two trousers and a sweater with a down overcoat. Bring some cold and flu medication to help you if you get sick or have a reaction to the altitude. Also bring a hat. 6 days is enough for a basic travel to Lijiang. But if you want to explore more, you can stay longer. Please see our Lijiang Tours. http://www.chinahighlights.com/lijiang/tours.htm If you are interested in any tour package or need hotel/ air tickets booking, please feel free to contact me. Regards, Whitney whitney@chinahighlights.net Whitney Liao replied on 2012-07-26
yvonne
2012-03-26
Show Answer
we are coming to lijiang on 13th-18th may.will the day temperature be hot?what type of clothing should we bring?many thanks
Please visit our website at http://www.chinahighlights.com/shanghai/weather/may.htm for the weather informatin in Shanghai. Simon Huang replied on 2012-03-27
Ferdinand Dorner
2010-10-12
Show Answer
We love Lijiang! We are a senior couple and we want come to Lijiang from Novmber 2nd. to 11th. What type of clothes shall we bring? Is it cold already than? Thanks in advance to everybody who answers.
In November, Lijiang is with winter weather. The temperature is about 11℃/18℃. Most of the days are sunny days. Coat and sweater is recommended. Cindy Feng replied on 2010-10-13
April Offer $25 Coupon
Send your inquiry before Apr. 30, 2014, and we will email you a $25 coupon.
The coupon is valid till Dec. 31, 2014, for paying tour packages worth $250 or up.
The coupon cannot be used for paying flight tickets, train tickets, hotel rooms and day trips.
Travel Advice or Question? Ask us here

China Highlights