Shanghai Happy Valley
Happy Vally is Shanghai's first big amusement park. It is one of a chain of Happy Valley parks built by OCT Group. It is notable for its ride boasting the biggest one of its kind in China.
Accolades
Shanghai's first modern amusement park.
Has some big rides similar to those you'd find in big Western amusement parks.
New park. It was opened in 2009.
It has China's first wooden roller coaster.
It is in one of the country's major resort areas with some natural scenery.
Features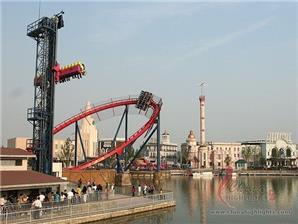 It was built in 2009, and several of the rides are comparable (and perhaps copies of) rides in big amusements parks in the West or Japan. It is close to Shanghai's city center, and the landscaping, as it takes shape, will make the place feel more natural with gardens, trees and a pond. It covers an area of 863,500 square meters (213 acres). This isn't big by Western standards, but it is the biggest in the Shanghai area. There are some big rides and 7 theme parks in Shanghai Happy Valley: Sunshine Beach, Happy Times, Typhoon Bay, Gold Mine Town, Ant Kingdom, Shanghai Beach and Shangri-la Woods.
Probably, most people will want to go there to ride the big rides. The food isn't special. It is just fast food. But the rides get people's attention. At Shanghai Beach, there is a drop-coaster and the Gyro Swing. The drop coaster plummets 60 meters (197 feet). They call it the "king of coasters." What is cool about it is that when it drops in two different locations along the track, it pauses at the top. You can see a cool view of different places below before it falls.
The Gyro Swing, which is said to have cost more than one hundred million RMB to construct, can rise up to 15 stories, and from there you can see a spectacular view. The wooden coaster is in the Happy Times theme area. It is called the Fire Ball, and it is made of wood beams. It can reach speeds of about 56 miles an hour. When you are riding on it, you can hear the wood creaking. The longest roller coaster is about 170 meters long from one end to another, and it turns around several times in various loops to cover a much longer distance.
Happy Valley Shanghai doesn't only have rides to enjoy. You can also rest for a while under the trees and among the gardens in the Shangri-la Woods theme area. There are also water rides that mimic going down a river. There is also the large OCT Grand Theater where you can watch entertaining performances and movies for a restful break. In the past, one of the main performances was called Magical Destiny.
Transportation
Address: 18 Linying Dadao, Songjiang, Shanghai. You can show this address to a taxi driver.
Metro: Take Metro Line 9 to Sheshan Station. The trip from central Shanghai takes about an hour. There, you can take a taxi or perhaps find a shuttle bus.
In-Park Transportation:To make things easy, people can rent electric carts to ride.
Important Information
Price: 200 RMB (30 USD) for adults. Less for kids. 100 RMB (15 USD) for kids between 1.2 and 1.4 meters tall. Free for kids less than 1.2 meters tall. It is also free for women who can show that they are over the age of 65 and for men who can show that they are over the age of 70.
Time: Daily 9 to 6 daily. No evening hours. Most rides close by 5 or 5:30 pm.
Food: There are KFCs and McDonalds, but most of the snacks available are Chinese snacks. You probably won't find western snacks. There are long lines at meal times at the fast food places, so to avoid waiting in long lines for more than half an hour, bring your own food.
Questions and Answers About Shanghai Happy Valley
dallas
2012-09-22
Show Answer
Does the price to get in the park include all the rides, or do you have to pay to get on the rides once inside?
Hi Dallas, yes, they are all included in the price.
.
Whitney Liao replied on 2012-09-24
Dharshini
2012-09-06
Show Answer
Suzhou amusement park has 2 seater buggy cars that can be rented for the day and individualls can driver around the park by them selves.does shanghai amusement park has this facility? i do not mean the public buggy carts that drives a crowd around the park.i mean individual buggy cars ok?also can you send me a map of the shanghai amusement park please
Hi Dharshini, there isn't at the moment.
Sorry, I didn't find any map of the Shanghai amusement partk.
Whitney Liao replied on 2012-09-07
April Offer $25 Coupon
Send your inquiry before Apr. 30, 2014, and we will email you a $25 coupon.
The coupon is valid till Dec. 31, 2014, for paying tour packages worth $250 or up.
The coupon cannot be used for paying flight tickets, train tickets, hotel rooms and day trips.
Travel Advice or Question? Ask us here

China Highlights
Shanghai Travel Guide