Jade Buddha Temple of Shanghai
Jade Buddha Temple in Shanghai is an active temple, with 70 resident monks living and working there at the last count.
The temple was built between 1911 and 1918 in the style of the Song Dynasty (960-1279), with symmetrical halls and courtyards, upturned eaves, and bright saffron yellow walls, making it readily identifiable.
Inside, the centerpiece is a 1.9-meter-high white jade Buddha, which was installed after a monk brought it from Burma to Zhejiang Province in 1882. This seated Buddha, encrusted with jewels, is said to weigh about one thousand kilograms.
A smaller, reclining Buddha from the same shipment lies on a redwood bed. In the large hall there are three gold-plated Buddhas, and other halls house ferocious-looking deities. There are many other artifacts, and some 7,000 Buddhist sutras line the walls.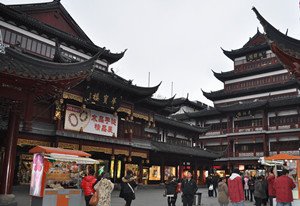 Jade Buddha Temple in Shanghai
Alongside the temple is a branch of the Antiques and Curio Store, which sells miniature sandalwood drums and gongs, replicas of the large ones used in ceremonies.
Vegetarian Restaurant at Jade Buddha Temple
Based on the culinary system of Buddhist temples, the vegetarian restaurant at Jade Buddha Temple combines it with the cooking techniques of Shanghai cuisine.
There are over 80 kinds of delicately made vegetarian dishes available. Some dishes are made to look and taste like meat, but are 100% vegetarian. Noodles and wontons are the restaurant's specialties. It also offers take-away vegetarian food.
The tranquil and elegant restaurant has a strong Buddhist atmosphere.
Price: 30-100 yuan per person
Questions and Answers About Jade Buddha Temple of Shanghai
Irre
2012-08-01
Show Answer
Hi,im from the philippines and currently working here in shanghai for 5 months but i wasnt able to explore shanghai is. I want to visit jade buddha temple but how? And is there any admission. From peoples square station which route shoud i take by mtr, best regards irre cris
Manivanh
2011-11-30
Show Answer
I'm Lao, I think it's a great artical n u r also good writer, too. I'd like to ask u some questions: What's the most famous Budha Temple in China? I mean if I have a chance to go to CN What temple I shoul visit? Do you know what's cultural Heritage in Religion of China? thank you for allowing me to ask, answer me if you can. thanks again
There are many famous temples in China. Best wellknown for Buddha are http://www.chinahighlights.com/shanghai/attraction/jade-buddha-temple.htm http://www.chinahighlights.com/zhangye/attraction/grand-buddha-temple.htm http://www.chinahighlights.com/hangzhou/attraction/lingyin-temple.htm Do you know what's cultural Heritage in Religion of China? Here is the maogao grotto information for you. http://www.chinahighlights.com/dunhuang/attraction/mogao-grottoes.htm guest replied on 2011-12-07
ifuj
2010-07-16
Show Answer
whatv area is the temple in ?
The detailed address of the temple is: No.170, Anyuan Road, Putuo District, Shanghai, with the telephone number is 021-626636688. If you need any tour service in China, welcome your inquiry to service@chinahighlights.com, the professional travel advisors will reply you soon within 1 working day. Lynn Ye replied on 2010-07-18
April Offer $25 Coupon
Send your inquiry before Apr. 30, 2014, and we will email you a $25 coupon.
The coupon is valid till Dec. 31, 2014, for paying tour packages worth $250 or up.
The coupon cannot be used for paying flight tickets, train tickets, hotel rooms and day trips.
Travel Advice or Question? Ask us here

China Highlights
Shanghai Travel Guide