Shanghai Old Street
Shanghai Old Street, or more officially Fangbin Road, is an ideal place to discover what Shanghai was like in the old days. It is adjacent to Yuyuan Garden and runs in an east-west direction from Zhonghua Road to Henan South Road, with both ends marked by decorated archways.
The 825 meter-long street can be divided into eastern and western sections.
Eastern section
The eastern section retains characteristics of residences in the late Qing Dynasty (1644-1911) and early Republican days (1911-1949).
The houses on both sides of the street are fitted with checkered windows, and shop fronts have wooden boards, balustrades, and swing doors. Their roofs have upturned eaves, protruding corners and laced drain-pipes.
The eastern section has a variety of shops, including florists', shoe & clothing retailers', and noodle restaurants, where you often see specialty dealers selling Chinese tea and snacks such as "Five Fragrant Beans.
Western section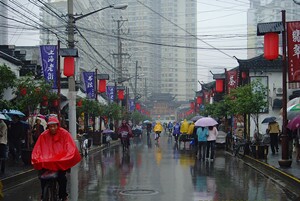 Shanghai Old Street
The western section is filled with Ming (1368-1644) and Qing style architecture. Black tiles and white-washed walls, red columns, and upturned eaves showcase the style of old Shanghai.
The western section has a number of antique & curio shops, restaurants and teahouses.
Famous Shops
Along the street you will find hundred-year-old stores: Tonghanchun, Laotongsheng, Wuliangcai, Wanyouquan, Qiu Tianbao, Old Shanghai Tea House, Deshun Western Food Restaurant, Chunfeng Deyi Restaurant, Xishi Soya Beancurd Store, Dingniangzi Cloth Store, Rongshun Restaurant and Baoyintang.
A newly-opened Danfeng Tea House, a clinic managed by renowned traditional Chinese medical doctors, and other new shops with traditional characteristics are also on Shanghai Old Street.
Our Tours
A Short Visit to Shanghai's Old Alleys
Visiting the old alleys of Shanghai is a great way to discover the traditional culture of this city and experience the real life of the Shanghainese. Find out how they think and what they do over an enjoyable cup of tea and chat with locals in their home.
Duration: 1.5 hours
Price: USD 42 (combined with tour package)
An In-Depth Visit to Shanghai Old Alleys
Experience the real life of the Shanghainese. Enjoy a lunch and chat with locals in their home. Visit the local market and even learn how to speak some Shanghainese.
Duration: 3 hours
Price: USD 57 (combined with tour package)
Questions and Answers About Shanghai Old Street
philip
2012-07-08
Show Answer
what is the best time to visit the Shanghai old street?
Hi Philip, thank you for your inquiry! This is Nora, a trip advisor of China Highlights. You could visit the Shanghai Old Street during day time or in the evening. During day time, you would see many tourists come to here to enjoy the traditional atmosphere. In the evening, you could meet more local people come to here for dinner or just have a walk. It would be nice to enjoy the night view. If you would like us to arrange a Shanghai tour for you, please feel free to let me know. Nora Ou replied on 2012-07-09
Michelle
2010-05-26
Show Answer
How's the weather in September?
Hello Michelle, China is a vast country, so it is impossible to summarize the weather as a whole. Could you please specify which city or cities you are refering to? You can also visit our weather page at (http://www.chinahighlights.com/weather/) for weather condition and forecast of major cities in China. phoebe replied on 2010-05-26
April Offer $25 Coupon
Send your inquiry before Apr. 30, 2014, and we will email you a $25 coupon.
The coupon is valid till Dec. 31, 2014, for paying tour packages worth $250 or up.
The coupon cannot be used for paying flight tickets, train tickets, hotel rooms and day trips.
Travel Advice or Question? Ask us here

China Highlights
Shanghai Travel Guide