Shenyang Travel Guide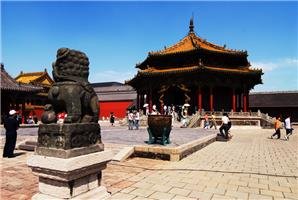 Shenyang Imperial Palace
Shenyang, capital of Liaoning Province, is the economic, cultural, transportation and trade center in northeast China, and also an important industrial and historical city. Shenyang governs nine districts, one city and three towns with an area of 13000 square kilometers and a population of 7.204 million, of which includes an urban area of 3495 square kilometers and urban population of 5.066 million.
Shenyang is hinterland of Liaoning Peninsula and it is located in the south of northeast China and in the middle of Liaoning Province, with Changbai Mountain behind and the Bohai Sea in front. Within a radius of 150 kilometers based on Shenyang, there are Anshan (Steel City), Fushun (Coal City), Benxi (Coal and Iron City), Fuxin (Coal and Electricity City), Panjin (Petroleum City), Dandong (Textile City), Liaoyang (Chemical Fibre City) and Tieling (Cereal and Coal Base). These resourceful industrial cities with solid strength in central area of Liaoning Province compose unusual cities groups in the world. Dalian Harbor that links to other great harbors over the world, New Yingkou Harbor and Jinzhou Harbor which is under construction, are all no more than 400 kilometers away from Shenyang.
Shenyang, emphasizing equipment manufacturing, is one of national heavy industry bases founded soon after the foundation of the People's Republic of China. . Meanwhile, having been successively granted the title of "National Environmental Protection Model City" and "National Forest City", Shenyang has gained the award of one of the Top Ten Cities for two years running.
Shenyang is rich in tourist resources, especially famous for its places of interest. Tourist attractions in and around Shenyang include Shenyang Imperial Palace, emperors' tombs (Fu Tomb and Zhao Tomb), Huishan Mountain Scenic Spot, Liaoning Broadcast TV Tower, Strange Slope, 9.18 Incident (The 9.18 Incident Exhibition Museum and Marshal Zhang's Mansion), Middle Street Commercial Walking Street, Hunhe River Paradise, Summer Palace, Xinmin West Lake, Xinle Site, Shenyang Botanical Garden, Canal Scenic Spot (round-city canal water system), Kangping Sleeping Dragon Lake and Shenyang Ancient Meteorite.

Questions and Answers About Shenyang Travel Guide
ahmed
2013-03-20
Show Answer
23rd of this month i''m planning to go shenyang for travel would you please advice me which places i should visite in three days staying in shenyang.would you please help me if there is flights from YIWU city in Zhejiang provice directly to shenyang?
Hi Ahmed, you can visit the Shenyang Imperial Palace, The Former Residence of General Zhang Xueliang, Beiling Park. We have 3-day Shengyang tour here: http://www.chinahighlights.com/tour/shenyangtour/say-1/ Please feel free to contact me if you are interested in it.
Whitney Liao replied on 2013-03-20
There are direct flights from Yiwu to Shenyang. Please check flights here: http://www.chinahighlights.com/china-flights/
Whitney Liao replied on 2013-03-20
Jenny Bailey
2012-11-11
Show Answer
I will be travelling to Shenyang in August 2013 with friends. I would very much like to see if it would be possible to visit the Shaolin Kungfu school in Shenyang. Is this possible, and if it is.....would I be permitted to video/photograph this?Kind regardsJenny Bailey
Dear Sir or Madam, Shenyang Shaolin Wenwu school is a famous school in Shenyang. I contacted them and realized you could visit there by yourself, but you are not allowed to take a phote or vedio. Here is their information, you could contact them directly. Tel: +86 24 88031729 Address: No.88 Dongling east Road, Dongling District(沈阳市东陵区东陵东路88号) Lussie Lu replied on 2012-11-12
shilp sharma
2012-10-08
Show Answer
i am visiting shengyaang from 15th oct next week. please let me knw the weather and wht clothes shoud i carry along with me
Hi Shilp, from the preious report, the temperature in mid Oct. in Shengyang is 4-16°C. It could be cold. So please prepare warm clothes such as sweaters and coats. You can also check the up to date information via this website: http://www.weather.com.cn/english/ Whitney Liao replied on 2012-10-09
Johan Krog
2012-05-06
Show Answer
We are planning a trip to Shenyang middle July from Cairns Australia for a week. Please advise visas, hotel,airfare ,attractions,etc. Thank you.
Hello Johan Krog, i have sent you a proposal. Please check your email. Simon Huang replied on 2012-05-07
April Offer $25 Coupon
Send your inquiry before Apr. 30, 2014, and we will email you a $25 coupon.
The coupon is valid till Dec. 31, 2014, for paying tour packages worth $250 or up.
The coupon cannot be used for paying flight tickets, train tickets, hotel rooms and day trips.
Travel Advice or Question? Ask us here
Shenyang Facts
Chinese Name: 沈阳
Pinyin: shěn yáng
English Name: Shenyang
Location: North China
Area: 12,948 sq. km.
Latitude: 41° 08' N
Longitude: 123° 04' E
Area Code: 024
Population: 7.8 million
Time Zone: (UTC+8)