Window of the World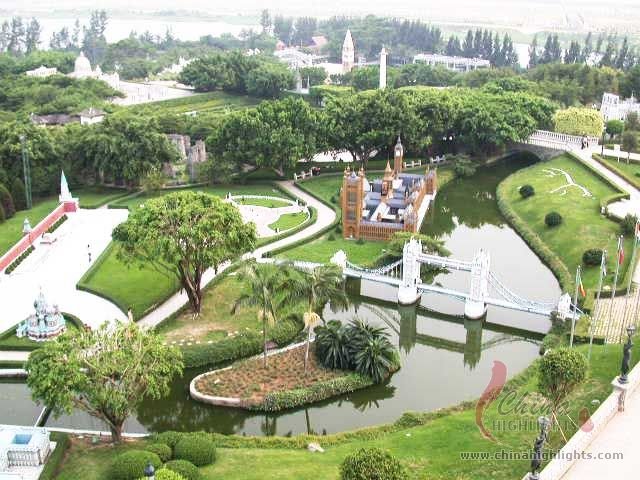 Features
Around the world to see the sights in one day – it is now possible. Shenzhen City in China has a great theme park called "Window of the World" giving you this opportunity. Here you can see around 130 reproductions of some of the famous sights in the world. Along with these reproductions and models, there are rides and special night time entertainment to see.
Window of the World is a theme park that is full of replicas of sites all over the world. All the continents are well represented in the 48 hectare or 118 acre park that features stunning replicas of the world's greatest wonders, historical heritage, and famous scenic sites that are all in a scale ratio of about 1:15 more or less. It might be an educational opportunity to teach kids about the world's historic and important places.
History
Window of the World (世界之窗) is part of a theme park area of Shenzhen with three other theme parks nearby. The Shenzhen government organized the building of a special tourist and theme park zone in the Nanshan area of Shenzhen (深圳市南山区华侨城). It is not a big park, but it can be enjoyed along with seeing some of the others parks. At night, there are special dance shows you can see. Hundreds of dancers perform on a large stage, and there is a procession and fireworks display at 9 pm.
Attractions
As you enter the park, the beautiful Eiffel Tower that is the emblem of France dominates the skyline. It can't be missed, but Europe has a lot more to offer such as Buckingham Palace, the Acropolis, and the Winter Palace in St. Petersburg. There are the Palace of Versailles, Notre Dame Cathedral, the Colosseum in Rome, the Trevi Fountain in Rome and the Leaning Tower of Pisa. But Europe is not all buildings; the majestic Matterhorn Mountain and the mysterious Stonehenge can also be admired. You can also experience relaxing windmills and the colorful tulips of Holland. Then you can walk on to America, Asia, Africa and Australia and watch special performances and entertainment.
All the famous sights of America from East Coast to West Coast are also exhibited. You can walk from Manhattan in New York and the Statue of Liberty to totem poles of western America. You can ride rafts down the Grand Canyon.

In the mysterious North African region, the Pyramids and the Sphinx can be seen. Do not forget to see the Safari Park before moving on to the Lighthouse of Alexandria.
Asia is full of old beautiful historical sites. Take the time to see Ankor Wat, the Taj Mahal and Temple of the Emerald Buddha. Enjoy the famous Mount Fuji of Japan. Witness the Merlion in Singapore, and see the sights that Malaysia and Indonesia are famous for.
The Window of the World is not all monuments and landscapes. The park also tries to make sure you can play some games along the way for a small fee. There is an Archery Field where the tourists can learn from the North American Indians how to use a bow. If that doesn't appeal, take the cable car through the tropical forest or do something totally different and visit the Indoor Alpine Ski Run. Window of the World can offer their visitors 4,000 square meters or an acre of indoor ski slopes.
An evening generally ends with a spectacular entertainment show with dance, music and lights as all the artists and performers pull together in one grand show. The show starts at 7:30 every night.
During the different festivals and holidays, the park puts on special events. They annually hold the Cherry Festival of Japan and the Indian Cultural Week. They also run special programs during school holidays in the summer, the Chinese National Day and Christmas. Events include a summer International Beer Festival, a Christmas Festival, a Pop Music Festival and a Chinese Spring Festival. If it all seems a bit overwhelming, pick up a map at the entrance to make sure you experience your favorite places.
China Highlights can help you customize a tour to visit this sight and other highlights in Shenzhen, or just see our Shenzhen Tours.
Three Nearby Theme Parks
This theme park covers about 4,000 square meters, and is right next to three other theme parks in a special tourist and theme park area of Shenzhen. It is basically across the street from Splendid China and the Chinese Folk Culture Village, and it is about a kilometer or less than a mile away from Happy Valley that is a favorite for kids. Happy Valley is close enough to walk to from Window of the World.
Transportation
Transportation to Window of the World from Hong Kong, Guangzhou or other parts of Shenzhen is easy since there is a station of Metro Line 1 next to it. From Hong Kong, you can cross at the Luohu crossing and take Metro Line 1 from there. Get off at the Shijiezhichuang Station (世界之窗站 Window of the World Station). From Guangzhou, you can reach Window of the World in about 2.4 hours from the Guangzhou East Station or Guangzhou Main Station by taking the fast train to Luohu Station (1 hour and ten or 20 minutes, 75 or 80 RMB or about 10 USD) and then walking over to the Shenzhen Metro stop in the same station at Luohu and getting on the subway train. From Luohu, the journey to Shijiezhichuang Station takes about 45 minutes and costs about 5 RMB or about 80 cents.
Bus: Many buses go there since it is on a major road called Shennan Highway. From Luohu, you can take Bus 1 or Bus 101. Other buses that stop there are: 70, 113, 324, 328, and 329.
Important Information
Hours: 9 am to 11:30 pm.
Price: Adult 140 RMB or 21 USD. Some of the shows are extra.
Time: Minimum half a day.
Hire a small cart: you can drive on your own and explore the park.
Page Rating:
4.75

/

5
based on
8
ratings.

China Highlights
Planning a trip? Ask us here 800-2682918 (USA & CA)
86-773-2831999 (Int'l)
Q:
Silvia
Asked on 2013-02-20
Reply
Hi there,Do we need a special tour guide in WOW?
Hi Silvia, yes, it is usually the situation. But if you can understand Chinese well, it is okay to visit on your own.
Whitney Liao Replied on 2013-02-21
Q:
Sherylene
Asked on 2013-02-02
Reply
I will be in HK from 19-23 Feb 2013. I would like to book a tour for three adults to visit Windows if the World and also to go shopping at Luohu. Can you help me?Thank you!
Hi Sherylene, Windows of the World and Luohu are in Shenzhen, not in Hongkong. We are more than happy to assist planning your tour. For going to Shenzhen, you need a China visa. If you don't have, then we can help apply a 144hr Convenient visa for staying no more than 6 days. To apply for it, we need the scanned copy of your passports. Please kindly inform your idea on it. BTW, do you need us to book hotel for you?
Whitney Liao Replied on 2013-02-04

Hello Whitney, I would like to ask how much is the 144hr Convenient Visa... I have read in the internet that entrance to Windows of the World is free for persons more than 70years old. Is this applicable to all nationalities? Please advise. guest Replied on 2013-04-04
Q:
Sheng
Asked on 2013-01-17
Reply
Hi, I will be traveling with my husband and a friend to Hongkong and Macau. We plan to stay in HK for 2 days so we''re planning to take a side trip to Shenzhen to visit the windows of the world before we go to Macau. How do we go there by bus or by train? We''ll be staying at Tsim Sha Tsui. And what other things do we need to comply aside from the visa and where can we get it? Would it not be a problem if we enter HK, go to Shenzhen,go back to HK, go to Macau then go back to HK? Would there be a problem with the immigration going in and out of HK? Thanks so much for your help!
Dear Sir or Madam, It is easy for you to take a train from Hong Kong to Shenzhen, there are many train every day. It takes about half an hour. For the China visa, I suggest you apply for it in your country in advance. Eventhough you could apply it in Hong Kong, it will spend a long time, you don't have enough time to get it. I don't know your nationality, some persons don't need a visa to enter Hong Kong and Macau. You could realize the details on our website. Please click: http://www.chinahighlights.com/hong-kong/visa.htm http://www.chinahighlights.com/macau/visa.htm Lussie Lu Replied on 2013-01-17
Q:
Azla
Asked on 2013-01-14
Reply
Hi i just want to know whether Window of the world would be closed during the chinese new year holidays? And whether everything is shenzhen would be closed?
Hi Azla, no, it won't be closed during the Chinese New Year holidays. It is open everyday. So are the other attractions.
Whitney Liao Replied on 2013-01-16
Q:
april valencia
Asked on 2013-01-07
Reply
hi im april from philippines,got a trip to shenzhen and hongkong disney on feb 26-28,2013....my husbnd and i are excited to see windows of the world...how can we go there by train?or bus?our package tour will be checking in Tree inn hotel...but we have the 1st day as a free day in shenzhen...we are intersted to go to windows of the world...thnks so much for your help...
Shenzhen Travel Guide