Shenzhen Travel Guide
Geographical Position
Shenzhen is located between 113.46 and 114.37 east longitude,and between 22.27and 22.52 north latitude. It is in the South of Guangdong Province and to the south of the Tropic of Cancer.
Shenzhen is demarcated from Hong Kong by the Shenzhen River in the South, and is bordered by Dongguan and Huizhou to the north. Its sea is part of the South China Sea and the Pacific Ocean. It is a natural port city with Daya Bay in the east and the Lingding Sea to the west.
Climate
Shenzhen has a subtropical maritime climate with plenty of rain and sunshine. It is never blazingly hot in the summer and the season can last for as long as six months. It is mild in spring, autumn and winter. It is not very cold in winter. The annual average temperature is 22.4, with the highest temperature being 36.6 and the lowest 1.4. The year's frost-free period can be as long as 355 days. The rainy season lasts from May to September. Annual average rainfall is 1,933.3 mm. Typhoons usually occur in summer and autumn, luckily most typhoons are obstructed by mountains. Only about once in every two years, on average, is the urban area hit directly by a typhoon.
Area
The total area of Shenzhen is 1948.69 square kilometers. The size of the Special Economic Zone is 391.71 square kilometers. Shenzhen is mainly undulating with an occasional plain tableland, declining from the southeast to the northwest. The western part of Shenzhen comprises coastal plains. Mount Wutong, with an altitude of 943.7m, is the city's highest peak.
Population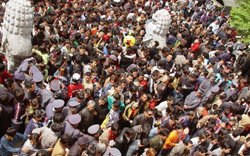 Shenzhen started to receive immigrants at the end of the Southern Song Dynasty (1127-1179). when Shenzhen City was established, there were only 31.41 natives, most of them Hakkas.
By the end of 2001, permanent resident population in Shenzhen totaled 4.67 million, including some 2.558 million living within the Special Economic Zone, average age was less than 30. the "New Immigrants"are from throughout the country and account for 90 percent of Shenzhen's population.
Shenzhen Food
Shenzhen is a typical immigrant city. So you can find cuisines of many other cities of China here. Additionally, Thai cuisine, Vietnam cuisine, Japanese cuisine, Indonesian Cuisine and many other Western-style fast-foods are all available in Shenzhen. read more
Shenzhen Shopping
Shenzhen, a modern and prosperous metropolis, offers tourists a great shopping opportunity. There are some best choices for you, such as fashionable and reasonable clothing, jewelry, seafood, electrical appliance, digital products and furniture. read more
Shenzhen Nightlife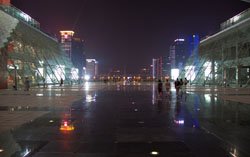 Shenzhen Square
A night stroll in Shenzhen Square would provide you the chance to appreciate some folk songs and dances. Besides, you can also play some sports like bowling, ping pong and tennis in some clubs, which is absolutely a healthy method to keep fit. read more
Shenzhen Travel Tips
China Highlights provides you information on how to plan a trip to Shenzhen, what you should be aware of in Shenzhen, including currency exchange, hospitals and churches. read more
Notice: No Free Toiletries at Guangdong Hotels from April 1, 2010
From April 1, 2010, star-rating hotels in Guangdong will stop sending free disposable toiletries to guest rooms, and toiletries are only supplied upon request by guests.
After October 1, 2010, guests need to pay for using disposable toiletries.

Planning a trip? Ask us here 800-2682918 (USA & CA)
86-773-2831999 (Int'l)
Q:
Naim
Asked on 2013-09-02
Reply
I am african american and i have always wanted to visit China..Shenzhen, is my choice..I plan to visit for 10 days..Advice needed regarding air travel and hotel lodging..Plus, my diet consist of no pork products..I have friends in Shenzhen..Want to surprise them..Late December
Dear Naim, Thank you for your inquiry. Per the flight, there will be more flight from UAS to Guangzhou, and the price is cheaper than other cities. You can fly to Guangzhou and take a train to Shenzhen (about 2 hours). As you will stay in Shenzhen for 10 days, I think a hostel will be good. Compared to stay in a traditional hotel ,hostel will give you more information about what and where to explore in Shenzhen. There are also many Muslim restaurants in Shenzhen, here are some recommended restaurants: Xinjiangren Muslim Restaurant (新疆人穆斯林餐厅) Add: No.61-9, Shahe Street (沙河街61-9) Add: (+86)075583258966 Xinjiang Muslim Restaurant (新疆穆斯林餐厅) Add: No.312 Zhenxing Food Palace, Zhenxing West Road (振兴西路振兴美食城312号) Add: (+86)075526766692 Doris Huang Replied on 2013-09-05
Q:
dharmesh
Asked on 2013-04-16
Reply
we are indians from india. how to apply 144hrs free visa for shenzhen and guanzhou
Hi Dharmesh, to enter the Pearl Delta area from HK or Macao, we can help to deal with all the process of 144hr visa. Please let me know when, where to go, how many people. Thanks! Whitney Liao Replied on 2013-04-17
Q:
shoukat
Asked on 2013-04-04
Reply
hello I shoukat will be visiting Shenzhen in May end, I am from India which will be best hotel and good place to stay.I will be visiting a company WNC on official work. I need Indian food pls advise
Dear Shoukat, We usually recommend Shenzhen Shanshui Trends Hotel(3*) and Lido Hotel(3*) to our clients. More options: http://www.chinahighlights.com/hotel/shenzhen-hotels/ Here are some Indian restaurants for reference. 1.Malay Scenery马来风光 Address: No.3085, Shennan Dong Road, Luohu District (罗湖区深南东路3085号骏庭酒店1楼) 2. Spice Circle时派圈印度餐厅(天俊大厦店) Address: No.3018, Dongmen Nan Road, Luohu District (罗湖区东门南路3018号天俊大厦群楼1楼旁) 3. Indian Meichu Restaurant印度美厨 Address: No.42, Zhenhua Road, Futian District (福田区振华路42号) Lussie Lu Replied on 2013-04-07
Q:
Martina Radic
Asked on 2013-04-04
Reply
Hi, I will be studding in Shenzhen from September 2013 until January 2014. I am a girl, traveling alone. Additionally, this will be my first trip to China. I was reading a lot regarding the security in Shenzhen. I do not want to be afraid, but quite a lot if people are talking how Shenzhen is very dangerous city. What is your opinion and advice?
Dear Martina, In general it is safe to travel in Shenzhen for women, however female travelers are sometimes more likely to encounter harassment, but uncomfortable situations can often be avoided by taking the following precautions. Dress conservatively. Although short skirts and tank tops may be comfortable, they may also encourage unwanted attention. Avoid walking alone late at night or in questionable neighborhoods. Do not agree to meet a person whom you do not know in a secluded place. Lussie Lu Replied on 2013-04-07
Q:
sam cruz
Asked on 2013-03-21
Reply
Hi, I am Filipino (philippine passport) and plan to take a tour in shenzhen , My fiancee will be there Mid April 2013 for his business trip and want to visit him there, ill be in hongkong first then planning to visit him for 3-5 days. Do you know any travel agency who can assist as for the tour with visa? or any recommendations how to get visa by myself from hongkong? hope you can help me with this... thanks
Hi Sam, we can help arrange the tour as well as the 144hr Convenient visa which allows you to stay in Shenzhen for a maximum of 6 days.
Whitney Liao Replied on 2013-03-22
Shenzhen Facts
Chinese Name: 深圳
Chinese Pinyin: shēn zhèn
Location: South of China
Latitude: 22° 62' N
Longitude : 114° 07' E
Elevation:95 M (312 FT)
Time Zone : (UTC+8)
Area Code: 0755
Population: 8.8 million