Shenzhen Nightlife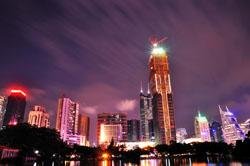 Nightlife Activities
In this prosperous and dynamic city, there are different choices for tourists to spend their nightlife. They can enjoy the pleasure of visiting bounds of mere sightseeing, hopping on a sightseeing bus or ferry, or just shopping around the city. A night stroll in Shenzhen Square would provide you the chance to appreciate some folk songs and dances. Besides, you can play some sports like bowling, ping pong and tennis in some clubs, which is absolutely a healthy method to keep fit.
Bars and Clubs
There are two famous bar streets which are well-known for their large number of bars and clubs. One street is located in Huaqiao Town, and another is in the Ocean World Square of Shekou District of Shenzhen.
True Color Bars
Guoqi branch: the 25th floor of Guoqi Mansion, Shanbu Road (south), Futian District.
Dongyuan branch: the 3rd and 4th floor of Dongyuan Mansion, Dongyuan Road, Futian District.
Dongmen branch: the 4th floor of Gold World Business Center of Dong Men, Jiefang Road, Luohu District.
Lao Dou Bar
Address: Jiahua New City, No. 3027 of Shennan Road (central), Futian District
Base Bar
Shangbu branch: No 1019, Shangbu Road (South)
Nanshan branch: the 1st and 2nd floor of the West Seashore, Nanyou Road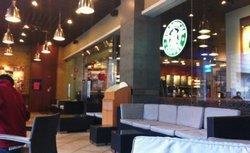 Shenzhen Starbucks Café
Starbucks Café
Maoye branch: the 2nd floor of Moaye Department Store, Huaqing North Road, Futian District
Wanxiang branch: Wanxiang City, Huarun Center, Baoan South Road, Luohu District
Jianingna branch: Renmin South Road, Luohu District
Ming Tien Coffee Language
Nanshan branch: Yihai Square, No 90, Chuangye Road, Nanshan District
Maoyuan branch: the 2nd floor of Maoyuan Mansion, Baoan South Road, Luohu District
Zhenxing branch: No 73, Zhenxing Middle Road, Futian District
UBC Coffee
Fuhua branch: No 146, Fuhua Road, Futian District
Nanshan branch: Toa Yuan, Nanshan Street, Nanshan District
You might like

Free Things to Do in Shenzhen

Top 3 Camping Sites in Shenzhen

China Highlights
Planning a trip? Ask us here 800-2682918 (USA & CA)
86-773-2831999 (Int'l)
Q:
nazrin abid
Asked on 2013-05-04
Reply
hi I will be in Shenzhen on the 7 may I want to go jinjiang airport, I have no idea on how to go please advise
Hi Nazrin, is it the Jinjiang Airport in Quanzhou? It is quite far away. You can take long distance bus to Quanzhou first, then take a taxi to the airport.
Whitney Liao Replied on 2013-05-06
Q:
vimarsh
Asked on 2013-04-22
Reply
Hi.i am vimarsh.i m staying in shenzhen.can you just help me out and tel me how to enjoy the night life here.which are the good places to go...
Dear vimarsh, You could go shopping, go to a bar or a cafe at night. We listed some good options on our website for reference. Please click: http://www.chinahighlights.com/shenzhen/nightlife.htm http://www.chinahighlights.com/shenzhen/shopping.htm Lussie Lu Replied on 2013-04-22
Q:
ravinder mohan gaur
Asked on 2013-04-01
Reply
Dear sir / madam i will stay in china shenzhen 17th to 20th April. i wish to go fujian from shenzhen, please help train avialabal for same track .
Hi Ravinder, Fujian is a province with several cities. Which city are you going, please?
Whitney Liao Replied on 2013-04-02
Q:
Hamed
Asked on 2013-01-09
Reply
how can i reach Lavender Hotel South City Branch in shenzhen from Shenzhen Bao''an International Airport ? the cheapest one!?
Hi Hamed, the public transport is very complicated. I suggest that you take a taxi to get there. It is about 40km, 40mins, CNY110-120.
Whitney Liao Replied on 2013-01-10
Q:
Gilbert
Asked on 2012-12-03
Reply
What is the best way to travel from hong kong to shenzhen and where do you recommend I stay to get a true picture of city.
Hi Gilbert, the transportation between these two cities is very convenient. You can take train or bus or ferry to Shenzhen. Please check details here: http://www.chinahighlights.com/travelguide/transportation/shenzhen-hong-kong-transportation.htm
If you want to get a true picture of city, I suggest that you choose a hotel in Luohu District. Please check the hotels in Shenzhen via here: http://www.chinahighlights.com/hotel/shenzhen-hotels/
Whitney Liao Replied on 2012-12-04
Shenzhen Travel Guide