Shenzhen Shopping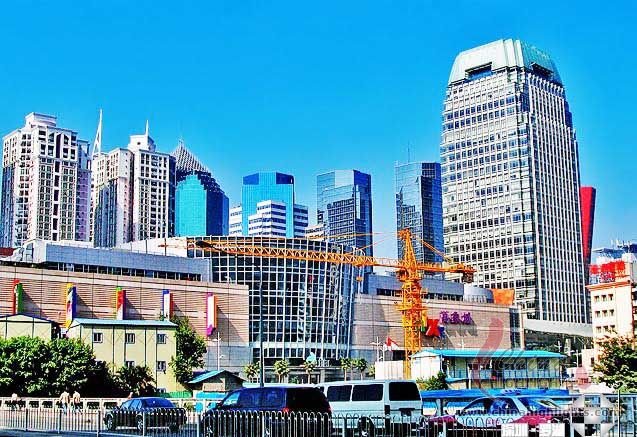 Shenzhen, a modern and prosperous metropolis, offers tourists great shopping opportunities. The city has excellent shopping choices, such as fashionable and reasonable clothing, jewelry, seafood, electrical appliance, digital products and furniture.
Special Local Products
Local Fruits
Jingui Orange, is a juicy and fleshy fruit that tastes quite fresh and sweet. It is usually grown in Pingshan, Jingui and Malan of Shenzhen.
Sweet peaches produced in Nanshan District, are famous throughout Shenzhen. With a history of more than 70 years, the Nanshan District produces peaches that are large and as sweet as honey.
Lychee, one of the most abundant fruits in Shenzhen, has a rough, red skin. But it is blessed with a white juicy flesh that is quite sweet.
Tai Pang Abalone
As a shellfish, this abalone is mainly produced in the Tai Pang Bay area. It tastes fresh and delicious, but is very expensive. If you want a taste, be sure to bring enough money.
Popular Shopping Centers
Luohu Commercial City
Located in the Luohu District of Shenzhen City, Luohu Commercial City is a seven-story shopping center. It adjoins Shenzhen Railway Station and Luohu Station of the Shenzhen Subway Line 1. This shopping mall is very popular with tourists from Hong Kong as it is near the border. Here, you will find a large variety of inexpensive Chinese replicas of famous brand watches, clothes, shoes, electronics, handbags, etc. Beware of high-pressure sales tactics and scams when choosing your favorite items.
Dongmen Shopping Street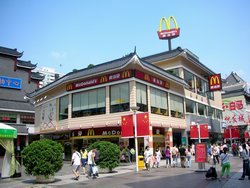 Shenzhen Dongmen Shopping Street
Dongmen Shopping Street is a very popular local shopping destination in the heart of Shenzhen. The locals say, "no visit to Dongmen Shopping Street, no visit to Shenzhen". The area sits between Luohu and Lychee Parks, and is a short walk from Laojie Station on Line 1 of the Shenzhen metro. Here, you can find a large variety of items, including shoes, clothes, toys, watches, souvenirs, electronics, bubble tea, snacks, etc. Even if you are not going to buy anything, this is a great place to experience the sights, sounds and smells of Shenzhen.
Huaqiangbeilu Electronic Goods
The Huaqiangbeilu Electronic Goods market is said to have one of the largest collections of electronic retailers in Asia. There are eight electronic goods markets in this area, and the most famous is the SEG computer market with 72 floors. The first eight floors are packed with dealers for both software and hardware. You can find everything from cutting-edge microchips to $10 imitation iPods. Also remember that Shenzhen is noted for cheats and dishonest operators, so understand the technology that you want if you are looking for a great deal.
Popular Shopping Sites
Rainbow Department Store
Shenzhen Rainbow Department Store
Rainbow Department Store has several branches in Shenzhen and is a favorite of most locals. High quality and excellent service gives you the best shopping experience in the area.
Dongmen branch: No.17, Xinyuan Road, Luohu District, Shenzhen
Fumin branch: Xinghe Mingju, Fumin Road, Futian District, Shenzhen
Baoan branch: No.34-2, Qinjin Road (first), Baoan District, Shenzhen
Maoye Department Store
A number of world famous brands are available here, such as Chanel, SK-II and other high quality cosmetics.
Huaqiang North branch: No.2005-2006, Huaqing North Road
Heping branch: No.39, Heping Road
Dongmen branch: No.2047, Dongmen Road (central)
Shennan branch: No.1018, Shennan Road (central)
Ole Super Market
Address: No.1881, Baoan Road (South)
Wal-Mart Square
Huaqiao branch: Huaqiao City, Nanshan District, Shenzhen
Fuxing branch: D, E and F1-2 of Fuxing Mansion, Fuxing Road, Futian District
Yijia Furniture
Address: No.8188, Europe City, Beihuan Road, Nanshan District
North Huaqiang Business
Area: laregest electrical appliance market in Asian
Address: Huaqiang Road, Shenzhen
You might like

Free Things to Do in Shenzhen

Top 3 Camping Sites in Shenzhen

China Highlights
Planning a trip? Ask us here 800-2682918 (USA & CA)
86-773-2831999 (Int'l)
Q:
udaya shantha panagoda
Asked on 2013-11-13
Reply
dear pl let me know led,electronic,hardware whole sale markets(laptops computers tabs,etc)
Dear Udaya, Thank you for your inquiry. The biggest computer whole sale market is the Saige Building (赛格大厦) in Huaqiang North District. There are also many coputer whole sale markets in there area, and I believe you will find what you are looking for. Doris Huang Replied on 2013-11-20
Q:
Kenix
Asked on 2013-11-13
Reply
Hi, am planning to cross over to Shenzhen on coming mid January 2014. What are those CNY goodies worth buying near to the border gate ?
Dear Kenix,
Thanks for your question. You may consider buying some souvenirs or local dim sums near the border gate.
Nancy
Nancy Deng Replied on 2013-11-13
Q:
ain
Asked on 2013-10-29
Reply
I plan to go to Shenzhen on 6th Nov 2013. Can U suggest me where to buy bags and where can I buy souvenirs like key chains. Thanks.
Luohu Commercial City and Dongmen Shopping Street are both great places for shopping.
Lily Guo Replied on 2013-10-30
Q:
Chrystalla
Asked on 2013-10-22
Reply
Hello. My name is Chrystalla .I like to ask you if there is any wholesale market for beads in shenzen.
Dear Chrystalla, Thanks for your question. You may go to Shenzhen Pinghu Huanan Market or Longgang Yingji Square Market for shopping beads. Nancy Nancy Deng Replied on 2013-10-23
Q:
maynanda
Asked on 2013-10-09
Reply
I''ll come to shenzhen on 30th of January 2014, one day before Chinese New Year, would Luohu Commercial City / Dongmen Shopping Street open on that date? because i want buy some clothes. thanks
Dear Maynanda, Thank you for your inquiry. The most of the shops in the shopping street might close in the afternoon of Jan.30th as it is the Chinese New Year's Eve, every body want to have dinner with families. The the street will open during the Chinese New Year. Doris Huang Replied on 2013-10-10
Shenzhen Travel Guide