Suzhou Food
Suzhou could be a paradise for gourmets. Suzhou cuisine features slightly sweetness in taste with fresh and seasonal vegetables as one of its raw materials. The vegetable and fish dishes of that region are especially famous.
The Squirrel-shaped Mandarin Fish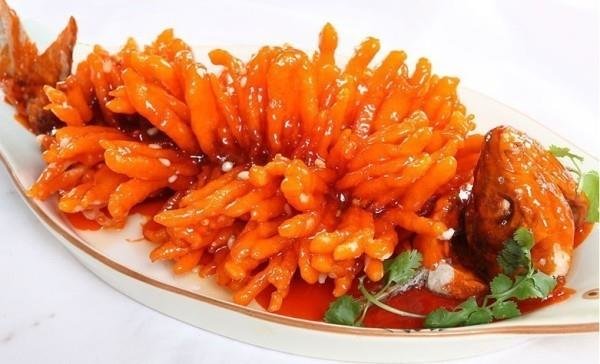 The Squirrel-shaped Mandarin Fish, a traditional dish in Suzhou
The Squirrel-shaped Mandarin Fish, a typical traditional dish in Suzhou, is highly appreciated by guests from home and abroad. Not only does it feature in the color and flavor, but also in the taste and shape. What is more, when the fried Squirrel-shaped Mandarin Fish is ready and pored steaming hot bittern, there will be a noise as the squirrel is cheeping.
As a well-known traditional dish in Suzhou, it is regarded as the required dish in the banquets and feasts in the south area of the Yangtze River. It is recorded that when the Emperor Qianlong of Qing Dynasty visited the south area of Yangtze River, the chef in the Songhelou Restaurant well satisfied him with the Squirrel-shaped Mandarin Fish. He carved on the boneless carp, covered yolk paste on it and fried it, then scattered some sweet and sour sauce on it. The dish shaped as a squirrel, tasted crisp and soft, sour and sweet. The emperor felt very content to the dish, thus from then on it was widely spread and named as the Squirrel-shaped Mandarin Fish.
There are some notes we should take in the making of Squirrel-shaped Mandarin Fish. Firstly, fresh and alive mandarin fish should be chose so that the meat can well retain fresh and tender. Second, the cutting should be very good and delicate and make it shape as a squirrel. Thirdly, the sauce should be tasted both sweet and sour, making the fish tasty.
Fried Crab Meal
Step one: cook the potato and peal it, peal the carrot and cook. Both are mashed and wringed in the gauze. Step two: clean the mushrooms and shred along with the bamboo shoot, putting in a container, mixing with potato mud, carrot mud as well as half gram bruised ginger; thus a vegetarian crab adobe is formed. Step three: heat the pan with 100 gram peanut oil on strong fire. When it is medium-well heated, fry the crab adobe for two minutes and whisk together 40 gram peanut oil and a little refined salt and gourmet powder. Step four: add some vegetable and mix up again with cooking wire and vinegar. Then a delicious fried crab meal is created. It is a nice blend of red and yellow, bearing with a salty but delicate flavor, like crab meat, tasty and appetizing.
Remarkably, it is a collection of various ingredients of nutrition. Potato, which is low energy and full of vitamin and microelement, is an ideal diet food for the obesity and health-care food for stomach trouble patients and heart disease patients. And the carrot takes rich vitamin A helpful to enhance immunity. Similarly, mushrooms and the rapes are also benefit for people's health. So, please enjoy it!
Taihu Lake Boat Dishes
Taihu Boat Dishes first appeared in the Tang Dynasty, over 1,000 years ago, when the rich officials and merchants loved to hold banquets on boats so they could enjoy the beautiful scenery while dining. Since 1994, Boat Dishes have become well established in Guangfu town on the eastern bank of the Taihu Lake. There are now 13 magnificent boat restaurants standing on the fishing harbour which serve a variety of food, including fish dishes from the Taihu Lake as well as various kinds of home-style delicacies.
Recommended Taihu Lake Boat Dishes
Steamed White Fish
White fish, as its name implies is white in colour and it is a good dish after it has been well prepared. The fish for the dish should be carefully selected, weighing around 0.5 kilogram (the best). The dish is usually prepared with shredded ginger with red and green pepper being delicately used. This dish has a good taste, pleasant texture and an aromatic smell.
Water Shield with Egg Flakes
The water shield is believed to help enrich people's blood, nourish the lungs, and relieve internal heat. The soup is made of water shield with added egg flakes. It is tasty.
Special Snacks in Suzhou
People in Suzhou like fine food, and every snack is exquisite and delicious. Suzhou snacks have a great aftertaste and eating them will be an unforgettable experience
Suzhou Style Fresh Meat Moon Cake
Suzhou style moon cakes are quite popular in South China. They look golden and oily and taste savory and sweet. Sweet fillings include pine nuts, walnuts, roses, and red beans; and salt fillings include ham, shrimp, and scallions. The fresh meat moon cakes are the most famous. Queues of people wait for fresh-baked moon cakes in front of old booths all year round, and especially during the Mid-Autumn Festival.
Fengzhen Noodles
Fengzhen noodles are a rare type of noodle that has the fragrance of rice wine. In addition to meaty bones and eel bones, Fengzhen noodle soup also has vinasse and river snails. The stewed meat in Fengzhen noodles is different from ordinary meat; it is white and cooked without soy sauce. Fengzhen noodles are only available between the two solar terms of the beginning of summer and the beginning of autumn.
Aozao Noodles with Red or White Soup
Aozao noodles have a most unforgettable unique flavor, and its soup is clean and mellow. Red Oil Fried Fish Noodles and White Soup with Stewed Duck Noodles are the most famous dishes that use Aozao noodles. Also popular are Wild Shrimp Noodles and Stewed Pork Noodles.
Semen Euryales Soup
Semen euryales, also known as water ginseng, are the seeds from a kind of aquatic plant, such as the lotus. Semen Euryales Soup is sweet and fragrant. The people in Suzhou have principles for eating Semen Euryales Soup. First, the semen euryales must be bought from Nantang, which has the best supply. Second, buying a small amount of semen euryales and finishing it in one sitting is best, as the fresh flavor does not last long. Third, be sure to eat semen euryales soup on time during the Mid-Autumn Festival. Once missed, you must wait for the next year's supply of fresh semen euryales.
Fish Flavor Spring Rolls
The Fish Flavor Spring Roll's wrapper is as thin as paper, as round as the moon, and transparent and soft. The filling is made from perch meat and shrimp, making for a roll that is rich in fish flavor, crisp on the outside, and tender on the inside.
Youtunjinjiao (Fried Steamed Bun)
"Tun" is a kind of cooking method, also called soak fry. "Jinjiao" means insufficient fermentation. The Youtunjinjiao is compact after steamed and puffy after tun. Suzhou people prefer to call it "prosperous bread" for good hope. Moreover, because of this wonderful hope, Youtunjinjiao usually comes to market during the winter, and is sent as a gift to family and friends during the Spring Festival.
Little Wonton
Little Wonton is a common snack in regions south of the Yangtze River. With an almost transparent wrapper, the pink pork filling can be seen from the outside. Little Wonton is served in a common white ceramic bowl, with egg strips and shrimps to enhance its flavor.
Sugar Porridge
Suzhou Sugar Porridge is well known. Sugar Porridge is white glutinous rice porridge with brown sugar added, and with a layer of red bean paste, creating the appearance of a red cloud covered with white snow. Mix well when you eat it to enjoy the hot, sweet, and fragrant Sugar Porridge.
Jiuniang Cake
After the Spring Festival, the streets are filled with the sweet and sour fragrance of Jiuniang Cake. Jiuniang Cake is a spring snack, sold for only one season. It looks like a little moon cake with sweetened bean paste, fried sesame, or other fillings. The most delicious Jiuniang Cake comes with rose filling. Take a bite when it is still hot, and you will be intoxicated by the taste of sweet, sour, crisp, and fragrant.
Questions and Answers About Suzhou Food
Ahmad
2013-01-03
Show Answer
HiThis would be my first visit to China for an official purpose. I will be in Suzhou in mid Jan. I am planning to take a day drip to Shanghai from Suzhou. Can you please guide me. Thanks in Advance.Ahmad
Ahmad, you could take a day trip tour to visit Shanghai from Suanzhou with round way train ride (available every 30 minutes, duration of 25-35 minutes). Here I am happy to recommend the classical day trips at Shanghai.
http://www.chinahighlights.com/shanghai/1-day-tour.htm
Please well note the price on shown does not cover the railway station transfer at Shanghai (USD50 for one people one way).
If you could confirm the date, would you please contact me 3 working days earlier? The tour guides are planning going home for Chinese New Year Festival!
Karen (karen@chinahighlights.net)
Karen Yang replied on 2013-01-04
gemmeroni
2012-11-22
Show Answer
I plan to visit China in March for 10 days. I am worried because I have a severe allergy to MSG. I have read that MSG is used in almost all dishes throughout China. Is it possible to find food with no MSG in Suzhou? I am sure some Chinese people must have this allergy, too.
Hi Gemmeroni, you can let the hotel know that you don't need any MSG in the food. Or if you need us to book the hotel for you, we can talk to them and assure you of the no-MSG foods. Whitney Liao replied on 2012-11-22
cristie hernandez
2012-08-10
Show Answer
we are 4 people for a day trip to suzhou from sept 12 from yiwu to suzhou and sept 13 5pm and will be departing to shanghai hongquiao. what train should i take to get to suzhou? should i take the suzhou or the suzhou north train which is the nearest to the tourist spot of suzhou?
Dear Cristie Hernandez, You could take a train which number is D5678/5679, setting off at 12:40pm and arriving at Suzhou railway station at 15:59pm. There are some trains setting off at Suzhou railway station to Shanghai Hongqiao railway station. Here are the details. D5455/5458 Dep. 16:54pm Arr. 17:40pm D3048/3045 Dep. 17:07pm Arr. 1735pm G7143 Dep. 17:32pm Arr. 18:04pm You could get more details on our website, please click:http://www.chinahighlights.com/china-trains/ Lussie Lu replied on 2012-08-10
Matthew Farstad
2012-02-01
Show Answer
What are some of the foods that can be found in Suzou?
Hi Matthew, Thanks to its warm climate, Suzhou has abundant food resources such as candies, candied fruits, pastry and dumplings, roasted seeds and nuts, soy sauce pickles etc., leading to an honored title "Suzhou-the hometown of yummy delicacies".Taihu Boat Dishes is the most famous there. Regards, Coco Coco Yang replied on 2012-02-03
John
2011-06-22
Show Answer
I am in Shenyang. How can I travel to Suzhou by Bus?
Dear John, There is no direct long distance bus to Suzhou. It's about 1600 km at least between Shenyang and Suzhou. It's not very safe and comfortable to take a bus for a long time. You can take a train. Please check the train iinformation on our website. Click here:http://www.chinahighlights.com/china-trains/search-result.asp In addition, we specialize in designing a tailor-made China tour, if you would like to travel to Suzhou, please contact me directly. I am glad to arrange a tour for you. My e-mail address is lussie@chinahighlights.com Lussie Lu replied on 2011-06-23
April Offer $25 Coupon
Send your inquiry before Apr. 30, 2014, and we will email you a $25 coupon.
The coupon is valid till Dec. 31, 2014, for paying tour packages worth $250 or up.
The coupon cannot be used for paying flight tickets, train tickets, hotel rooms and day trips.
Travel Advice or Question? Ask us here
You might like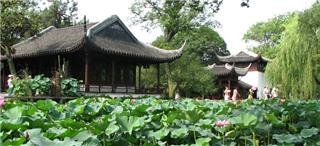 Free Things to Do in Suzhou

China Highlights
Suzhou Travel Guide