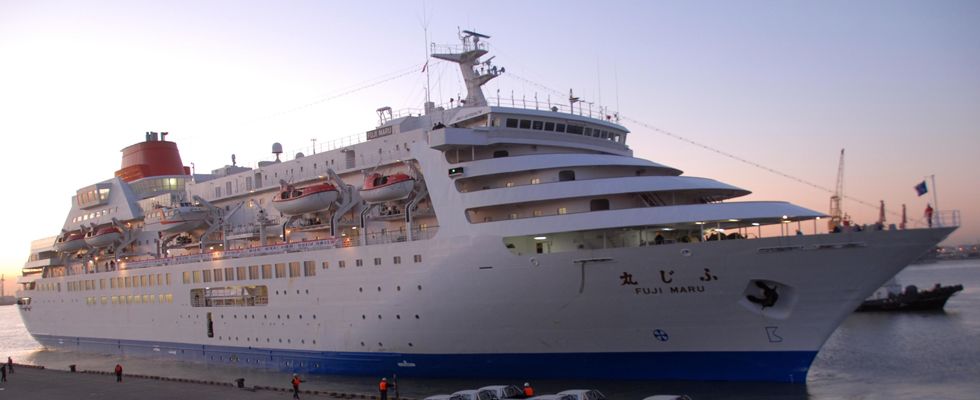 4 Days 3 Nights Beijing Excursion Before or After Cruise
From: $270
This tour can be done in reverse
See China's top imperial sights, explore local Beijing life, and enjoy a walk on the Great Wall. One Tianjin Cruise Port transfer and one Beijing International Airport transfer are included, and it's customizable.
Our 6-person Boutique Group Tour gives you the best value!
Highlights
Skip the lines and explore more at the world's largest imperial palace — the Forbidden City
After two hours hiking on an "eighth world wonder" — the Great Wall at Mutianyu, enjoy the beautiful sunset
Have a bird's eye view of Beijing and a panoramic view of the Forbidden City in Jingshan Park
Enjoy free water, beer, and more at the China Highlights Refreshments Kiosk
Keep connected with our portable Wi-Fi anytime and anywheree
No shops, no factories, no time-wasting, no hidden costs
What's Included
Entrance to the attractions listed in the itinerary
Meals mentioned in the itinerary
Transfers between Tianjin Port, hotels, attractions, and airport/train station
Local English-speaking tour guide and driver service
Optional Hotel accommodation with breakfast
Free Wi-Fi in car
Price Per Person in US Dollars
On our Small Group Tour, you will share the tour with other tourists (maximum 6 people per group). The price is valid for Tianjin Cruise Port – Beijing – Capital Airport or vice versa. We can also arrange a train station transfer. If you would prefer a private tour or have any special requests, please contact us for a customized quotation.
Small group
with 5* hotel
Small group
with 4*hotel
Small gourp
without hotel
Private tour
with/ without hotel
$590
$420
$270
Free Inquiry
Mobility Assistance:
We recommend that tourists who require walking assistance book a private tour, and we are happy to provide a wheelchair and walking sticks.
Extensions and Hotels:
If you want to stay longer at the hotel, please notify us using the inquiry form and we will reserve the room for you as per your requirements with the following discounted prices:
• The price for the 4-star hotel (Sunworld Hotel) is $79 per night.
• The price for the 5-star hotel (Regent Beijing Hotel) is $184 per night.
The discounted hotel price is only available in this itinerary. It may vary if you want to change the itinerary or tailor-make your itinerary.
If you prefer to book a hotel by yourself, we recommend that you book a hotel within the 2nd Ring Road to save time for touring.
Suggested Itinerary
Day 1
Arrive in Tianjin Cruise Port, Transfer to Beijing
Our tour guides will be waiting at Exit 3 from 6:30am, and you will see 3–5 tour guides holding China Highlights boards. Our guides will lead you to the China Highlights shuttle bus.
After 2½ hours the bus will stop at the major hotels in downtown Beijing. If your hotel is not on the stop list, our tour guide will hail a cab for you, and provide a hand-written taxi note to help you get there hassle-free.
Stop List: Beijing International Hotel, Novotel Peace Hotel Beijing, Crowne Plaza Beijing (road side) and Prime Hotel.
The below hotels are in the walking distance of the drop off points: Regent Beijing, Park Plaza Beijing Wangfujing, Red Wall Garden Hotel, Legendale Hotel Beijing, The Peninsula Beijing. Sunworld Hotel, Waldorf Astoria Beijing, Lee Garden Service Apartments, The Peninsula Beijing,Renaissance Beijing Wangfujing Hotel

Day 2
Visit Tian'anmen Square, the Forbidden City, and the Great Wall at Mutianyu
Meals: breakfast at hotel, lunch at Subway™ Mutianyu Great Wall Store
Your guide will be waiting for you in the lobby at around 7:00–7:30 AM. (Your tour guide will contact you to confirm the pick-up time one day in advance.)
Tian'anmen Square (50 minutes): We will start the tour from Tian'anmen Square, where the famous Chairman Mao portrait is hung on the wall of the 'Gate of Heavenly Peace'.
It is hard to say that you have been to Beijing if you don't visit the square! Like Times Square in New York, Red Square in Moscow, and Trafalgar Square in London, Tian'anmen Square is a must-visit place for travelers to Beijing. It is the largest famous square in the world.
Your guide will provide you commentary on its history, architecture, and anecdotes of the square, and you will have around 20 minutes there for taking photos. Your group will be 6 people, offering good flexibility. If you want some more time for photos, or you have more questions, just let your guide know.
The Forbidden City (3 hours): The world's largest imperial palace with "9,999½ forbidden imperial chambers", was home to 24 emperors in the Ming and Qing dynasties (1420–1911). Great squares, halls, and gates contrast with the intricate networks of side halls, gardens, courtyards, and quarters for those who lived in this "city within a city". The exhibitions, both permanent and temporary, are also absolutely fascinating.
Your tour guide will help you explore 10 carefully-selected places in the Forbidden City, recommended by our local experts, while other group tours only visit 6 spots briefly.
In the afternoon, travel 1½ hours from downtown Beijing to the Great Wall at Mutianyu, then have a rest and enjoy your lunch at Subway™.
The Mutianyu Great Wall (2 hours): This section is ranked top among all parts of the Great Wall on TripAdvisor for its picturesque scenery, fewer tourists, and beautifully-restored architecture.
In order to save your time, we use round trip cable car rides to ascend to and descend from the Great Wall, instead of spending about 40 minutes climbing steps.
At the Wall your guide will be with you to hike "the most beautiful and interesting part of the Great Wall" — between the 14th and 23rd watch towers— acknowledged by hikers as "the golden route".
Cable car and transfer bus rides to-and-from our vehicle are included in the price. Going back to your hotel in Beijing will normally take about 1½ hours.

Good to know:
• We avoid (the worst of the) crowds on the Great Wall and traffic jams by visiting in the afternoon. It's also the best time for taking good photos.
• China Highlights has set up a Refreshments Kiosk at the foot of Mutianyu's Great Wall section. China Highlights customers will receive free drinking water, beers, and maps at the service site.
Day 3
Visit the Summer Palace, Temple of Heaven, Jingshan Park, and Beijing 2008 Olympics Stadiums
Meals: breakfast at hotel, Chinese lunch at Dawanju Restaurant
After breakfast at your hotel, meet your guide in the lobby at around 7:30 am to explore Beijing in depth.
The Summer Palace (2 hours): The famous imperial garden was constructed in 1750 by Emperor Qianglong in celebration of his mother's birthday.
It is about 3 square km (1 square mile) in size and is composed of three main scenic areas: the palace area, lake area, and mountain area. The best way to enjoy sightseeing at the Summer Palace is by taking a dragon boat on the lake and, on the way, you will have a chance to view all of the beautiful palaces at the side of the lake.
After the boat trip, you will stroll along the long corridor with your guide; this is regarded as being the longest art gallery in the world and has 14,000 traditional paintings painted on the beams.
Beijing Olympic Park (1 hour): See the amazing and ground-breaking architecture of the Bird's Nest and Water Cube, for a photo opportunity. Your guide will show you the best angles.
Lunch will be at Dawanju restaurant, which serves traditional Chinese food.
Jingshan Park (40 minutes): Behind the Forbidden City, its 479-meter-high hill is said to have the best panoramic view of the Forbidden City.
Definitely not to be missed, Jingshan Park is located on the central axis of Beijing. See how Beijing has many historic buildings symmetrically positioned on both sides of the axis. You will see the Drum and Bell Tower to the north, and the Forbidden City and Tian'anmen Square to the south.
The Temple of Heaven (1½ hours): This is one of the must-see sights in Beijing. The Altar, Echo Wall, and spectacular Imperial Vault are the highlights of most tour packages, but we would recommend you spend some time to discover that this was fasting palace for the emperor.
The Hall of Abstinence is fittingly a small palace. The emperor would abstain from meat and wine at the palace before he held the annual ceremony to pray for a good harvest. From three days in advance, the emperor would go to the palace and permit himself no drinking, no entertainment, no mourning, and no attention to any crimes being committed. All these acts showed his piousness to "Heaven".
You will also get a chance to see the pictures of all the emperors who ever worshipped in the Temple of Heaven, as well as a 600-year-old copper statue of a high ranking official who supervised the fasting process of the emperor.
After the tour, your guide and driver will transfer you back to your hotel, making a perfect end to your in-depth Beijing tour with China Highlights.

Good to know:
Our vehicles are "business class" with a China Highlights logo. Yours will be waiting at the hotel entrance. Our vehicles have GPS system so that drivers can foresee the traffic situation and avoid traffic jams. We will do our best to help you spend your precious time in interesting places.
Meals: breakfast at hotel
Your private transfer takes about 1 hour from downtown Beijing to Beijing Capital Airport. The pickup time will depend on your flight time. Our tour guide and driver pick you up from your hotel, and drive you directly to the airport. (Flight not included.)
Good to know: We could provide a train station transfer instead. If you need to go to a train station, please let us know.
Shanghai Extensions in 2016
2 Days 1 Night Shanghai Port Transfer with City Tour
Suitable for: Princess Cruises: Sapphire Princess, Holland America: Ms Volendam, Oceania Cruises: Nautica, Silversea: Silver Shadow
| | |
| --- | --- |
| Shanghai | Arrive in Shanghai, Shanghai day tour (Yuyuan Garden, Shanghai Urban Planning Exhibition Hall, The Bund, Oriental Pearl TV Tower, Home's Restaurant (Lunch)) |
| Shanghai | Zhujiajiao Water Town with boat ride, back to ship after tour |
3 Days 2 Night Shanghai Port Transfer with City & Watertown Tour
Suitable for: Crystal Cruises: Serenity, Crystal Cruises: Symphony, Oceania Cruises: Insignia, Seabourn: Sojourn
| | |
| --- | --- |
| Shanghai | Arrive in Shanghai, Shanghai day tour (Home's Restaurant (Lunch), Yuyuan Garden, City God Temple, The Bund, Jade Buddha Temple) |
| Shanghai | One day tour to Tongli Watertown with boat ride, lunch included |
| Shanghai | Shanghai city tour (Oriental Pearl TV Tower, Shanghai Urban Planning Exhibition Hall), back to ship after tour |
China Highlights' Advantages:
Our tour guides, drivers and staff will arrive at Tianjin one day ahead of you to avoid fatigue driving and ensure your safety.
Easy to find China Highlights as all tour guides stay together with banners. During pick-up, China Highlights tour guides will stay in front of the exit and make sure you can see us immediately.
Our local tour guide will introduce
Our car is licensed and registered with Beijing Tourism Administration. The driver will be familiar with the roads and routes to all destinations and restaurants, and the car will be equipped with Wi-Fi and a device that you can use throughout Beijing.
For the past decade, we have insisted on recycling our tour vehicles every four years, so that we are certain that the vehicle you will be taking is less than two years old. Most importantly, each of our vehicles is insured, and has 50,000 CNY coverage for each passenger.
Beijing to you on your jounrey (about 2 hours), including background of Beijing and China, some dos and don'ts on travel and night shows.
Unlike some other online travel agents who sell tour products made by local travel agents, we built our own branch company in Beijing in 2010, and since then we started to make our own unique products. We aim to deliver a high-value tour to every one of our customers. We have more than 50 local staff in Beijing to solve your problems on the spot.
• Emergency contact: 0086-13910694045 (24-7 customer service)
• Beijing address: Room 204, Building 8, Beijingxiangsu, Wuliqiao Erjie, Chaoyang District
1. Payment Methods:
We now offer three payment methods: PayPal, credit card authorization via fax, and wire transfer. PayPal is recommended for its safety and efficiency. You can pay with USA dollars, Australian dollars, European dollars, and British pounds directly with your credit card or debit card if you do not have a PayPal account.
2. Cancellation Policy:
In the event of cancellation, we will refund any payment made to China Highlights (unless any cancellation fee is applicable) within 14 days of our receipt of your written cancellation request. Visit here for more details.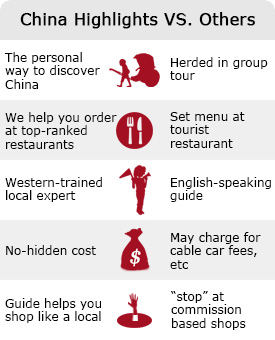 Check out our reviews on Cruise Critic and Trip Advisor to find another reason why our service is better than others!