Chengdu Historic Tour
Chengdu is full of history and culture including the Dujiangyan Irrigation Project, a 2,500-year-old water conservation system that still works as well today as it did when it was built, the mystical Taoist temples which housed some of China's great philosophers, and of course the pandas; Chengdu is just waiting to be explored.
Highlights
Meet the cuddly pandas in the Panda Breeding and Research Center
Admire the ancient culture represented by the Unesco World Heritage site-Dujiangyan Irrigation System
Enjoy the natural beauty and Taoist fresh air on Mount Qingcheng (Uneso World Herigate site)
Walk in the oasis of peace that is Wenshu Temple and enjoy authentic Chengdu dishes
What's Included
Entrance to scenic spots listed in the itinerary
Guiding by experienced English-speaking tour guide
Private transfers between the airport, attractions, and hotel
Lunches mentioned in the itinerary
Hotel accommodation with breakfast
Boat tour on Yuecheng Lake
Public shuttle buses and specified round-trip cable car for Mount Qingcheng
Price Per Person in US Dollars
Suggested Itinerary
Your tour guide will be waiting in the arrival hall of the airport with a name plate and welcoming smile. You will be transferred to your hotel by private car and driver, and your tour guide will help you check-in and ensure everything is okay at the hotel.
Accommodation
Tianfu Sunshine Hotel Chengdu (superior class)/Sofitel Chengdu Taihe (deluxe class).
Day 2
Dujiangyan Irrigation Project and Mount Qingcheng Tour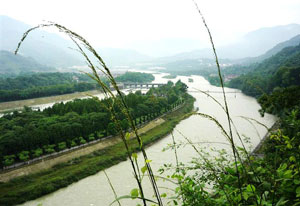 Dujiangyan Irrigation Project
Your attraction-packed itinerary kick-starts after breakfast at the hotel. Drive for about one hour to Dujiangyan Irrigation Project, where the culture and nature flow together as one. As a UNESCO World Heritage site, it has been — and still is — nourishing the whole Chengdu Basin for well over 2,000 years.
After lunch, drive for 40 minutes and you will arrive at Mount Qingcheng, home to many Taoist temples and historical sites among verdant trees and winding paths. It is also listed as a World Heritage site by UNESCO. Taking a cable car up and down, boat riding on Yuecheng Lake, and walking in the forest all make for a relaxing day.
After the tour, transfer back to your hotel in Chengdu and stay overnight.
Accommodation
Tianfu Sunshine Hotel Chengdu (superior class)/Sofitel Chengdu Taihe (deluxe class)
Day 3
Panda and Sanxingdui Ruins Tour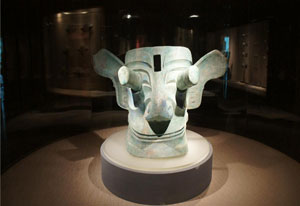 Sanxingdui Ruins
The Panda Breeding and Research Center is home to over 50 giant pandas, red pandas, and some other endangered species. Visit the nursery to see the highly successful breeding program, walk among the bamboo groves and shady walkways, and view the pandas at rest or play. Enjoy authentic local food for lunch.
After one hour's drive, you will reach Sanxingdui Ruins. Among all the precious relics unearthed, the 1.38-meter-wide bronze mask is one of a kind. This is the best place for discovering the ancient history, culture, and art of Sichuan Province from 3,000 years ago.
Then your guide and driver will escort you back to your hotel in Chengdu.
GOOD TO KNOW
March to May is the "falling in love period" for pandas. If you visit the Panda Breeding and Research Center between late August and December, you will have a greater chance of seeing tiny newborns in the Sunshine Nursery House.
Accommodation
Tianfu Sunshine Hotel Chengdu (superior class)/Sofitel Chengdu Taihe (deluxe class)
Day 4
Chengdu City Tour and Departure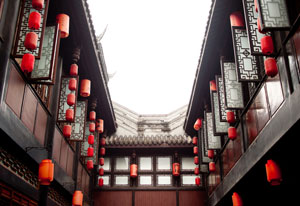 Jinli Old Street
With a history of over 800 years, Wenshu Temple is an actual occupied monastery. You can see the monks chanting and many local people praying there. Walk around and see the peaceful gardens, calligraphy steles, and red walls of this delightful complex. Continue to stroll along Jinli Street to feel the essence of old Chengdu, such as tea houses, opera stages, and traditional handicrafts.
Lunch is arranged at a local restaurant for authentic Chengdu dishes. Your tour guide will help you with ordering. The tour wraps up with a transfer to the airport by a private car and driver. Your tour guide will escort you to check-in and wave goodbye at the security check point.
Trip Notes
1. Tailoring Your Tour
This tour is very flexible. You can alter the itinerary, extend or shorten it to suit your price, interest, and schedule. If you would like to book the hotels on your own, we can remove the hotel cost from quotation. Please inform your travel advisor about your preference.
2. Get close to pandas
The Panda Breeding and Research Center has a donation program which allows you to take pictures holding a panda for about one minute by donating CNY 2,000 yuan (for reference only). Only 20 tourists are allowed to hold pandas per day. If you want to hold a panda, please tell your travel advisor or tour guide in advance because you must book it at least one week in advance. This program is subject to the availability of pandas on that day. Please take enough CNY cash, as payment by credit card is not accepted there.
If you want to get closer to the pandas and do something for them, you can join the volunteer program, which is available at Dujiangyan Panda Valley (90-minute hour's drive from Chengdu) and Bifengxia Giant Panda Base (2½ hours' drive from Chengdu). The program may last for one to three days and the activities may include cleaning and weighing fresh bamboo, feeding the pandas, and cleaning the panda enclosures.
Feel free to tell us your requirements and interests, and we will be happy to help you arrange a trip using our professional knowledge and experience.
3. Suspension and Reopen of panda photo and volunteer program
In order to protect the giant pandas from canine distemper infection, all the panda bases stopped the panda interconnect activities since January, 2015. Dujiangyan Panda Valley has reopened the volunteer program and the program to take photos holding a panda since March, 2015. The reopening date of these programs at Chengdu Giant Panda Breeding and Research Base and Bifengxia Giant Panda Base is still TBA.
4. Payment Methods:
We now offer 3 payment methods: PayPal, credit card authorization via fax and wire transfer. PayPal is recommended for its safety and efficiency. You can pay USA dollars, Australian dollars, European dollars and Great Britain Pound directly with your credit card or debit card, even if you don't have PayPal account.