Itinerary
However you arrive in Guilin, by air, train or bus, we'll be on time ready and waiting in arrivals. A comfortable private car (non-smoking) & experienced driver will transfer you to the hotel. This evening take time to relax and explore beautiful Guilin.
Good to Know:
Best Season to visit – Guilin is suitable all year but the best season is between March and November. Spring and autumn are less humid and see lower temperatures.
You can change hotel – We make recommendations on hotels but you are free to customize and request a particular hotel. Our travel advisors really go the extra mile to create your perfect trip.
Evening Ideas:
The night scenery in Guilin is beautiful and it makes a great way to unwind after a flight. The Sheraton is right on this promenade and Bravo hotel is a short walk through the 4 Rivers 2 Lake area past the two pagodas.
Day 2:
Li River Cruise from Guilin to Yangshuo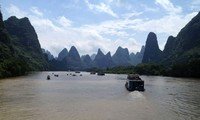 A cruise along the Li River from Guilin to Yangshuo is an unforgettable experience. As you take in the stunning scenery, there's something interesting to see at almost every bend in the river. Among the spectacular limestone peaks you'll see graceful bamboo groves, farmers tending rice paddies, and lumbering water buffaloes pulling carts or cooling off in the river. You may see fishermen gliding along on their narrow bamboo rafts, and if you're very lucky you might see one of the famous fishing cormorants.
Two great options which do not have a bearing on the price or timing of this tour.
Li River Cruise Vs. Bamboo Raft – Australian living in Guilin for 12+ years shares his view
Li River Cruise: This cruise takes four hours, arriving 1.30 to 2.30 depending on the water levels. A simple buffet lunch is served but this does not meet our service standards, therefore we advise customers to have a large breakfast at their hotel, which will see you through the inadequate buffet or ask your hotel to pack a lunchbox. Yangshuo has many good cafés and restaurants.
Bamboo Raft After a drive a covered bamboo style raft takes you through the most scenic section (about 2 hours), stopping for lunch in the ancient village of Xingping. If you're a keen photographer consider customizing this trip to stay one night extra for cormorant fishing photography. Finally your private car and driver will drive you the final section into Yangshuo.
Explore The Yangshuo Countryside:
This afternoon you have some free time to explore Yangshuo by yourself. There are so many activities we can arrange for you, here are a few. Our Guilin based expert travel advisors will inspire you!
Ways to explore Yangshuo's idyllic countryside scenery include riding a bike, tandem, electric golf cart, or electric scooter (see details of vehicles here)
Visit a local farmer's old house on the way, the friendly host is happy to show you around the house and introduce you to life in the countryside.
Yangshuo to Guilin Transfer
After a full day Yangshuo tour, your private car and tour guide will transfer you back to your hotel in Guilin.
Day 3:
Classic Guilin or Ancient Guilin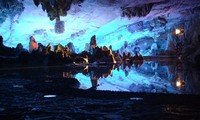 Option A) Classic Guilin – The famous sights and relaxing tea culture
Today see the most famous sights of Guilin. First capture the symbol of Guilin, Elephant Trunk Hill. It's named this way because of its shape resembles an elephant drinking from the Li River. The hill is pierced with many caves and topped with a charming pagoda.
After lunch, we will cross the Li River to visit a partially submerged hill, Fubo Hill. It's named after a Tang Dynasty general who constructed this hill temple. The history and palace give a unique insight into the history of Guilin, and the 350 steps give you a great bird's eye view of Guilin before you head into the depths of the mountain, at Reed Flute Cave, the largest and most impressive cave in Guilin.
Option B) Ancient Guilin - Ancient waterway canals & towns with WW2 flying tigers
Narrow canals, garden boat ride, ancient bridges, ancient river transport systems, set to music from the Guzheng (Chinese harp), played while you float through this beautiful town.
At the end by the gate is a museum dedicated to an amazing group of American volunteer pilots from WW2. Known as the flying tigers you can find out about a group that became heroes here.
The Ling Canal – Two rivers meet and flow in different directions, this ancient link provided the transport backbone to ancient China. The garden, river and floating down the canal with your own ancient harpist is an experience to remember.
Lunch is arranged at a popular local restaurant. Your tour guide will help you order dishes.
Guilin Departure
Private transfer to Guilin Liangjiang International Airport for your flight to next destination. Your tour guide will help you check in and accompany you till the point of security check.