Itinerary
Day 1:
Arrive in Guilin, Flight not included
Airport Transfer (Guilin)
Day 2:
The Li River Cruise Tour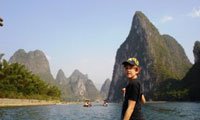 - Li River Cruise from Guilin to Yangshuo. (4 hours): A cruise along the Li River between Guilin and Yangshuo is an unforgettable experience. As you take in the stunning scenery, there's something interesting to see at almost every bend in the river. Between spectacular limestone peaks you'll see graceful bamboo groves, farmers tending rice paddies, and lumbering water buffaloes pulling carts or cooling off in the river. You may see fishermen gliding along on their narrow bamboo rafts, and if you're very lucky you might see one of the famous fishing cormorants. Boats depart from various wharves, according to the height of the river at different times of the year.The Li river cruise is by a medium size boat which can accommodate about 140 passengers.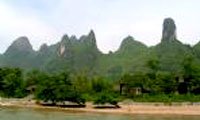 - Yulong River Hiking from Gongnong Bridge to Yima village: Yulong River is the tributary of Li River and drains around Yangshuo countryside. People regarded the scenery along the river looks like another Shangri-la, they are so green and spectacular, and an best place to escape from the bustle and hustle city. Hiking along Yulong River from Gongnong Bridge to Yima Village is totally 7kms long and will take about 4 hours, the rice paddies, fruit tree farms and as well as get up close to the countryside people's life. In the end of the tour, we will escort you to visit one of the farmer's family, so that the tourist will acknowledge more about china's farmer's life.
What happens during the class?
Meet the teacher in cooking school and choose two meat dishes and one vegetable dish from the menu.

Walk to local farmer's market and see different kinds of seasonable vegetable and meat sell in the market.

Back to school to start the class, there are three steps to learn: chopping, frying and seasoning.

All English speaking during the cooking class.without language barrier.

Taste the dishes you cook and receive the recipes after class.
Day 4:
Yangshuo to Guilin to Departure City, Flight not included
Our guide and driver will escort you from Yangshuo to Guilin, Airport Transfer (Guilin)