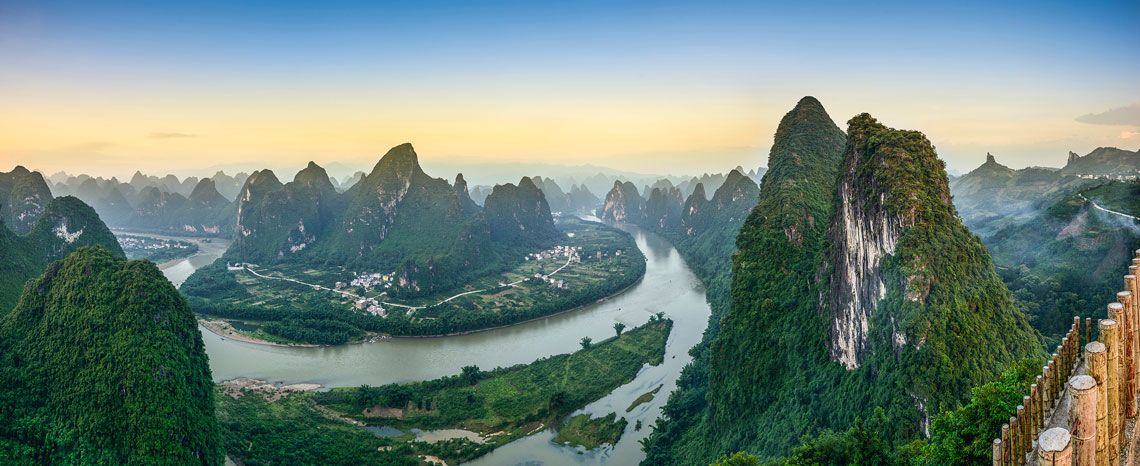 Guilin Li River and Terraced Fields Photography Tour
It is a tour designed for the shutterbugs catching the scenery only found on postcards or magazines. Climb to the mountain top to photograph the great bend of Li River, raft on the most beautiful section of the river in the early hours of morning to shoot the picturesque scenery, capture the old fisherman and his ospreys, and take candid photographs of minority people living on Longji Rice Terraces.
Guilin Photography Tour (Small Group):
Guided by top local Guilin photographers-Qing Jie, take this group tour to shoot the unique Li River Bend with a wonderful sunrise, and photograph the old fisherman with his cormorants during a sunset with the background of China 20 Yuan Banknote. A similar itinerary with the private tour but different orders.
The small group is 1129 USD p/p, and will only start on Sept.21th and ends on Sept. 25th, 2016. Reserve your place before the group gets full. 5 persons booked. Max group size: 10 people.
Single Room Supplement: 139 USD
Choose any date to start if you are no less than 2 persons.
Highlights
Specialized English-speaking guide with professional photography experience
Professional guiding to photography locations
Visit Guilin's attractions that only senior travelers and shutterbugs can find
Maximize the beauty of Guilin's Li River and the idyllic life
What's Included
Service fee for the experienced photography guide
Private transfers between the airport and your hotel
Transport to attractions listed in the itinerary
All meals specified in the itinerary
Hotel accommodation mentioned in the itinerary
Suggested Itinerary
Day 1
Day 1 Arrive in Yangshuo
Your private guide will meet you outside the arrival hall at the airport. A professionally-chauffeured driver and private vehicle will take you direct to Yangshuo. The rest of the day after check-in is yours to venture out.
Good to know:
The wide Li River with towered mountains seen from Yangshuo Bridge is picturesque in the dawn and at the night.
West Street comes alive at the night. The cozy café, the interesting handicrafts, and the skilled painters can be your photography creations.
li river
Day 2
Catch a Sunrise on Xianggong Mountain and Li River Fisherman Shoot
You will get up very early and be driven to Xianggong Mountain from Yangshuo with a 1h journey. Get some sleep on the car and your guide will take you to the best place for photos of the Li River bend with the breathtaking sunrise. You will see the Li River running as a right-angled bend (the top photo of this tour) after you climb up to the top for about 20 min.
After Xianggong Mountain, you will visit a 'non-commercialized' ancient village and take pictures of China old villages. Gaotian Town's Langzi Ancient Village is one of the best-preserved ancient villages in Guilin. You can get some photos of ancient houses in Southern China, a fort, the locals, the ancient-styled dwellings and beautiful countryside life. If you are lucky, you will come across some water buffalo in the fields.
Have a rest at noon. In the afternoon, you will be driven to Xingping Ancient Town to photograph another Guilin highlight: the rose sunset (pray for a cooperative weather) with the Li River fisherman who is on his bamboo boat and with unique gas lamp. You will deeply love the fisherman who will naturally pose with so many different postures. You guide will make sure you will get the best photos of him and the Li River.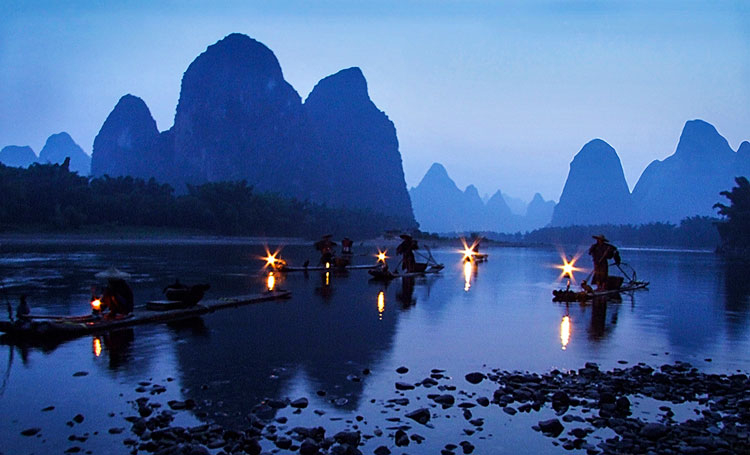 Fishermen on the Li River
Day 3
Sunrise at the Most Picturesque Area of the Li River
Continue to get sunrise photos or misty morning on the Li River. Your will be taken the dock in Xingping, then enjoy the beautiful Li River to Xialong (下龙湾) on the bamboo raft. Arrive at the sunrise spots nearby the river to take some fantastic photos of the sunrise with a background of karst hills along the Li River. This area is the essence section of Li River including the 20 yuan banknote hill.
Next destination is Xiping Ancient Town, a time-honored town from a small fishing village. This is a village which still keeps the Ming and Qing dynasties' style buildings.
To capture the sunset with the 20 yuan banknote hill with a wide angle in the afternoon. Your guide will take you to the side of Xiaomian Mountain (Small Face Mountain). Standing on the shoot place, you will get the whole banknote mountain with a different angle.
If the weather is not good for a sunset, you will be driven to Yangshuo to enjoy its vivid night life.
Li River Sunrise
Day 4
Fuli Bridge and Longji Terraced Fields Photo Tour
Have a good rest this morning and enjoy a no-hurry breakfast in the hotel. Later you will visit Fuli Bridge with an over 600-year history. Located at the upper reach of the Yulong River (Meeting Dragon River), it's a special spot less known by travelers. You can get some photos of Fuli Bridge cross the river surrounded by Guilin unique karst hills. A good place to capture some photos of water buffalos or goats eating grass nearby the river.
Head to Dazhai Village of Longji Terraced Fields, one of the most beautiful areas in Guilin. Have a bite of photographing the fields, hiking along the fields about 2-3 hours to your hotel. You will get all angles of marvelous rice terraced fields with local minority houses, especially golden rice fields in autumn.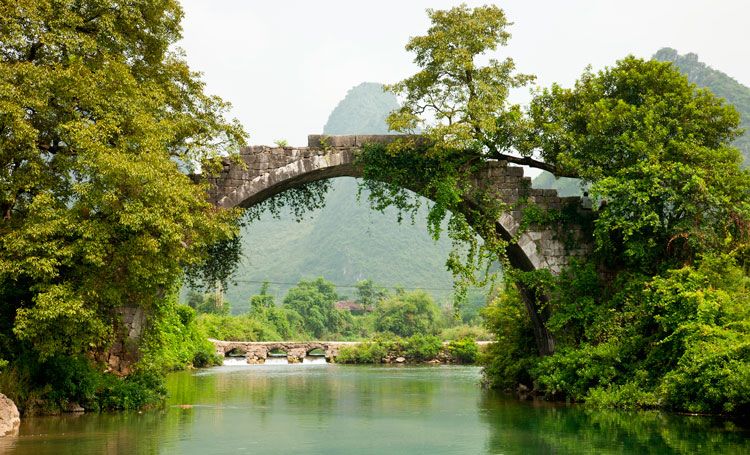 Fuli Bridge
Day 5
Unforgettable Sunrise with Terraced Rice Fields in Dazhai Village
Your hotel is the best hotel with the best location for the sunrise with a less than 10min walking. Get up early to shoot the stunning sunrise with a large-scale terraced rice fields (if the weather is good). Walk down along the fields after the breakfast, you can continue to take photos of the fields with some new angles. In September and October, the local will hang lots of red peppers and golden corncobs under their roofs. The Yao and Zhuang minority villages composed of wooden houses should not be missed.
Visit a local minority family and taste local snack-oil tea. You will see how to make the oil tea and interact with local people who have lived there for generations
At the end of this day, you will be transferred back to Guilin City. If you are still flying high, you can try night scenes shooting along the 2 River and 4 Lakes.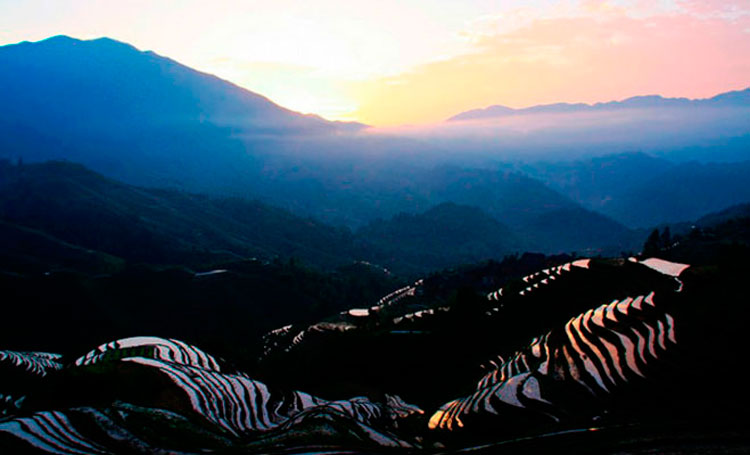 Sunrise in Longji Terraced Fields
As your tour concludes, your guide will take you to the airport and assist you with check-in to ensure that there is no stress for your departure. We trust that that you have enjoyed you time in Guilin and we look forward to serving you again.
Trip Notes
1. The Best Time to Photograph Guilin
The suggested time for photography is from May to October. During this period daytime is longer and the temperature is hot/warm with good light. November to February is the low water season.
2. Guilin's Best Sunset Locations
Yangshuo: Aishan Bridge, Gongnong Bridge and Camel Crossing the River
Xiping: Nine Horses Fresco Hill, Xianggong Mountain, Wulong Spring, Small Face Mountain and Big Face Mountain
3. Guilin's Best Sunrise Locations
Xingping: Laozhai Mountain, Xianggong Mountain, Yellow Cloth Shoal, Xialong
Yangshuo: Yangshuo Bridge, Meet Dragon River
4. About Xianggong Mountain
Xianggong Mountain is a great mountain for sunrises and sunsets. It takes 1.5h to drive from Guilin city center, and 40min from Yangshuo Town. The sunrise is about 05:30 in Jun-Aug, 06:00 in Sep-Oct, and 06:30 in Dec. There are a lot of steps you must climb up to the viewpoint. Our guide will prepare flashlights for you in advance.
5. Small Face Mountain
It is a great place for sunset photography at any season in Xingping. Sunset is around 17:30 in summer and 16:30 in winter. The path to the shooting area is difficut to walk in rainy days.
6. Fuli Bridge
Suitable for shooting at any time. Rarely interrupted by tourists, you can take photos of this ancient bridge with its reflection in the water. There are more chances to come across water buffalos or ducks in this fantastic karst landscape between 16:00 and17:00.
7.Sunrise comparison between Reflection of Yellow Cloth Shoal and Xialong
Reflection of Yellow Cloth Shoal is one of the highlights of the Li River and one of the best places for Guilin's karst landscape sunrise. Compared with Xialong, the sunrise is much better in Reflection of Yellow Cloth Shoal. However, the morning clouds in Xialong are fantastic. So we will take you to photograph the sunrise first in Reflection of Yellow Cloth Shoal, and then enjoy morning colorful clouds in Xialong.
Reach Reflection of Yellow Cloth by a motorized bamboo raft for 30min. Sunrise starts at 05:00 in summer and 06:30 in winter. September is the best time for the sunrise.
8. Longji Rice Terraced Fields Photography Tips
Jinkeng (Dazhai) Terraced Fields is better preserved with more capacious views and has much less tourists and is less commercial than Ping'an Village. The golden rice is cut later than Ping'an Village during China's National Day holiday.
In spring
End of March, the best time to shoot numerous cole flowers in the terraced fields.
End of April to Beginning of May, the fields turn a beautiful red color because of the fertilizer the farmers use..
In summer
Beginning of June, mirrored fields with water are the most impressive photos of Longji. Especially, Jun.8-10 is the annual Spring Plow Day of the local Zhuang and Yao minorities. If you are lucky to join the festival, you will see dozens of celebrations but few visitors.
Jul-Aug is the best time for viewing the rice terraced fields. The fields turn a verdant green with many clouds in the clear blue sky.
In autumn
Golden terraced fields are fabulous during China's National Day holiday. Although we don't recommend visiting China during the period, yet it's the best time to photograph the countless yellow rice terraces. The rice stalks don't turn golden before National Day and is quickly cut after the holiday. Rice in Dazhai Village is cut later than Ping'an Village area. Morning and dusk are better periods for photos in October.
In winter
Snow covers the fields during China's Spring Festival holiday. It's the best chance to get snowy terraced fields photos and experience local minority culture.

Qin Jie-Top Guilin Photography Guide
Being a member of China Photographer Association, he is a photographer with over 40 years photography experience, and also a traditional Chinese painter. He is good at Guilin's landscapes, history and culture photography. He will take you to record the impression ancient China into the real.
If you are interested in his guiding, feel free to ask your travel advisor to arrange for you.