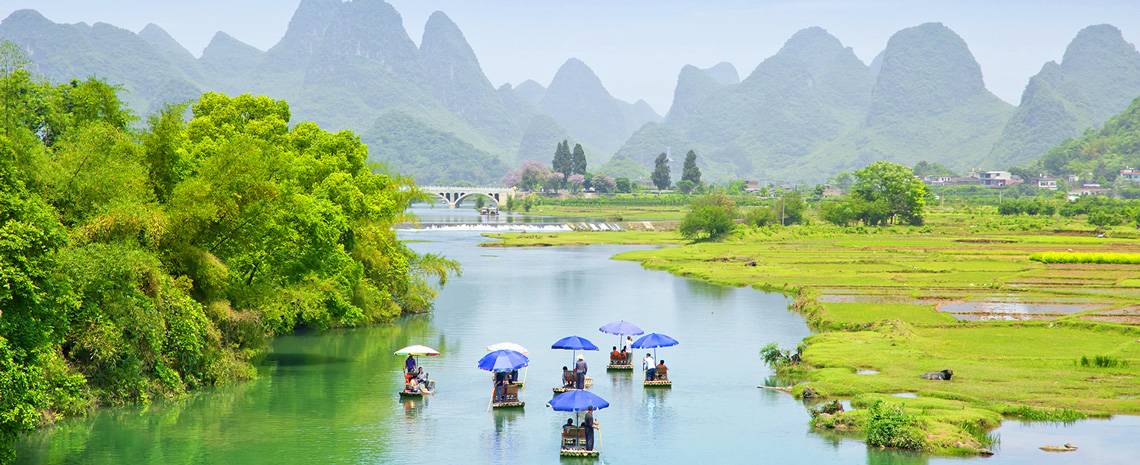 Guilin, Longsheng & Yangshuo Relaxation Tour
From: $929
Photography
Nature
Hiking
Culture
Discover the old town of Daxu and visit the highlights of Guilin city. Explore the fantastic Longji rice terraces, and experience the lifestyle of mountain minorities. Take a Li River cruise, and see the idyllic countryside around Yangshuo.
Highlights
Visit the spectacular rice terraces
Explore unique local minority culture
Take a Li River cruise with fantastic views on the best riverboat
Bike or walk through idyllic countryside and relax while rafting on the Yulong River
Take a local cookery lesson and learn how to make authentic Chinese food.
What's Included
Li River boat cruise with Chinese buffet lunch on board
Recommended hotels accommodation with breakfast, free Wi-Fi and service fee
Private transfers between the airport, attractions, and hotels
Private local English-speaking tour guide and driver service
Entrance to attractions listed in the itinerary
Meals mentioned in the itinerary
Price Per Person in US Dollars
| Nov.1 - Mar.31 | 5-star | 4-star |
| --- | --- | --- |
| 2-5 People | $1,089 | $929 |
| 6-9 People | $859 | $669 |
| Apr.1 - Oct.31 | | |
| 2-5 People | $1,149 | $989 |
| 6-9 People | $909 | $759 |
Note:
The above prices are not applicable to the Chinese National Day Holiday and Chinese Spring Festival.
Suggested Itinerary
Recommended Hotel in Guilin: Guilin Shangri-la Hotel (the best 5-star hotel in Guilin, beside the Li River)/ Lijiang Waterfall Hotel (4-star, central location and by the lakeside)
Upon arrival your local tour guide will meet you at the arrival hall of the airport with a name plate. If you arrive by train, your local tour guide will meet you with a name plate at the exit of the train station.
After your guide meets you, he/she will escort you by private vehicle to your hotel. Have a good rest and be ready for the next day's adventure!
Evening Ideas:
The night scenery in Guilin is beautiful and it makes a great way to unwind after a flight. The 'Two Rivers and Four Lakes' in the downtown area offer pleasant lakeside walks and night cruises.
Day 2
Daxu Old Town and Guilin Highlights
Meals: breakfast & lunch
Located 18 km southeast of Guilin, Daxu is an old town along the Li River with some original buildings dating back to the Ming and Qing dynasties (1368–1911). It was a busy junction on the water-transportation route between Guangdong (Canton) and Guangxi. Daxu means big market. Lots of craftsmen and businessmen lived there, having started their businesses on shoestring budgets. With the development of road-networks, Daxu's glory-days faded away. But the older generation still living there bears active witness to the old town.
This morning, let's knock on the doors of the older generation, to discover something more of the story of Daxu. Exploration of the old town lasts about 1.5-2 hours.
Lunch is served in a local popluar restaurant with authentic Guilin food. You tour guide will help you order the dishes.
After lunch, visit Elephant Trunk Hill, iconic in Guilin. It's so named because its shape resembles an elephant drinking from the Li River. The hill is pierced with many caves and topped with a charming pagoda. It has attracted visitors for more than a millennium.
Today's final stop is Reed Flute Cave, the largest and most impressive cave in Guilin. Named after reeds growing around the cave entrance, the cave has also attracted visitors for a thousand years. Inside, you will see magnificent rock formations.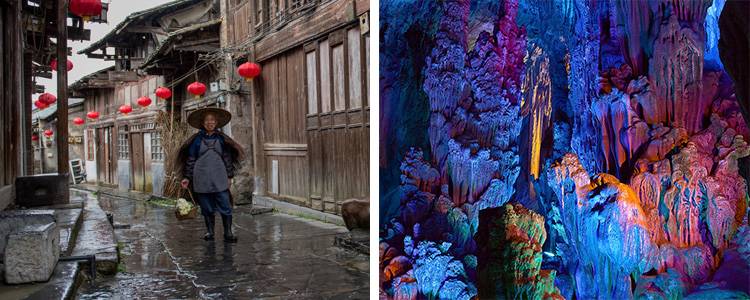 Day 3
Guilin to Longji, with Overnight Stay in a Traditional Hillside Village
Meals: breakfast & lunch
Recommended Hotel in Longji: Ping'an Hotel VIP Wing (4-star, central location and with mountain or terraces views)/Longji Star-Wish Hotel (3-star, central location)
Longji Rice Terraces are a sight not to be missed when visiting Guilin. They are one of the most impressive manmade wonders in China, built into steep mountainsides. When viewed from the mountaintops, they look like a dragon's ribs; hence the name 'Dragon's Backbone' (Longji).
Longji is about 2½ hours' drive from Guilin. The terraces cover an area of 66 square kilometers (25 square miles). They were built 600 years ago by local minority people. There are various villages in Longji; the three most famous are Ping'an Zhuang Village, Longji Ancient Zhuang Village, and Dazhai Yao villages.
We head to Ping'an Zhuang Village. There are about 1,000 Zhuang people resident there. Most of them still abide by traditional customs and ways of farming. Upon arrival you will start your day of exploration by walking through the village for about 20 minutes and then up the mountain slope, to where your hotel is located.
Lunch will be served in the hotel after check-in. You will have an opportunity to taste the local food, such as rice cooked in a bamboo tube — a typical dish for local minority people — and some fresh local vegetables.
After lunch, your guide will lead you up to the top of the mountain for a panoramic view of the village.
In late afternoon or early evening, you can sit on the balcony of your room with a cup of coffee, enjoying the spectacular view of nearby rice terraces.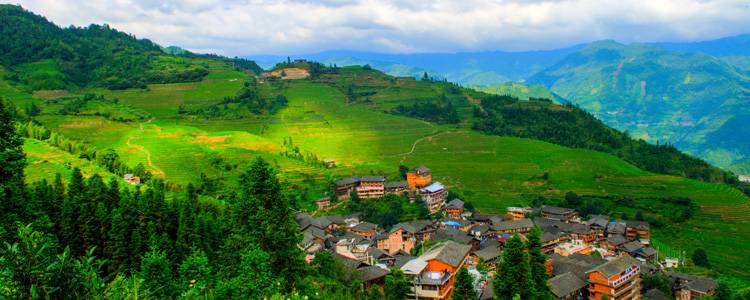 Day 4
Walking Among Rice Terraces; Longji to Guilin
Meals: breakfast & lunch
Recommended Hotel in Guilin: Guilin Shangri-la Hotel (the best 5-star hotel in Guilin, beside the Li River)/ Lijiang Waterfall Hotel (4-star, central location and by the lakeside)
Terraces change with the season - filled with pure water from the mountains in spring, green during the growing season in summer, and golden in autumn, when the rice is ready to be harvested.
After breakfast, you tour the rice terraces, enjoying magnificent views of the village. It's peaceful, as there are few tourists in the morning. No matter what season, you may see farmers tending their crops or maintaining their earthen structures. During the tour, your guide points out many of the terraces' features, from the complicated irrigation system to the engineering that went into creating the terraces more than 600 years ago.
On the way, visit a local family in Longji to learn how to make oil tea (you cha), and to interact with local people who have lived there for generations. Oil tea is a snack of minority origin, particularly of the Yao and Zhuang people. It can quench thirst and cure rheumatism in humid mountain areas.
You may wonder what oil tea looks like. Your guide will help you discover local life there.
Lunch will be served in a local farmer's restaurant. You tour guide will help you order the dishes.
After lunch, you go down the mountain and return to Guilin.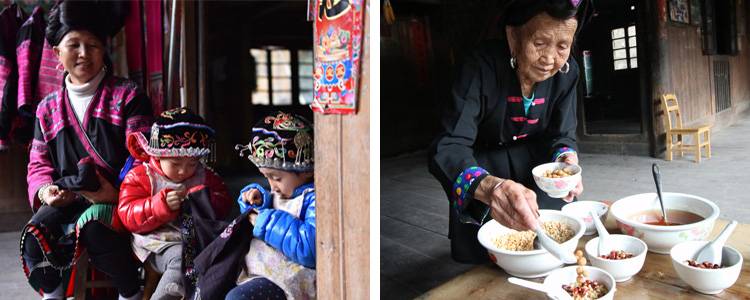 Day 5
Li River Cruise from Guilin to Yangshuo
Meals: breakfast & lunch
Recommended Hotel in Yangshuo:Yangshuo Tea Cozy Resort (a boutique hotel has standards equivalent to domestic 5-star hotel)/Yangshuo Mountain Retreat Hotel (a boutique hotel has standards equivalent to domestic 4-star hotel, by the Yulong River riverside)
In the morning you are going to experience one of China's most treasured natural wonders. After breakfast your guide and driver will transfer you to the pier (about 1 hour south of Guilin) to take the Li River cruise.
A cruise along the Li River from Guilin to Yangshuo (about 4 hours) is an unforgettable experience. As you take in the stunning scenery, there's something interesting to see at almost every bend in the river. Among the spectacular limestone peaks you'll see graceful bamboo groves, farmers tending rice paddies, and lumbering water buffaloes pulling carts or cooling off in the river. You may see fishermen gliding along on their narrow bamboo rafts, and if you're lucky you might see one of the famous fishing cormorants.
A Chinese buffet lunch is served on board. You will take the most comfortable 4-star Li River cruise boat. It easily accommodates 72–80 passengers, so you can enjoy the amazing scenery along the Li River peacefully.
The boat will arrive in Yangshuo sometime between 1.30 pm and 2.30 pm (depending on water levels), and you can enjoy free time there in the afternoon.
Evening Idea:
Impression of Liu Sanjie is a spectacular evening show based on the life of the famous folk heroine Liu Sanjie ('Liu Third Sister'). The creation of renowned Chinese director Zhang Yimou, who choreographed the films Crouching Tiger, Hidden Dragon and Hero, it is set on the Li River itself, and uses the incredible natural scenery along with a cast of hundreds to tell a classic tale of love, intrigue, and tragedy. The music, lights, dancing, and natural beauty of the backdrop ensure you will not be disappointed. (The schedule and price may vary according to season, and on public holidays.)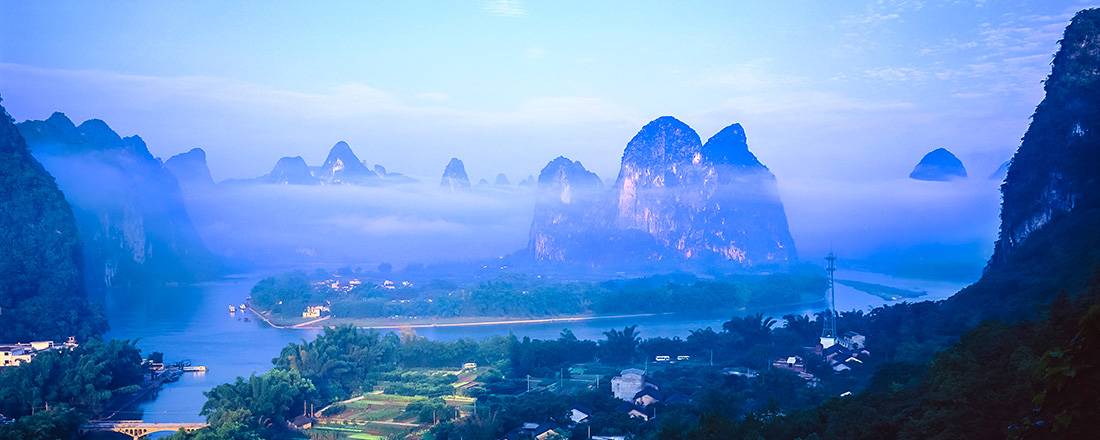 Day 6
Yangshuo Countryside Tour
Meals: breakfast & lunch
In the morning we'll take you by private vehicle from the busy town streets to the countryside roads to start your biking experiences. The scenery along the Yulong River is breathtakingly beautiful, with karst peaks, rice fields, clear waters, and green bamboo.
On the way, you trade your bicycle for a bamboo raft on the river itself. The river's current is quite gentle, meaning even first-time rafters have no trouble navigating. After a while, all signs of the modern world gradually melt away. Every bend in the river reveals different wonders, and it's easy to focus solely on the scenery. The rafting takes an hour.
Leaving the raft behind, you once again mount a bike. This time you ride to Moon Hill, a magnificent sight, its name referring to the rock formation's wide arch. At the top of the mountain, you will have a panoramic view of villages around Yangshuo and of many karst peaks at the top of the mountain. Usually it takes about an hour to go up and down the mountain.
Lunch is served in a popular local restaurant with authentic Yangshuo food. Your local tour guide will help you order the dishes.
In the afternoon, you return to your hotel. After a shower, you could relax lying on a beach chair, or with a cup of coffee.
Good to Know:
If you are not able to cycle, we could arrange a countryside tour by private vehicle for you, or a short hike (about 1-2 hours) along the riverside and through local villages.
In summer (June–September), it is rather hot in the afternoons for outdoor activities such as biking or hiking, so it would be better to do the countryside cycling in the morning when temperatures are cooler.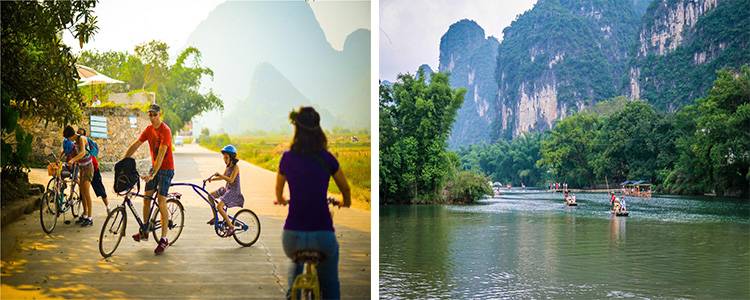 Day 7
Local Cookery Experience; Guilin Departure
Meals: breakfast & lunch
This morning, your first stop is a local market, where you can see different kinds of seasonable vegetable and meat for sale.
Back at a covered, rooftop patio-classroom, meet your cookery teacher and learn about today's menu (which usually includes three meat dishes and one vegetable dish).
You have an opportunity to learn to cook four dishes and then enjoy the fruits of your labor.
After lunch, your private driver and tour guide will transfer you to Guilin Airport for your departure flight.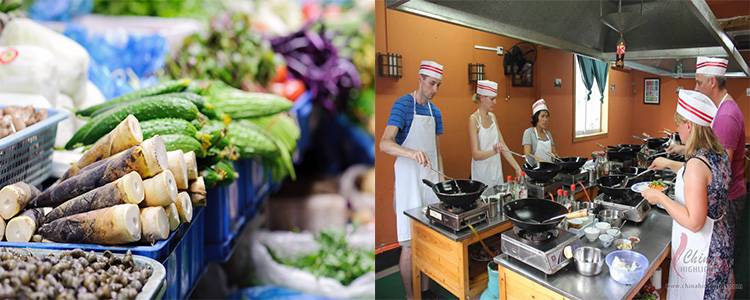 Trip Notes
1. Customizing the Tour — According to Your Needs
This tour is very flexible. You can alter the itinerary, extending or shortening it to suit your price, interests, and schedule.
You can extend for example by adding an extra day for visiting the Dong people in Sanjiang County. If your time is limited, shortening the tour by one or two days, for example by omitting the Guilin city tour or the Yangshuo countryside tour, can also be arranged.
2. The Longji Rice Terraces in Different Seasons
The appearance of the terraces changes with the season – they're filled with pure clear water from the mountains in spring, green during the growing season in summer, golden when the rice is ready to be harvested in autumn, and wonderfully white when it snows in winter.
3. About the Li River Cruise Boats
Currently, either 3-star or 4-star riverboats are available for the Li River cruise. The 3-star boats are lower-priced, but have less-modern facilities. Their seat- spacing is narrower and the lunch on board is simpler.
The 4-star boats are the best. We will only use the relatively new 4-star boats, which serve a buffet lunch.
4. About the Rural Market Near Daxu
There is a rural market every two days near Daxu ancient town. If you are interested in visiting the market and seeing how local farmers do their purchases, ask your guide to arrange for a stop at the market on the way to Daxu.
Your guide will be happy to go the extra mile and help you, if your travel dates happen to coincide with rural market dates.
5. Accommodation in the Mountain Villages of Longji Rice Terraces and in Yangshuo
The standards of star-rated hotels in the mountain villages of Longji rice terraces and in Yangshuo might not be up to the standards of equivalently-rated hotels in cities such as Guilin, Beijing and Shanghai.
The hotels we use on the tour are carefully selected, based on criteria like hotel environment, location, service, and previous customer-feedback.
If you would prefer other hotels or wish to book hotels yourself, please feel free to let us know.
6. How the Weather Affects the Scenery and What to Bring
It is rainy and wet during Guilin's rainy season, from April to July. But the mists during this period make Guilin mysterious. It might rain or be misty (obscuring some of the view), but even then the scenery is beautiful.
If you are traveling between April and July, a pair of comfortable waterproof walking shoes is a must.
7. Booking Procedure:
Step 1: Submit your name, email address and traveling dates for the tour. The price may vary according to the location of your hotel.
Step 2: Choose to make payment via PayPal and your request will be listed as our top priority. We guarantee a 100% refund if you are not satisfied.
Step 3: Receive a reply within 24 hours. The tour will be tailor-made to meet your requirements and the booking confirmed.
Step 4: Enjoy the tour!
8. Payment Methods:
We now offer three payment methods: PayPal, credit card authorization via fax, and wire transfer. PayPal is recommended for its safety and efficiency. You can pay with USA dollars, Australian dollars, European dollars, and British pounds directly with your credit card or debit card if you do not have a PayPal account.
9. Cancellation Policy:
In the event of cancellation, we will refund any payment made to China Highlights (unless any cancellation fee is applicable) within 14 days of our receipt of your written cancellation request. Visit here for more details.
10. Travel Insurance:
Travel insurance is not included. We carefully selected some insurance providers from your region that give you the best value for money. Click here to go to the travel insurance page.