Itinerary
Your private guide will welcome you and pick you up at Guilin Liangjiang International Airport with a comfortable, chauffeured, private car. Your guide will help you check in.
Free-time Ideas:
The evening is free time. Here are some recommended activities for the evening.
Explore Xicheng Pedestrian Street
Explore Zhengyang Pedestrian Street
Also see the Guilin section of our Discover More page.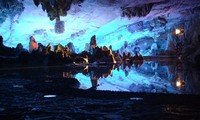 Tour the star features of Guilin with a comfortable private car and an experienced guide.
Highlights:
Elephant Trunk Hill: It is the symbol of Guilin and got its name because its shape resembles an elephant with its trunk drinking from the Li River.
Reed Flute Cave: The cave is regarded as the most impressive cave in Guilin. Bizarrely-shaped limestone formations look fantastic under the colorful lights.
Daxu Ancient Town: Cobbled streets, stone bridges, and ancient buildings can be seen in Daxu Ancient Town. Picking strawberries is the most popualr activity in spring there.
Free-time Ideas for the Evening:
Explore Zhengyang Pedestrian Street
Day 3:
Longji Terraced Fields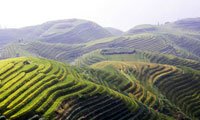 Minority village and Longsheng Terraced Fields: The terraces look like ribbons as they wind from the foot to the top of some hills. Zhuang and Yao minority villages dot the area, and feature traditional architecture where no nails are used in construction. The different minority customs and dress are especially interesting.
Day 4:
Li River and Yangshuo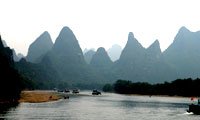 After breakfast at your hotel a cruise to Yangshuo lets you appreciate the stunning natural scenery of the Li River.
Cruising on the Li River: There's something interesting to see at almost every bend in the river. Between spectacular limestone peaks you'll see graceful bamboo groves, farmers tending rice paddies, and lumbering water buffaloes pulling carts or cooling off in the river.
Free-time Ideas in Yangshuo:
It is flexible and convenient to add the interesting activities to enrich your experiences, such as learning Taichi, Chinese calligraphy, Chinese cooking and kayaking. Just ask your travel advisor, and let us do the rest.
Day 5:
Yangshuo & Yangshuo Departure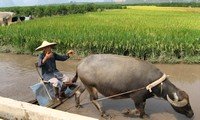 The last day of this tour is all about relaxing.
Yangshuo Countryside Cycling: See the poetic natural scenery of Yangshuo's countryside. Biking alongside the paddy field and orchards that surround the famous mountains will give a fascinating insight into life in rural China.
After the tour, your tour guide, driver and car will transfer you to the airport for your departure flight.