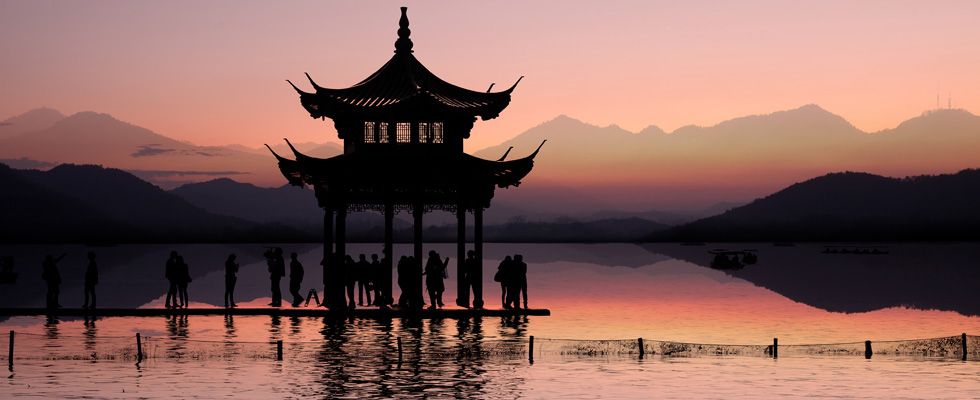 2-Day West Lake and Dragon Well Tea Journey
Hangzhou and Suzhou are rivals for the position of "Heaven on Earth" and it truly is hard to separate them. Set on the magnificent Westlake, Hangzhou will enchant you with its classical beauty. There are two choices to see different beauty of Hangzhou depend on your time.
Option 1: Hangzhou – the Earthly Heaven Day Trip
On this tour you will see Hangzhou's most symbolic landscapes in one day. Explore Dragon Well, experience tea culture at Meijiawu Tea village, see the Buddhist carvings at Lingyin Temple and Flying Peak, and take a boat on romantic West Lake including the islands. Lunch is excluded.
Price from $109 p/p.
Round-trip high speed train tickets from Shanghai are only $59 p/p. Book now!
Option 2: 2-Day West Lake and Dragon Well Tea Journey
Highlights
See fantastic stone Buddhist carvings in Lingyin Temple
Relax on the romantic West Lake on a small boat
Taste Hangzhou's unique Dragon Well Tea and experience its culture
Have a look at the ancient millionaire's life in the Former Residence of Xueyan
What's Included
Entrance to scenic spots listed in the itinerary
Lunches mentioned in itinerary
Hotel accommodation with breakfast
Private tour guide and driver service
Price Per Person in US Dollars
Suggested Itinerary
Day 1
Hangzhou Arrival, Visit Lingyin Temple and West Lake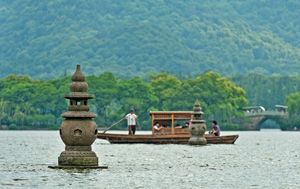 West Lake
Your tour guide, driver and car will wait for you at the airport, transfer you to the city and begin your sightseeing tour at Lingyin Temple and West Lake. As one of the most important Buddhist temples in China, Lingyin Temple boasts many pagodas and Buddhist grottoes. The Happy Buddha is one of the most impressive stone Buddhas there. Your guide will unfold their stories to you in a vivid way. Located in front of the temple proper, Flying Peak is an outstanding Buddhist grotto site, in which are engraved numerous Buddha images. Be sure not to miss the amazing stone carvings in the stone cliff face of the mountain. Lunch is excluded.
West Lake, the symbol of Hangzhou, is a place of tranquility. Visit Fairy Island, and see one of the Ten Best Views of West Lake - Three Pools Mirroring the Moon. The occasional pagoda and Chinese-style arched bridges add atmosphere to the tree-lined walkways. Lush islands and hills make West Lake a very special part of any China experience.  
Day 2
Experience In-Dept Dragon Well Tea Culture, Hangzhou Departure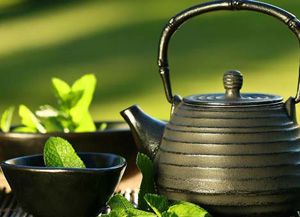 Chinese Dragon Well Tea
Before you start your exploration of Chinese Dragon Well Tea culture, first visit the Former Residence of Xueyan Hu. You will see the very well-preserved old Qing Dynasty house of Xueyan Hu, a famous and rich Chinese businessman who had 13 wives.
You will also get to take part in a series of activities to learn about Hangzhou's Dragon Well Tea (Longjing Tea). First is a visit to Meijiawu tea village to experience local farmers planting, picking, refining and tasting tea. Morning is the best time to visit the village and enjoy a breath of fresh air. Local Hangzhou style Lunch is included.
Next visit the China Tea Museum to learn about the origin, history, present and future of Chinese tea. You will see some exquisite teapots used in the past. Later, you will climb up Chenghuang Pavilion to enjoy a tea performance. The pavilion is also an optimum spot for people to get a bird eye view of Hangzhou.

After the tour, we will transfer you to the airport for your departure flight.
Trip Notes
1. West Lake Tourist Map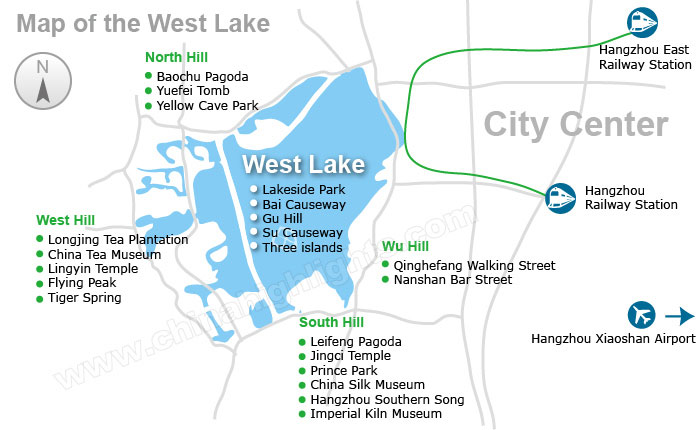 2. What is the best time to visit Hangzhou?
You can visit Hangzhou at any time. Hangzhou in every season has different beautiful scenery Spring and autumn are more popular because of hot summer and chilly winter weather. Avoid Chinese national holidays like May 1st, or China National Day (Oct.1th-7th). The landmark West Lake is popular on weekends.
3. How to get Hangzhou?
From most cities
There are flights/trains from most cities to Hangzhou. 
From Shanghai
We suggest you arrive at Hangzhou by train from Shanghai, which can be as short as 1 hour. Private car transfer from Shanghai to Hangzhou is not offered due to the limitation of cars/buses from other cities on weekdays.. High speed train tickets and flight tickets booking service are offered.
From/to Yellow Mountain 
Regular coaches run between Hangzhou and the Yellow Mountains, a 3h journey.
4. Extend to Hangzhou's neighbors
To Wuzhen Water Town (1-2 days)
It only takes about one hour to arrive at Wuzhen Water Town from Hangzhou. Things to do in Wuzhen: walk along the west section, (Xizha, to see local life. Stay one night to enjoy the sunrise and sunset. The night scene of Wuzhen ancient town is marvelous.
To Shanghai (1-2 days)
Add Shanghai before or after the Hangzhou tour, and see the essence of Shanghai: Yuyuan Garden, Oriental Pearl TV Tower, Shanghai World Financial Center, the Bund and Zhujiajiao Water Town.
To Suzhou (1-2 days)  
Extend to Suzhou to see its typical Chinese gardens and ancient water towns. Enrich your itinerary with Suzhou's must-see highlights: Humble Administrator's Garden, Lingering Garden/ The Garden of the Master of Nets, cruise along the Grand Canal and water towns such as Tongli.  
To the Yellow Mountain (3-4 days)
A 3-hour coach will take you to the Yellow Mountain from Hangzhou. Take a cable car up to the Yellow Mountain's "Four Wonders": imaginatively-named pines, oddly-shaped rocks, seas of clouds, and hot springs. Staying on the mountains for a sunrise should not be missed. Add Hongcun/Tunxi Ancient Street for some ancient Anhui architecture.