Itinerary
Day 1:
Arrival in Huangshan
Your private guide will meet you outside the luggage claim area at the airport and then a professionally-chauffeured vehicle will transfer you direct to your hotel. Your guide will help you check-in and ensure your holiday begins in a stress-free arrivals.
Day 2:
The Yellow Mountains Tour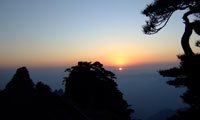 You will spend a day and a night on the Yellow Mountains today. It takes about 1 hour from central Huangshan City to the foot of the Yellow Mountains. A round-trip cable car is included. Your appreciation of the graceful Yellow Mountains begins your cable car journey. Don't miss the magnificent scenery along your 10-minute journey.
A light pack and comfortable shoes can make your exploring the mountains more eased and more comfortable. Your private guide will escort you to walk to discover the breathtaking natural scenery and guide you the highlights on the mountains where you can photograph the peculiar-shaped rocks and pine trees and the pictures consisting of rows of rolling mountains, seas of clouds, and verdant trees.
The sunset often presents an amazing opportunity for great photos.
Day 3:
The Hongcun Village Tour and Huangshan Departure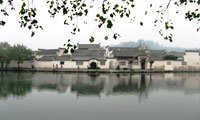 Before going downhill this morning, take the chance to raise early and photograph the sunrise on the mountains, which is highly recommended by our past customers who have visited the Yellow Mountains.
After finishing your discovery of the Yellow Mountains, you will continue your Huangshan tour to one of China's most beautiful ancient village — Hongcun Village, a charming ancient village which was the setting for Crouching Tiger Hidden Dragon (the winner of Oscar Best Foreign Language Film Award 2001). With a history of over 800 years, the village will show you the original Hui style architecture (a type of traditional Chinese architecture). This elegant ancient village is always the destination for art students and artists' capturing its beauty on paper.
Your guide would have called to confirm your return trip. He'll assist with check-out and handle your luggage, transfer and accompany you to your station or the correct check-in desk at the airport.