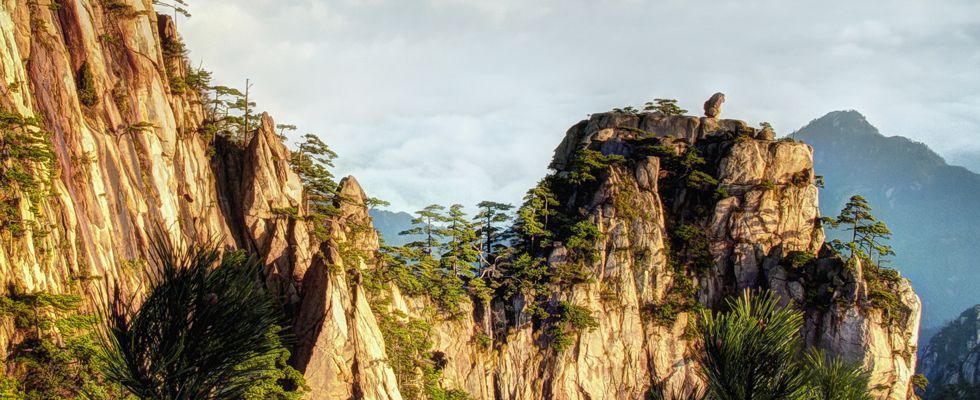 Essence of Huangshan Tour
From: $479
Photography
Nature
Hiking
Culture
This 3-day tour is a combo of natural scenery and ancient villages. It offers a chance to see the highlights of the Yellow Mountains, featuring imaginatively-named pines, oddly-shaped rocks, and a sea of clouds. A visit to Hongcun and Tunxi Ancient Street will take you back to the Ming and Qing dynasties (1368–1911) as you admire the traditional Hui style houses and ponds. We will make the best use of your time and energy during this magical holiday.
Highlights
Watch the sunset and sunrise from the best positions on the mountains
Explore the magnificent Xihai Grand Canyon
Enjoy an in-depth visit to Hongcun, a dreamy little village with the mountains as its backdrop
Stroll on Tunxi Ancient Street to search and bargain for trinkets
What's Included
Entrance to scenic spots listed in the itinerary
Private English-speaking guide and driver service throughout the tour
Lunches mentioned in the itinerary
Hotel accommodation with breakfast
Private transfers between the airport/train/bus station, attractions, and hotels
Public shuttle buses in the mountains and a specified cable car
Price Per Person in US Dollars
| Nov.1 - Mar.31 | 5-star | 4-star |
| --- | --- | --- |
| 2-5 People | $589 | $479 |
| 6-9 People | $459 | $369 |
| Apr.1 - Oct.31 | 5-star | 4-star |
| 2-5 People | $579 | $519 |
| 6-9 People | $489 | $389 |
Note:
The above prices are not applicable to weekends and National Holidays.
Suggested Itinerary
Your private guide will meet you outside the luggage claim area at the airport and then a professionally-chauffeured vehicle will transfer you directly to your hotel. Your guide will help you check-in and ensure your holiday begins with a stress-free arrival.
Good to know:
Transportations between Shanghai/Hangzhou and Huangshan are not included:
Shanghai-Huangshan: There is usually only one flight between Shanghai and Huangshan every day. High-speed trains taking about 5 hours are recommended.
Hangzhou-Huangshan: High-speed trains between Hangzhou and Huangshan takes over 3½ hours, so express buses taking 3 hours are recommended. If you like, we can check the best-possible price and book the flights, trains or bus for you. Please inform which one you prefer.
Accommodation
One night in Tunxi: Huangshan International Hotel (4-star)/Crowne Plaza Huangshan Yucheng (5-star)
Day 2
The Yellow Mountains Tour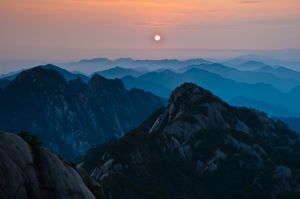 Sunrise on the Yellow Mountains
Today you will spend a day and a night on the Yellow Mountains. It takes about one hour from central Huangshan City to reach the foot of the Yellow Mountains. Your appreciation of the graceful Yellow Mountains begins with the Yungu cable car (a round-trip cable car is included). Don't miss the magnificent scenery along your 10-minute journey.
Your guide, who spends over 200 days on the mountains every year, will customize the route for you.
For an energetic hiker in good shape: Descend the cable car, walk for about 30 minutes via mostly down stairs to arrive at the hotel, and see Umbrella Pine and Black Tiger Pine along the way. After buffet lunch at the hotel, explore the West Sea Grand Canyon. The whole hiking trip lasts for over three hours, covering the 1st ring, 2nd ring, and bottom of the canyon. If time and strength permit, you can further explore the Flying-over Rock and watch the sunset at Bright Top. It takes about 40 minutes to get from Bright Top back to the hotel.
For beginners, children, and senior citizens: Get off the cable car, walk for about 30 minutes to the hotel, and see Black Tiger Pine and Dream Flower Pine on the way. After buffet lunch at the hotel, walk to West Sea Grand Canyon. You can decide how long you would like to walk for: reaching the 1st ring and returning takes about two hours; reaching the 2nd ring and returning takes about 2½ hours. Then enjoy the sunset at Cloud-dispelling Pavilion. It takes about 30 minutes to get back to the hotel.
Good to know:
Travel light! Please take a small bag or backpack for your overnight stay on the mountain. Your guide will assist you with storing your big suitcase in your hotel in Tunxi. You can collect it on your way back. You can also store the luggage at the foot of the mountain. The cost is about CNY20 (US$4) for each piece.
Short Cut. From the Cloud-dispelling Pavilion to the button of West Sea Crand Canyon, it's down stairs all the way and some sections are very narrow and steep. Therefore, trekking in the West Sea Grand Canyon can be a big challenge, especially to your knees. A monorail is available to help you save time and strength. It runs between the bottom of the Canyon and the main peak area, which is about 300 meters (0.2 miles) from the Baiyun Hotel. The 893 meters (0.6 miles) takes less than five minutes and the cost is CNY80 (US$13) per person.
Accommodation
One night on the mountain: Beihai Hotel (4-star)/Xihai Hotel — South Wing/New Wing (5-star).
Day 3
The Hongcun and Tunxi Ancient Street Tour, Huangshan Departure
The Hongcun Village
Rise early and take the chance to photograph the sunrise at Refreshing Terrace, which is highly recommended by our past customers who have visited the Yellow Mountains. After breakfast in the hotel, walk to Lion Peak to see the Dawn Pavilion, Stone Monkey Watching the Sea, and all shapes of pines along the route. You can also climb up to Beginning-to-Believe Peak and overlook the Mushroom Pavilion. Your discovery of the Yellow Mountains will finish with the Yungu Cable Car journey. Then it is time to enjoy an authentic Hui style lunch in a local restaurant.
You will continue on to one of China's most beautiful ancient villages — Hongcun Village, a charming ancient village with a history of over 800 years. The village will show you the original Hui style architecture (a type of traditional Chinese architecture).
After that you will be transferred to Tunxi Ancient Street (about one hour's drive). There you can enjoy a leisurely walk among the ancient buildings and look around to search for a bargain.
Your guide will handle your luggage, transfer, and accompany you to the train/bus station or the correct check-in desk at the airport for your departure.
Trip Notes
1. Trekking Map (click to enlarge)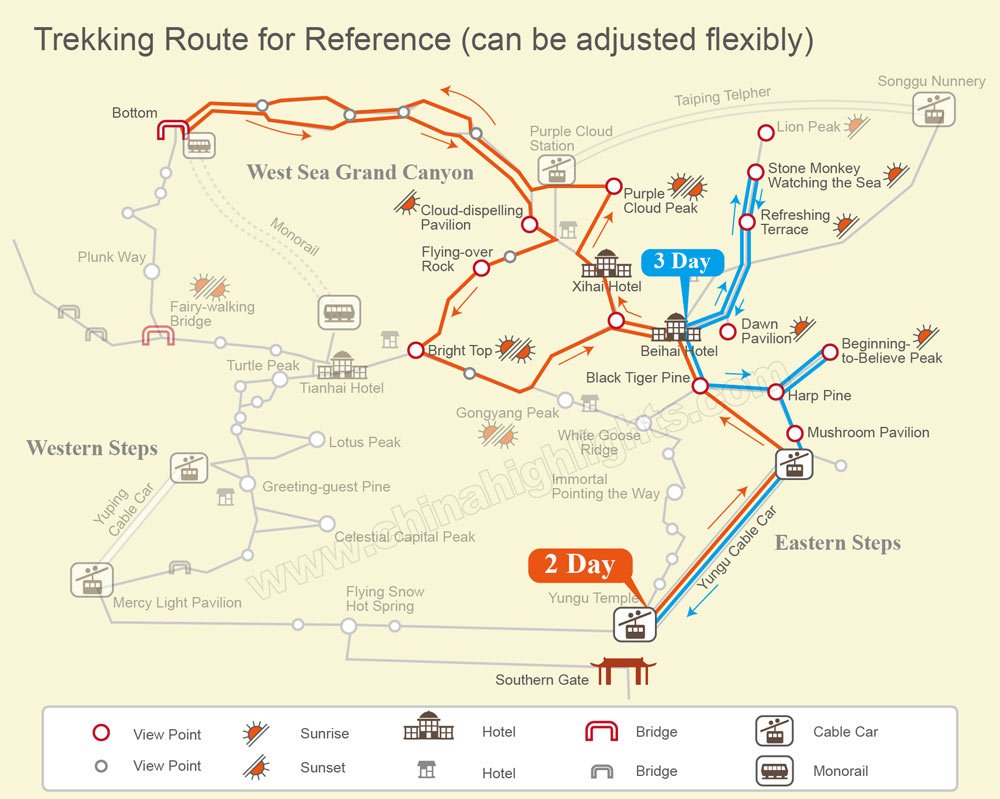 2. Tailoring Your Tour
This tour is very flexible. You can alter the itinerary, extend or shorten it to suit your price, interest, and schedule. If you would like to book the hotels on your own, we can remove the hotel cost from quotation. Please inform your travel advisor about your preference.
Simple fun to enrich your itinerary:
Overnight trains from Shanghai arrive in the morning. Flights from Shanghai and buses from Hangzhou usually arrive in the afternoon. Flights to Shanghai and Xian depart in the late evening. Here are some additional options to fill in the possible gap:
Huangshan Hot Spring
Duration: about 2-3 hours
Huangshan Hot Spring is at the foot of the Yellow Mountains. There are various pools with different scents and healing properties: rose, lavender, jasmine, green tea, red wine, milk, and coffee, among others. It's a perfect way to refresh and recover after hiking on the mountains and a wonderful treat to experience in winter. (You will be supplied with towels, shower gel, shampoo, hair dryers, brushes, flip flops, and lockers at the hot spring. All you need to take is your swimsuit).
Xidi-Hongcun Ancient Pathway
Duration: about 3 hour
This pathway was newly developed at the end of 2014 between Huangshan's prettiest two ancient villages. With a length of 8 kilometers (5 miles), this route allows you to hike through the most rural areas to see quiet villages, paddy fields, mulberry fields, tea plantations, and bamboo forests. Since Hongcun Village is on a higher terrain than Xidi Village, it's recommended to walk from Hongcun to Xidi to make the hiking more relaxing.
Rural Experience in Xuanyuan Farm
Duration: about 3-4 hours
Harvest fresh vegetables from the fields, see how rapeseed oil is squeezed in the traditional way, grind soybeans on a stone mill to make tofu with you own hands, and taste the fruits of your labor for lunch. It will be a unique and fun experience for both children and adults.
Options to further extend your tour:
One more night on the mountains:
This arrangement will allow you to explore more in depth and you can take the tour at a more relaxed pace.
One more day to visit more ancient villages:
Besides Hongcun, there are many other beautiful ancient villages around Huangshan. Staying overnight in the village, you will find the disappearing original China. Choosing 2-3 villages will make a quaint day.
Xidi:
As a World Cultural Heritage site, Xidi was first built 900 years ago in the Song Dynasty. Its traditional architectures are well preserved.
Tachuan:
The autumn scene at Tachuan Village is one of the most picturesque places imaginable with the leaves of its ancient old trees turning red and yellow. Tachuan is only 10 minutes away by car from Hongcun. Remember to arrange it together with Hongcun if you are arriving in November.
Chengkan:
Chengkan is a living historical document of the application of feng shui principles into architecture. From a bird's-eye view, twisted lanes, ancient drainage systems, and high walls create a maze-like layout.
Shexian Tangyue Memorial Arches:
Known as the "Town of Arches", Shexian is a must-see for fine examples of residential architecture and memorial arches from the Ming and Qing dynasties.
The Bao Family Garden was a private garden, once owned by successful businessman Bao. It blends perfectly with the Tangyue Memorial Arches, and is a fascinating way to spend a few hours.
One more day to Wuyuan
Wuyuan, considered to be the most picturesque village of China, is 1 hour away from Huangshan by car. There you could capture the well-protected ancient villages of the Ming (1368–1644) and Qing (1636–1911) Dynasties and the pastoral landscape. Spring is the most pleasant time, especially in March and April.
One more day to Jingdezhen
Jingdezhen is the world renowned Porcelain Capital. It takes about 2 hours from Huangshan by car. You can explore China's porcelain culture and make an artwork of your own.
Feel free to tell us your requirements and interests, and we will be happy to help you arrange a trip with our professional knowledge and experience.
3. Reminder:
West Sea Grand Canyon, Celestial Capital Peak, and Lotus Peak usually close from December to March of the following year due to the snowy weather. The guide will adjust the itinerary to cover other highlights to make the most of your time.
Yuping Cableway was closed for rebuilding work from October 8th, 2014 to June 15th, 2015. It has reopened on June 16th, 2015. Touring in Huangshan is becoming more and more convenient.
4. Booking Procedure:
Step 1: Submit your name, email address and traveling dates for the tour. The price may vary according to the location of your hotel.
Step 2: Choose to make payment via PayPal and your request will be listed as our top priority. We guarantee a 100% refund if you are not satisfied.
Step 3: Receive a reply within 24 hours. The tour will be tailor-made to meet your requirements and the booking confirmed.
Step 4: Enjoy the tour!
5. Payment Methods:
We now offer three payment methods: PayPal, credit card authorization via fax, and wire transfer. PayPal is recommended for its safety and efficiency. You can pay with USA dollars, Australian dollars, European dollars, and British pounds directly with your credit card or debit card if you do not have a PayPal account.
6. Cancellation Policy:
In the event of cancellation, we will refund any payment made to China Highlights (unless any cancellation fee is applicable) within 14 days of our receipt of your written cancellation request. Visit here for more details.
7. Travel Insurance:
Travel insurance is not included. We carefully selected some insurance providers from your region that give you the best value for money. Click here to go to the travel insurance page.