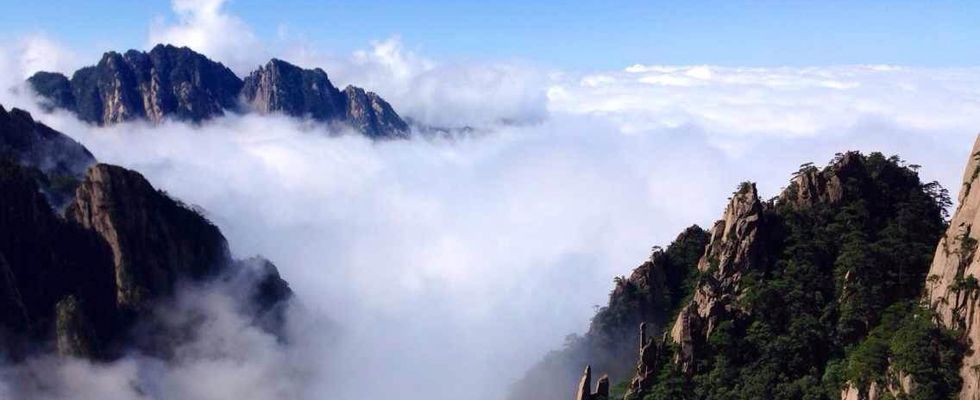 Huangshan Highlights Tour from Shanghai
From: $849
Photography
Nature
Hiking
Culture
With the best-value flights and hotels, we have designed this Huangshan tour from Shanghai to make every penny count. It allows you to stay one night on the mountain, see the much-sought-after scenery and indulge yourself in the hot springs to finish off your tour with some relaxation.
Highlights
Stay overnight on the mountains and enjoy a room with a mountain view
Watch the sunset and sunrise from the best locations on the mountains
Get lost in Chengkan Ancient Village and acquire some Chinese feng shui knowledge
Relax and feel refreshed in the Flying Snow Hot Spring
What's Included
Round-trip flights between Shanghai and Huangshan
Entrance to scenic spots listed in the itinerary
Lunches mentioned in itinerary
Hotel accommodation with breakfast
Private transfers between the Huangshan airport, attractions, and hotels
Private tour guide and driver service throughout the tour
Public shuttle buses in the mountains and a specified cable car
Price Per Person in US Dollars
Suggested Itinerary
Day 1
Transfer from Shanghai to Huangshan
Your tour will start with a direct flight from Shanghai Hongqiao Airport to Huangshan. At Huangshan Airport, your private guide and transport will be ready and waiting, ensuring a comfortable and efficient transfer to your hotel.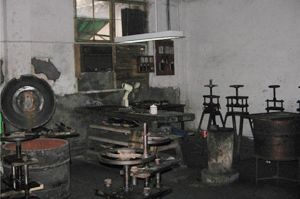 Hu Kaiwen Ink Factory
Hu Kaiwen Ink Factory is the first destination on your trip itinerary. Since 1782, Hu Kaiwen Ink Factory has been one of the most famous ink factories in China. You can see the whole process of how the ink stones are made.

Good to know:
There is usually only one flight from Shanghai Hongqiao Airport to Huangshan every day: FM9265 (14:20–15:25) (the schedule may vary during low and peak seasons).
A transfer to Shanghai Hongqiao Airport is not included in Shanghai. We are happy to add a private transfer service to make your trip easier. The additional cost is as below (based on your hotel/address locating in downtown Shanghai):
2–5 people: $28 per person per transfer
6–9 people: $15 per person per transfer
Accommodation
One night in Tunxi: Huangshan International Hotel (superior class)/Crowne Plaza Huangshan Yucheng (deluxe class).
Day 2
Discover Chengkan Ancient Village and the Yellow Mountains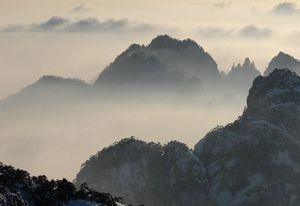 The Sea of Clouds
After finishing your Western breakfast at the hotel, you will commence your tour of Chengkan Ancient Village. The most precious feature of Chengkan is that it preserves its original character and features, without becoming commercial. With our experienced guide, who has loads of information, you learn how the village was built and functioned hundreds of years ago.
Lunch will be at a local restaurant to give you a chance to taste authentic Anhui dishes. Then to the Yellow Mountains. Your guide will prepare drinks and a map to maximize your time in Huangshan.
It takes about one hour to get to the foot of the Yellow Mountains. You will take the Yungu cable car to ascend them. Your guide, who spends over 200 days on the mountains every year, will customize the route for you.
For an energetic hiker in good shape: Descending the cable car, walk for about 40 minutes to arrive at the hotel, and see Harp Pine, Beginning-to-Believe Peak and Black Tiger Pine along the way. Then explore the West Sea Grand Canyon. The whole hiking lasts for about 3 hours, covering 1st ring, 2nd ring and button of the canyon. Then watch sunset at Purple Cloud Peak. It takes about 30 minutes to get back to hotel.
For beginners, children, and senior citizens: Get off the cable car, walk for about 30 minutes to the hotel, and see Black Tiger Pine and Dream Flower Pine on the way. Then walk to West Sea Grand Canyon. You can decide how long you would like to walk for: reaching the 1st ring and returning takes about two hours; reaching the 2nd ring and returning takes about 2½ hours. Then enjoy the sunset at Cloud-dispelling Pavilion. It takes about 30 minutes to get back to the hotel.
Good to know:
Travel light! Please take a small bag or backpack for your overnight stay on the mountain. Your guide will assist you to store big suitcase in your hotel in Tunxi for free. You can collect it on your way back. You can also store the luggage at the foot of the mountains. The cost is about CNY20 (US$4) for each piece.
Short Cut. Trekking in the West Sea Grand Canyon can be a big challenge, especially to your knees. A monorail is available to help you save time and strength. It runs between the bottom of the Canyon and the main peak area, which is about 300 meters (0.2 miles) from the Baiyun/Tianhai Hotel. The cost is CNY80 (US$13) per person.
Accommodation
One night on the mountain: Beihai Hotel (superior class)/Xihai Hotel — South Wing/New Wing (deluxe class).
Day 3
The Yellow Mountains and Flying Snow Hot Spring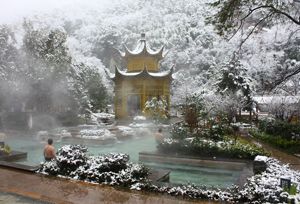 Flying Snow Hot Spring
You will need to be an early bird to see the sunrise. Refreshing Terrace is a recommended spot. Your guide will tell you when and where to go, and offer local insider tips. After enjoying the sunrise, you will go back to your hotel and have breakfast. Then you will continue to take in more Yellow Mountain wonders, including Bright Top, Flying-over Rock, and the Greeting-guest Pine, which is undoubtedly the most famous tree in China. After a buffet lunch on the mountain, you will walk to Yungu cable car station and descend.
Flying Snow Hot Spring is at the foot of the Yellow Mountains. There are various pools with different scents and healing properties: rose, lavender, jasmine and coffee, among others. It's a perfect way to refresh and recover after hiking on the mountains.
Then you will be transferred to Tunxi Ancient Street (about one hour's drive). There you can enjoy a leisurely walk among the ancient buildings and look around to grab a bargain.
Two hours before your boarding time, sit back and relax as your private driver and guide get you to the airport. They will take you right to check-in and say goodbye at the security gate.
GOOD TO KNOW
At the Hot Spring, you will be supplied with towels, shower gel, shampoo, hair dryers, brushes, flip flops, and lockers at the hot spring. All you need to bring is your swimsuit.
If you plan to visit in summer or don't like hot springs, Hongcun Ancient Village is recommended to fill in the gap. With a history of over 800 years, this charming village will show you the original Hui style architecture and everlasting stories left behind. We can also arrange a relaxing 3-hour hiking between Xidi and Hongcun for you to explore the most rural areas: quiet villages, paddy fields, mulberry fields, tea plantations, and bamboo forests.
Trip Notes
1. Trekking Map (click to enlarge)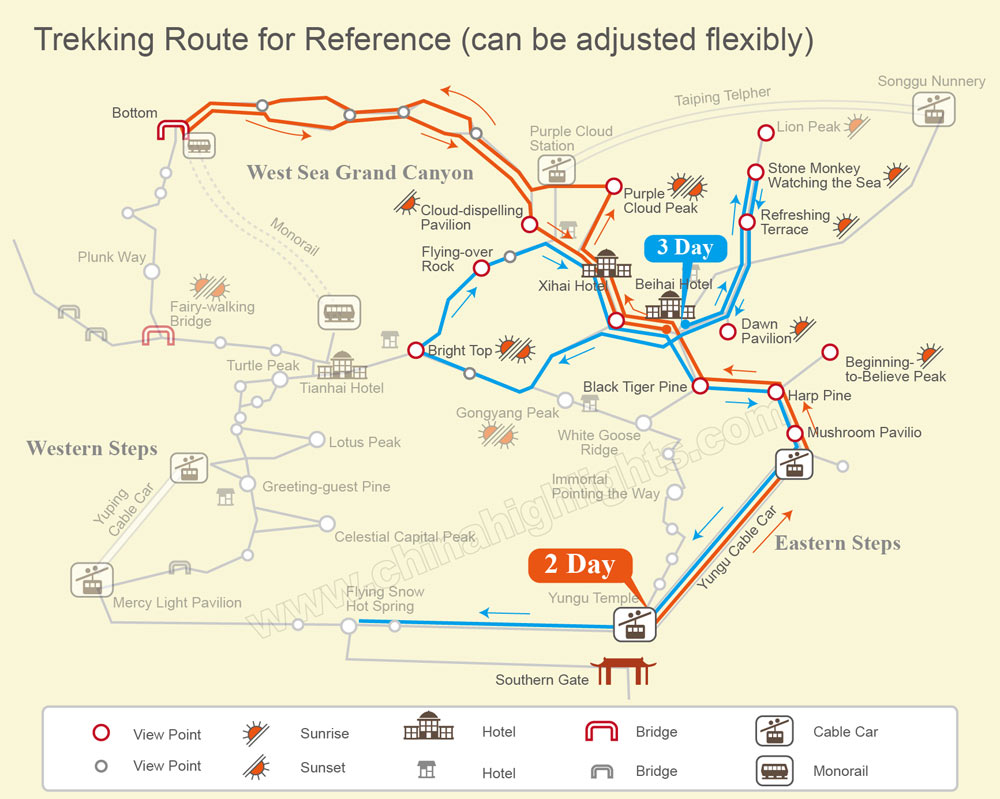 2. Tailoring Your Tour
This tour is very flexible. You can alter the itinerary, extend or shorten it to suit your price, interest, and schedule.
Extend to Shanghai (1-2 days)
Add Shanghai before or after the Huangshan tour, you can enrich your itinerary with the following must-see highlights: Yuyuan Garden, Oriental Pearl TV Tower, Shanghai World Financial Center, the Bund and Zhujiajiao Water Town.
Extend to Hangzhou (1-3 days)
Hangzhou is easily reached from Huangshan by bus in three hours. Extend the trip in Hangzhou to add a romantic touch to your tour: enjoy biking along the bank of West Lake, strolling in Lingyin Temple, tea tasting in the tea plantation, and boat riding in Xitang Ancient Water Town.
Extend to Wuyuan (1 day)
Wuyuan is considered to be the most picturesque village of China. There you could capture the well-protected ancient villages of the Ming (1368–1644) and Qing (1636–1911) Dynasties and the pastoral landscape. Spring is the most pleasant time, especially in March and April.
Extend to Jingdezhen (1 day)
Jingdezhen is the world renowned Porcelain Capital. You can explore China's porcelain culture and make an artwork of your own.
Feel free to tell us your requirements and interests, and we will be happy to help you arrange your trip using our professional knowledge and experience.
3. Reminder:
West Grand Sea Canyon, Celestial Capital Peak and Lotus Peak usually close from December to March of the following year due to the snowy weather. Guide will adjust the itinerary to cover other highlights to make most of your time. 
From October 8th, 2014 to April 30th, 2015, Yuping Cableway is closed for rebuilding work. During this period more tourists will take the Yungu Cableway, so queuing is possible. Your guide will adjust the time and schedule flexibly to avoid crowds.