Itinerary
Day 1:
Transfer from Shanghai to Huangshan (a round-trip ticket is inluded)
Your private guide will transfer you to Shanghai Hongqiao Airport, and you will take a flight to Huangshan. In Huangshan Airport, your private guide and transfer car will be ready and waiting, ensuring a comfortable and efficient transfer to the hotel. We'll handle the hassles of the transfer, luggage, and check-in.
GOOD TO KNOW
Evening ideas: Your guide will be with you between 9am and 5pm during a typical day. The evenings are yours for exploration or relaxation. You can ask for ideas and recommendations from your guide (an expert on Huangshan).
Day 2:
Discover the Yellow Mountains
After you finish your Western breakfast at the hotel, you will start your tour of Huangshan. Your private guide and driver will be waiting for you with prepared drinks and map, ready to maximize your time in Huangshan.
It takes about 1 hour from your hotel to the foot of the Yellow Mountains. You will take a cable car to ascend to the main peak of the 'Back Hill', where the essence of the Yellow Mountains is located. Don't miss the magnificent scenery along your 10-minute cable car journey.
Upon your arrival, you will start to hike and sightsee from Beginning-to-Believe Peak, which is renowned for peculiar-shaped pine trees and rocks.
GOOD TO KNOW
Our guides insider knowledge means you are on the best routes with the best views. Visiting the Yellow Mountains in reverse (from the "Back Hills" to the "Front Hill") is highly recommended.

The seas of cloud and the sunsets are highlights of the Yellow Mountains. If the weather is nice, your private guide will guide you to the best places to enjoy these wonders.

We recommend letting your tour guide arrange storage of your not-needed luggage, and preparing a light pack for exploring the mountains.
Day 3:
The Yellow Mountains and Hongcun Ancient Village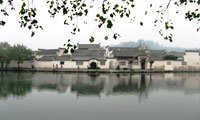 Sunrise on the Yellow Mountains: Today you will need to be an early bird if the weather is nice and you plan to see the sunrise over the Yellow Mountains. You can find the sunrise times on the Yellow Mountains here, but your guide will tell you when and where, and offer local insider tips.
After you enjoy the sunrise, you will go back to the hotel and have your breakfast. Then you will walk to a cable car station and go downhill. If time allows you walk to the "Front Hills", taking in more Yellow Mountain wonders, including 'Welcoming Guest Pine', which is undoubtedly the most famous tree in China.
It takes about 1 hour to drive from the Yellow Mountains to Hongcun Village.
Lunch is at Leigang Villa (Thunder Hill Villa) in Hongcun Village. It serves local style Chinese food. The restaurant is surrounded by a forest of bamboo and peach trees. You will have a bird's eye view of Hongcun Village there.
Hongcun Village: In the afternoon, you will discover this ancient village with over 900 years of history. This elegant village his renowned for its peaceful rural scenery, well-kept ancient buildings: unique Anhui-style dwellings, and profound culture. The mountains, the rivers, and the ancient dwellings, make highly picturesque landscapes. You might come across some art students and artists, who are there to capture its beauty on paper.
Tunxi Ancient Street: After that you will be transferred to Tunxi Ancient Street (about a one-hour drive), which is regarded as a living Riverside Scene at Qingming Festival' (a famous Chinese painting). There you can leisurely walk among the ancient buildings and look around to grab a bargain. You will have your dinner in a Chinese restaurant serving Hui cuisine and Hangzhou cuisine.
Two hour before your boarding time, sit back and relax as your private driver and guide get you to the airport on time. They will take you right to check-in and say goodbye at the security gate. You will arrive at your Shanghai hotel, escorted by your Shanghai guide and driver.