Itinerary
After a flight to Changsha, you will meet your guide and private driver at the airport, and then be transferred to the hotel directly.
Day 2
Changsha - Water Dripping Cave, Ancestral Hall of Mao Family, Former Residence of Mao Zedong
Today, the guide will lead you to tour around the capital of Hunan Province, Changsha.
About 3 km northwest of the village, it is a very popular destination, possibly because of the fact that former leader-Mao spent 11 days here in the early days of the Cultural Revolution Years (1966-76), contemplating 'the unknown'. Combining the 'spirit of nature and civilization of man', this scenic spot attracts tourists from home and abroad.
Built and opened to the public in 1964 it has 13 rooms, with a combined floor space of 2,000 square meters. The exhibits there include 100 pieces of Mao Zedong's manuscripts and 72 items of Mao's personal belongings.
Former Residence of Mao Zedong is a very common farmhouse built with mud bricks and tiles, exhibiting Mao Zedong's family photo, daily household utensils, various dead stocks and photos and material displaying Mao's engagement in the revolutionary activities, and the shoulder poles, pails and hoes used by Mao Zedong during his boyhood. The furnishings in the rooms are all collocated in accord with the original appearance when Mao lived here.
Day 3
Changsha and Flight to Zhangjiajie - Hunan Provincial Museum, Yue foothill academy, The Loving Youth Pavilion (Aiwanting)
Kaifu Area, Changsha City, the north side of Hunan Memorial Park, the biggest comprehensive museum of history and arts, a national education base of patriotism, one of the top scenic spots of Hunan Province.
Yue foothill academy is one of the four Chinese ancient academies in Song Dynasty, organized in the Northern Song Dynasty (the A.D. 976 years), and has a reputation as "millennium academy" that witness the thousand years reform of education. It's a miniature of the history of Chinese education.
The Loving Youth Pavilion was built in 1792 during the Qing Dynasty. The beauty of this spot, with its blossoming peach trees, graceful willows, and flowing streams has attracted many poets and artists.
Today after touring in Changsha, you will take flight from Changsha to Zhangjiajie, land of Avatar!
Day 4
Zhangjiajie – Zhangjiajie National Forest Park, Yellow Stone Stronghold, Jinbian Brook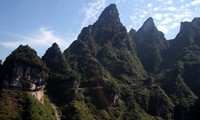 Zhangjiajie is a famous tourism destination in Hunan province. The scenic area often called Zhangjiajie actually refers to Wulingyuan Scenic Area, covering an area of 264 square kilometers with over 97% forest coverage, which comprises the Zhangjiajie National Forest Park, Tianzi Mountain, Huanglongdong (Yellow Dragon Cave), Baofenghu (Baofeng Lake) and the Suoxi Valley.
At Wulingyuan, you witness the incredible scenery at Baofeng Lake, Huanglong Cave, Shi Painted Corridors, Peculiar Stone Bridge and other natural attractions. Great experiences are offered on the cable ride at Huangshi Village, or a sightseeing lift at Shuirao Simen and Bailong (White Dragon).
Minority culture and folklores are represented in nearby villages and towns, inhabited by Tujia, Bai, Miao and Hui people, making worthwhile side trips.
Huangshizhai Cable Car lies to the west of Zhangjiajie Forest Park with an altitude of 1200m and covers an area of 250m. You can take a cable car to Huangshizhai where you can appreciate the daunting rock columns. From the top, travellers can enjoy spectacular views of the forest with rough landscape.
Located in Zhangjiajie National Forest Park, Jinbian Brook covers a distance of 7.5 km from north to south, winding across mountains and valleys. The brook is limpid through the year, with many scenic spots along the way. It is famous for Jinbian Cave-which has a height of 382km and looks like a huge flying eagle. Wear good walking shoes offer good protection from the weather.
Day 5
Zhangjiajie – Tianazi Mountain, Bailong Cableway
Tianzi Mountain is known for 4 natural spectacles - the clouds of mist that circle the peaks of the mountain, the amazing views of the rising sun, the moonlit nights and snowcapped winter peaks. They include more than 80 natural platforms to take in the magnificent scenery. Take the cable to enjoy the views on the way up.
Day 6
Fenghuang Ancient Town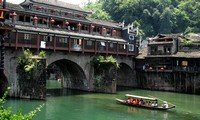 This day is for you to explore Fenghuang Ancient Town to find what you are interested. Different from other ancient towns in China, Fenghuang Ancient Town is a secluded and tranquil town located on the bank of the river and surrounded by mountains. It is a good idea to stroll in this ancient town and visit some interesting shops, homes and discover some interesting nooks. Ethnic handicrafts are really delicate and special in this region. At night, the town becomes more quiet and peaceful. Sitting in a bar and appreciating the sunset is wonderful.
Day 7
Transfer to Zhangjiajie and Departure
You will be transferred from Fenghuang Ancient Town to Zhangjiajie first, and then depart Zhangjiajie on time. The guide will help you with your luggage and check-in.