Essence of Zhangjiajie Tour
The Natural Great Wall © Andy Beales
See the most beautiful attractions of Zhangjiajie, featuring pristine natural scenery of grotesque peaks, clear water, and dense forests. We will help you make the best use of your time and energy to see the essence of this World Heritage Site, and see in person why it inspired Avatar's Hallelujah Mountain.
Highlights
Peculiar sandstone peaks — the closest thing on earth to the Hallelujah Mountains
Newly discovered Yangjiajie Scenic Area with a mountain fort
The world's longest cable car to Tianmen mountain top
Glass walkway suspended at 1,430 meters high
Enjoy a relax boat ride at the crystal Baofeng Lake
What's Included
Entrance to scenic spots listed in itinerary
Meals mentioned in itinerary
Private transfers between the airport, attractions, and hotels
Private tour guide and driver service throughout the tour
Public shuttle buses in the national park and specified cable cars
Hotel accommodation with breakfast
Price Per Person in US Dollars
Select Your Travel Date
Note:
The price is based on 6-9 people in the group. Choose the date and number of people to see the exact price.
Suggested Itinerary
Day 1
Zhangjiajie Arrival
Most flights land in Zhangjiajie in the evening. Upon arrival your local tour guide will meet you at the arrival hall of the airport with a name plate. If you arrive by train, your local tour guide will meet you with a name plate at the exit of train station.
After meeting with the tour guide, he/she will take you by private van and driver to your hotel in the city for a good rest.
Accom: 1 night Best Western Grand Hotel Zhangjiajie (superior class) / Sunshine Hotel & Resort Zhangjiajie (deluxe Class)
Good to Know
The Xibu Ancient Streets are a Tujia minority culture and tourist area. It contains a local snacks street, a folk culture souvenir street, and a bar street. It's about 2 km from the hotels area of Zhangjiajie National Forest Park (Wulingyuan Town), so it is a convenient place to explore in your evening free time.
Day 2
Tianmen Mountain; Zhangjiajie Departure
Your heart will beat fast at Tianmen Mountain on the world's longest cable car, the suspended glass walkway almost a mile (1,430 meters) above the ground, and the '99 Bends' mountain road.  
Tianmen Cave (literally 'Heaven's Gate Hole') i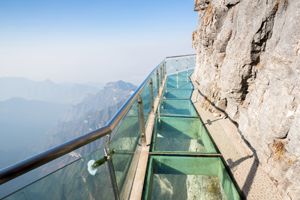 s a 30-meter-high hole formed naturally in the mountain like a doorway, well-known for being glided through by a world-class stuntman in a wing suit. To reach the hole, you can climb for about half an hour up the 'Stairway to Heaven'.
Aborigine Tourist Park was an ancient Tujia minority village, and now is a place that people can see 'aborigine' (local ethnic) buildings, shows, and culture exhibitions, and taste local food.
Accom: 1 night Best Western Grand Hotel Zhangjiajie (superior class) / Sunshine Hotel & Resort Zhangjiajie (deluxe Class)
Good to Know:
If you like folk culture, we recommend Zhangjiajie Old Courtyard that has kept intact its original Tujia ethnic minority architecture of almost 1,000 years ago. The ancestral mansion owner once served as an imperial official. This place is well worth a visit for its old private school, artifacts, and exhibitions of daily Tujia life. 
Day 3
Zhangjiajie National Forest Park: Yuanjiajie and Tianzi Mountain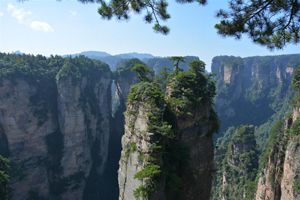 Yuanjiajie Scenery © Meimei Li
The tour starts after breakfast at your city hotel. You will stay for one night at a hotel near Zhangjiajie National Forest Park, so take only necessary belongings for two days at the national park. Deposit the rest of your luggage at your city hotel, where you will stay again on day 3.
Your guide, driver and van will pick you up at your hotel and take you to Wulingyuan Scenic Area (about 40 minutes drive), where Zhangjiajie National Forest Park is located, to visit its two most classic and popular attractions.
Take a cable car up Tianzi Mountain, and you will see large areas of grotesque peaks thrusting up below. Walking along the steps spectacular views unfold in front of you from different angles. Lunch is very simple Chinese style and will be arranged at a local restaurant on the mountain. There is a McDonald's on the mountain, and if you prefer we can have lunch there, and have a good rest indoors with air-conditioning.
In the afternoon, ride a public shuttle bus to Yuanjiajie Scenic Area, whose mountains are said to be the inspiration for Avatar's Hallelujah Mountain. This area is the most visited area due to its fame. It takes about 1 hour to walk the tourist trails before you take the shuttle bus for the cable car down the mountain. 
There is another option for getting down the mountain — Bailong Elevator. This glass elevator was built on the side of a cliff, and it claims to be the world's highest of its kind. It takes only 2 minutes, but at peak times you might need to queue one or two hours to take it. If you are interested in taking the elevator, tell your guide in advance, so that he/she can arrange beforehand to avoid the long queues.
Retire to a hotel near Zhangjiajie National Forest Park, to save time on transportation and avoid morning crowds on day 3.
Accom: 1 night Wulingyuan Hotel (superior class) / Pullman Zhangjiajie (deluxe Class)
Meals: breakfast at hotel, simple lunch on the mountain
Good to Know
There are some hostels in the national park, with very basic facilities. If you would like to stay in a local guesthouse instead of hotel, we can change it for this evening. In this way you can save time on transportation, avoid tourist groups, and also cut the cost.
To avoid waiting in long queues, your guide might suggest you get up early or alter your attraction schedule. Please kindly understand and cooperate.
Day 4
Yangjiajie Scenic Area; Back to the city to visit Baofeng Lake.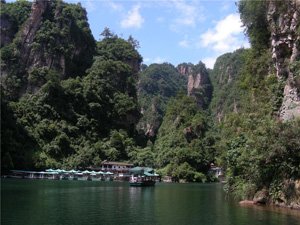 The Baofeng Lake
The breakfast offered at the hotel is usually Chinese style with simple choices. Your guide will pack you some bread, instant coffee, and fruit for breakfast. 
Yangjiajie Scenic Area is a relatively recently discovered area of Zhangjiajie. Like a hidden gem, its pristine beauty is a touch above other areas; and its amazing landscape, with a bit of adventure and fewer tourist crowds, will impress you as you climb the steps. The mountains, forming a natural "Great Wall", are the most striking feature of the area. After a simple lunch on the mountain, take a cable car down and transfer to the city area.
Baofeng Lake is in a basin created by the terrain in the middle of this mountainous area. A walk about 20 minutes is needed before you reach the lake and take on the wooden boat for a 30-minute boat ride. It is a leisurely experience as you boat on the clear water, see the hills of various shapes, and enjoy entertainment by the local minority people as they sing their traditional songs.
As the tour ends, you will be transferred to the airport for your flight to your next destination.
Meals: breakfast at hotel, simple lunch on the mountain
Our Staff's Feedback after Taking This Tour
I love Yangjiajie Scenic Area the most. It took us one hour climbing to get to the most spot, but it was worth it once we saw the magnificent mountain views. We waited for the sunset on the mountain top, where I took some of the best photo of my life. After 7 pm shuttle buses were not available any more, and our photographer guide was very flexible and contacted some local villagers and chartered a van for us. I got some of my best photo shots there.
- China Highlights Photographer & Webmaster Mercier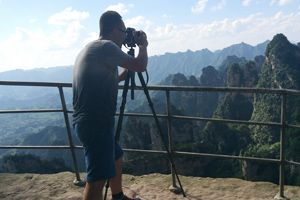 Trip Notes
Customizing the Tour — according to your needs
This tour is very flexible. You can alter the itinerary, extend or shorten it to suit your price, interest, and schedule.
You can extend it with an extra day to Fenghuang Ancient Town, where the daytime is picturesque and charming, and the night is lively; or with an extra day to the city of Changsha; or add one more day to discover more at the National Park (the entrance ticket is valid three days). If your time is limited, shortening by one day can also be arranged.
For a multi-city tour, we would recommend combining Zhangjiajie with Guilin (mountain and water scenery), Yangtze River cruise (relaxing cruise on the Yangtze River) or Guizhou (ethnic minority villages). Feel free to tell us your interest and idea.
Guiding Service
Your personal tour guide will accompany you throughout the tour, providing guiding service and local knowledge. He/she is ready and willing to help you solve problems while on the tour.
Transportation to Zhangjiajie
By flight: Zhangjiajie is connected by direct flight with some major cities in China. Cities with daily flights to Zhangjiajie include: Changsha, Beijing, Shanghai, Xi'an, Guangzhou, Wuhan, Guilin, Nanjing, Qingdao, and Shenyang. Cities with 2-4 flights per week to Zhangjiajie include: Chengdu, Chongqing, Hangzhou, Shenzhen, Tianjin, Lanzhou, Kunming, Lianyungang, and Shijiazhuang. Click here to see flight route map of the following cities to Zhangjiajie.
By train: You can get to Zhangjiajie by train (6 hours) or flight (1 hour) from Changsha City, the capital city of Hunan Province, which can be conveniently used as a transfer place. Direct trains to Zhangjiajie are also available from Yichang (5 hours), Guangzhou (13 hours), Shenzhen (18 hours), and Liuzhou (12 hours).
Yangjiajie and Alternatives
Yangjiajie is a newly-developed area of Zhangjiajie National Forest Park with unique views, but needs more energy to climb lots of steps. If you do want to walk that much, you can visit 'Gold Whip Stream' (Jinbianxi) instead, to have a pleasant stroll along the stream surrounded by rocky towers. You might see some monkeys at Gold Whip Stream. Please don't touch or scare them for your safety, but giving them food is ok.
Accommodation
Star-rated hotels in Zhangjiajie might not be up to the standard of those in big cities like Beijing and Shanghai. Most hotels in Zhangjiajie opened over 10 years ago and have not undergone renovation, so the facilities might not be very new. For example, 4-star hotels in Zhangjiajie might only compare to economy standard hotels in cities like Shanghai. The hotels we use in the tour are carefully selected based on criteria like hotel environment, location, service, and previous customer feedback. Breakfast at a 4-star hotel at Zhangjiajie is very basic, so our guide will prepare bread, coffee, and fruit for you. At 5-star hotels breakfast is usually Chinese style mixed with some western choices. We suggest you bring your own toiletries and towel, and if you meet any problems in your hotel, our tour guide will help you arrange with the hotel to make your stay as comfortable as possible.
If you have other hotel choices or wish to book hotels by yourself, feel free to tell us your idea.
Food
Restaurant and cuisine choices are very limited in the national park. We will find the best available, but it is also suggested that you bring some snacks. Local villagers sell water and food like fruits and corn on the mountains, which are good to try while you climb the steps.
As for dinners (not included in the tour), you will have better and more choices while you are down the mountain. Feel free to ask your tour guide for recommendation of restaurants and dishes to try.
There are no vegetarian restaurants available in Zhangjiajie. For vegetarian travelers, please tell us your meal requirements in advance, so that we can make relevant arrangement for you.
Show Opportunity in the Evening
Tianmen Fox Fairy is an outdoor musical telling an old Chinese love story, with Tianmen Mountain and its deep valleys as the backdrop. It has received good reviews on TripAdvisor. The show is on every night. If you are interested, please ask your guide to book tickets for you, at extra cost.
What to Bring/Wear on the Mountain
A pair of comfortable walking shoes is a must.
In summer, bring mosquito repellant, sunglasses, sun block and hat. Prepare an extra light coat for the cool early morning and evening. Bring warm clothes for winter, but when you will get warmer while climbing the mountain, so layers would be more convenient for putting on and off.
Booking Procedure:
Step 1: Submit your name, email address and traveling dates for the tour. The price may vary according to the location of your hotel.
Step 2: Choose to make payment via PayPal and your request will be listed as our top priority. We guarantee a 100% refund if you are not satisfied.
Step 3: Receive a reply within 24 hours. The tour will be tailor-made to meet your requirements and the booking confirmed.
Step 4: Enjoy the tour!

Payment Methods:
We now offer three payment methods: PayPal, credit card authorization via fax, and wire transfer. PayPal is recommended for its safety and efficiency. You can pay with USA dollars, Australian dollars, European dollars, and British pounds directly with your credit card or debit card if you do not have a PayPal account.
Cancellation Policy:
In the event of cancellation, we will refund any payment made to China Highlights (unless any cancellation fee is applicable) within 14 days of our receipt of your written cancellation request. Visit here for more details.
Travel Insurance:
Travel insurance is not included. We carefully selected some insurance providers from your region that give you the best value for money. Click here to go to the travel insurance page.