Temple of Heaven
The Temple of Heaven is considered the most holy of Beijing's imperial temples. It has been described as "a masterpiece of architecture and landscape design".
The Temple of Heaven has also been listed as one of the World Cultural Relics by the UNESCO.
Any standard package tour of Beijing should include a visit to The Temple of Heaven. Click here for our Classic China Tours which take in this inspirational temple.
Origin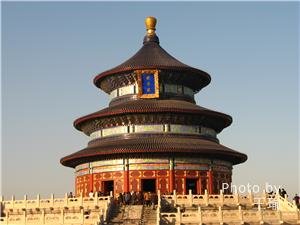 Temple of Heaven in Beijing.
The Temple of Heaven was built in the Ming Dynasty (AD 1420) by the emperor Zhu Di in the royal garden. Once a year, at winter solstice, the emperors came here to worship Heaven and to solemnly pray for a good harvest.
Since his rule was legitimized by a perceived mandate from Heaven, a bad harvest could be interpreted as his fall from Heaven's favor and threaten the stability of his reign. So, it was not without a measure of self-interest that the emperor fervently prayed for a very good crop.
Ancestral Worship
In line with the Confucianist revival during the Ming dynasty, the sacred harvest ceremony was combined with the emperor's worship of his ancestors.
According to the Confucian pattern of social organization, just as the emperor respected his ancestors, so a younger brother should respect an elder brother, a wife her husband, a son his father, and a nation's subjects their ruler.
Incorporating ancestor worship within the most solemn ceremony of the imperial ritual calendar indirectly reinforced the social philosophy that preserved the emperor's power.
The Mystical Design
The design of the Temple of Heaven complex, true to its sacred purpose, reflects the mystical cosmological laws believed to be central to the workings of the universe. Both the overall arrangement and the buildings themselves reflect the relationship between sky and earth, the core of understanding of the Universe at that time.
Hence, complex numerological permutations operate within its design. For example, because the number nine was considered to be the most powerful, the slabs forming the Circular Altar have been laid in multiples of nine.
Similarly, within the Hall of Prayer for Good Harvest, the interior twenty-eight columns are divided into four central pillars to represent the seasons, twelve inner columns to represent the months, and twelve outer columns to represent the two hour sections that make up a day. There are many such examples of this intense numerology at play. Another interesting fact is that the Hall of Prayer for Good Harvest is built completely without nails.
Things to do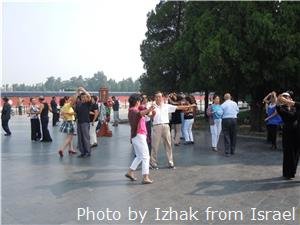 People are dancing in Temple of Heaven.
Although in imperial times commoners were not allowed to enter the enormous park, now for a minimal fee everyone can enjoy it all day long.
Early morning is the best time to visit The Temple of Heaven. It is well worth waking up for; you will have an interesting experience watching local people doing morning exercises.
Next to an older person practicing the slow and flowing movements of tai chi there might be a youngster performing vigorous karate-like punches and kicks; one group might be learning the ancient martial art of sword fighting, while another would be practicing a traditional dance.
One Day Beijing Temple of Heaven Tour from $89 p/p (based on travel party of 2-3 persons)
Kite Flying at Temple of Heaven
Temple of Heaven is also a place where local people fly kites, and you can join in and fly one of your own, to enjoy this quintessential Chinese pastime.
Duration: 1 hour
Price: USD 42 (combined with tour package)
Tai Chi Experience at Temple of Heaven
Tai chi is a martial art style which places emphasis on the development and control of qi (Consciousness) energy within the body.
During the class you will get a full illustration of tai chi by tai chi master, a demonstration by Yang Style tai chi master, learn taiji quan, and after class, have the chance to try. The class is always in the morning.
Duration: 30 minutes
Price: USD 98 (combined with tour package)
Temple of Heaven Facts
Chinese Pinyin: Tīan Tán
Location: Southeast of central Beijing.
Opening Hours: 8 a.m. – 6 p.m.
Ticket Price: low season Y10–30; high season Y15–35
How to get to the Temple of Heaven: Bus 3, 6, 17, 20, 35, 39, 54, 106, 116, 120, 122, or 803.
Questions and Answers About Temple of Heaven
Brianna Yachera
2013-01-03
Show Answer
When did they start building this tower (please answer soon)
Dear Brianna, Thanks for your question. The Temple of Heaven started to build from 1420. As a travel agency, we can arrange tours in Beijing including the Temple of Heaven or other city tours all over China. Please feel free contact me at nancy@chinahighlights.net any time if you need any tour arrangements. Nancy Nancy Deng replied on 2013-01-04
sam mansuri
2012-12-11
Show Answer
Intend to visit Beijing and I liketostay in a 4 star hotel in the city center l do not wish to spend my time taxi .would you lemme know if I need a guide
Hi Sam, I suggest that you get a tour guide and a car with driver with you. Then you can travel at your pace and enjoy the tour to the most.
Whitney Liao replied on 2012-12-11
hany gamal El Din
2012-09-05
Show Answer
tempale of heaven Entrance fee per person opening and closing time
Hi Hany, please see below for Temple of Heaven entrance fee:CNY30-35 opening time: 6:00 closing time: 22:00 Whitney Liao replied on 2012-09-06
meir
2011-02-10
Show Answer
what line of the METRO arrive at the tempel?
Hi meir Our travel advisor is contacting with you. Thanks for your support. Nero Hou replied on 2011-02-12
If you look on the metro map, you can see that one stop is actually marked as the temple stop (Yonghegong Lama Temple). You can use either Line 2 or Line 5, both will stop there. It is easier than you think to use the metro in the major cities. guest replied on 2011-02-13
Dear Meir To get to the Temple of Heaven, please take the MERTO line 5. Good luck to you. Regards Dennis Su replied on 2011-02-15
chua
2011-01-31
Show Answer
where to we take the bus from and where do we alight?
Dear Chua, There are many buses to Temple of Heaven, Bus NO.17, NO.20, NO.36, NO.54, NO.120, NO. 203, NO.707, NO. 729, NO. 744, NO. 826 and NO.859. It depands on which place you leave when you take a bus to Temple of Heave. Please feel free contact me if you need any help of travelling in China. Happy Chinese New Year! Nancy Nancy Deng replied on 2011-02-01
April Offer $25 Coupon
Send your inquiry before Apr. 30, 2014, and we will email you a $25 coupon.
The coupon is valid till Dec. 31, 2014, for paying tour packages worth $250 or up.
The coupon cannot be used for paying flight tickets, train tickets, hotel rooms and day trips.
Travel Advice or Question? Ask us here

China Highlights
Beijing Travel Guide