Traveling in China with Food Allergies
It's never easy to travel abroad when you have certain food intolerances or allergies, but the good news is China is becoming an easier place to explore, even for those who need to be extra careful of a stray peanut or bit of gluten. Along with great restaurants and fully-stocked international supermarkets to help you locate allergy-friendly food, there are a number of great resources that have cropped in the last few years to make travel in China safer — and more enjoyable — for those with allergies.
Understanding the Cuisine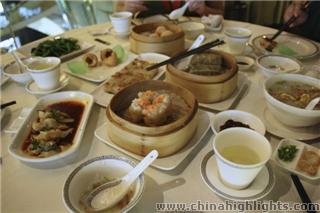 Before you arrive, it helps to know the cuisine, where to dine and grocery shop, as well as a few helpful phrases. Not surprisingly, there's now an app for that. Eat Well China provides a wealth of information for those on special diets, including restaurant and market listings for several major cities as well as useful phrases (in English and Chinese) to help you navigate the language barrier you might encounter when it comes to ordering food on a restricted diet. This app also provides a detailed overview on quirky Chinese fruits and vegetables, how to wash your produce and even a few recipes to try at home.
A Personalized Dictionary
While you're out and about, it can be life saving to clearly communicate what you need or can't have. But if you don't speak the local language, this can pose a bit of a challenge, as few have yet mastered the international hand gestures for "Does this dish contain shellfish?". But if you're body language isn't up to culinary queries, don't fret, there are some great online lexicons that offer translations for a variety of important sentences. Head over to Select Wisely for a very comprehensive list of phrases related to drug allergies, food allergies and special diets, all of which can be translated into Chinese. Select Wisely offers laminated cards, PDFs to print off at home or images that you can send to your phone to help you communicate your needs or sensitivities on the go.
Our articles on Gluten-Free Travel and Food Intolerances also include a number of helpful food-related phrases translated into Chinese.
Who to Ask
If you have a specific question, there's a group that may have an answer. The Shanghai Food Allergies Support Group was started by parents of children with food allergies living in Shanghai. While it is a private forum and not an online resource page, the parents who read and respond to email inquiries often have the most up-to-date, first-hand knowledge of how to travel, live and enjoy life in China while dealing with food allergies. So if you have a specific question, this is a great network to tap into for answers.
A Few Noteworthy Tips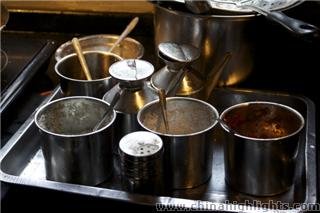 Most individuals who travel abroad and manage their food allergies are well aware of potential hazardous bites, but it doesn't hurt to emphasize a few common ingredients that are used here in China, just to be safe and ensure you have a fun, enjoyable and healthy time while you're here.
Peanut oil is a very common cooking oil and is often the base for "chili oil" which is served as a condiment or a finishing touch on some dishes.

Wheat gluten is the basis for many of the faux meat products at Chinese vegetarian restaurants and is also often added to rice breads and buns for extra elasticity.

Shrimp paste — or dried shrimp — is used as a flavor enhancer in a number of non-seafood dishes. So, it is always wise to check with your server when you order, just to avoid any unnecessary tummy trouble once you start your meal.
For more tips on staying fit as a fiddle while you travel, check out our article on Keeping Healthy in China.
Traveling Prepared
Although we expect you'll have an absolutely wonderful time in China, if you suffer from severe food allergies, it never hurts to be prepared, especially while traveling abroad. The quality of healthcare in the larger Chinese cities rivals that of what you find might at home, but please be sure to bring any relevant medical records with you as well as an EpiPen and/or your preferred antihistamines in the event of an emergency.
If you need prompt medical attention, larger cities have top-notch foreign hospitals with expat staff that can provide fabulous care. We do recommend buying travel insurance before you come for these instances. China Highlights takes care of our customers if there is a medical emergency in China — see Going the Extra Mile.
For more information on preparing for your travel read our article on Vaccinations and Medical Suggestions in China.
Let Us Know
We specialize in preparing custom-made tours to suit the interests and needs of every individual. If you have food allergies or a restricted diet, please let us know and your guide can assist in making sure your food is carefully prepared and that you're able to dine at allergy-friendly restaurants, locate great supermarkets and thoroughly enjoy your time in the Middle Kingdom without worrying what might be lurking in your bowl.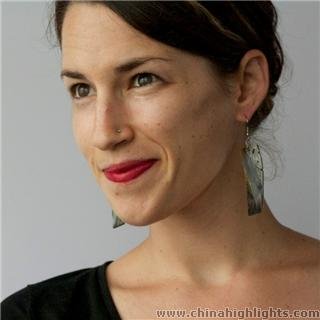 China Highlights
Questions and Answers About Traveling in China with Food Allergies
Vicki Blackburn
2014-04-14
Show Answer
I not only have a wheat allergy but histamine intolerance. Can I bring freeze dried meats and vegetables into China from the U.S.A.? If I can''t what are my options for eating in China Histamine free?
Dear Saad, You could take some freeze dried meats into China, but vegetables are forbidden. According to your situation, we listed some tips for reference on line, please click: http://www.chinahighlights.com/travelguide/article-gluten-free-travel.htm Lussie Lu replied on 2014-04-15
Abell3
2014-02-16
Show Answer
I need to eat gluten free food. Is there jaozi made without gluten? Which food in china can i eat that has no gluten?
Hi Abell3, you can eat the vegetables and fruits in China. Whitney Liao replied on 2014-02-17
April Offer $25 Coupon
Send your inquiry before Apr. 30, 2014, and we will email you a $25 coupon.
The coupon is valid till Dec. 31, 2014, for paying tour packages worth $250 or up.
The coupon cannot be used for paying flight tickets, train tickets, hotel rooms and day trips.
Travel Advice or Question? Ask us here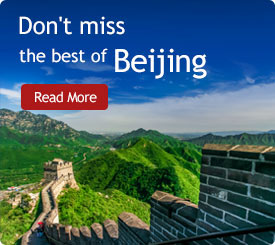 The Most Popular Articles
The Latest Travel Articles